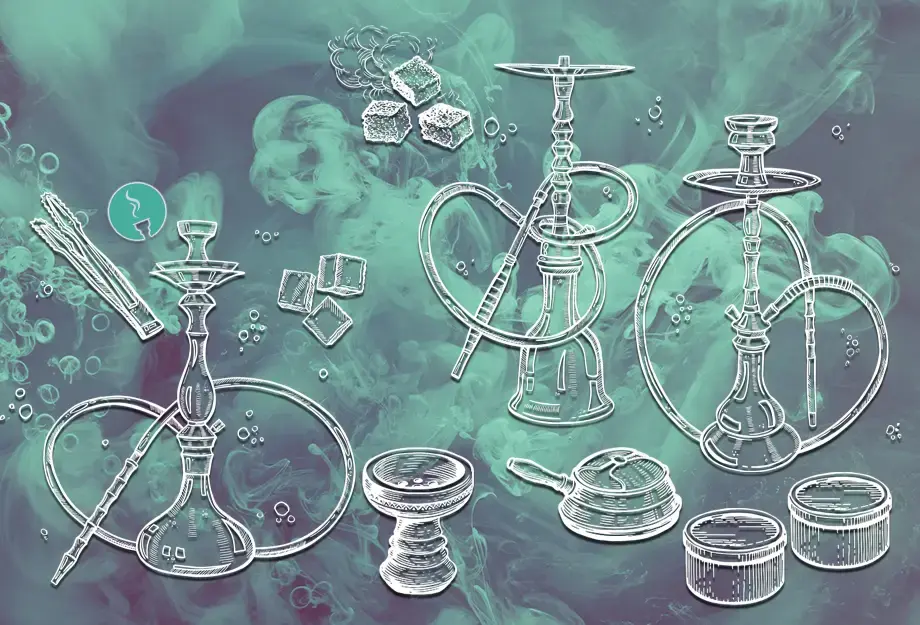 DIY Creating a Home Hookah Lounge
By
double allen
/ August 22, 2023
Where do you smoke hookah in your home? Is your usual spot at your coffee table? Does your hookah just land wherever you happen to be doing something?

As hookah has gained popularity over the decades many hookah enthusiasts have dedicated spare rooms, patios, or garage space for their own in-home hookah lounge. Now, you don't have to go to that extreme, unless you want to and have the availability to do so, but sometimes little details about where you are smoking in your home can make your hookah experience more enjoyable and easier.

Let's take a look at some basics when it comes to sprucing up your hookah space in your home.
---
Where Do You Usually Smoke Hookah & How Often?

Enjoying a hookah after a long day or while you're enjoying some relaxation time is a great way to unwind. When I first started smoking hookah it was usually at a lounge while studying in college, but I soon wanted one to enjoy at my home whenever I was craving some Al Fakher Double Apple (they call it Two Apples). When I purchased my first hookah I started enjoying shisha bowls more frequently and where I smoked made an impact.

I typically was smoking on my porch but quickly learned I enjoyed smoking hookah inside more. It wasn't long before I found a dedicated spot in my home that was unofficially named The Hookah Chill Zone. For me, the two things I focused on were comfortable seating and making a creative environment since I was usually doing something artistic while I was smoking.

Smoking hookah solo is a popular activity while gaming as well as while watching movies or TV. When you're setting up your hookah for some flavorful clouds, where are you normally enjoying your shisha? Is hookah a daily ritual, a couple days out of the week, or a once-in-a-while thing for you?

If you're smoking occasionally here and there, maybe how you're doing it is just fine and you won't want to change things up. However, there are some tips and tricks here that could benefit you. If you're smoking hookah daily or a few days a week, then definitely pay attention.
How Often Are You Smoking Hookah with Others?

Smoking hookah with friends can be a whole different thing. Sharing a hookah means passing around a hose if you have a single-hose hookah or having multiple hoses around a table if you have a multi-hose hookah. This means a lot of moving pieces especially when people are getting up to grab a beverage, get a snack, grab their phone charger, etc.. When not paying attention, the infamous hose-pull → tip-the-hookah-over → flying coals scenario becomes more probable.

Having a hookah session with friends also means you're the host, so you want to make sure everyone is comfortable and having a good time. I would much rather share a hookah with friends while chilling on a couch rather than sitting in a cluttered garage sitting on uncomfortable lawn chairs or a cooler.

If having a hookah is a group thing for you then you may want to consider the following:
The Space

First off, are you able to smoke inside or can you only smoke outside? Some of you may not be able to smoke inside because of your apartment rules or your lease. Maybe you just don't want smoking inside at all as a personal preference. Here are a couple ideas for inside versus outside hookah smoking:
Outside - When smoking a hookah outside it's best to have a semi-covered or protected area. This will help with any potential wind or other elements. Patios and decks are great! Having a hookah wind cover is a total

pro-move

when smoking outside. Not only do they block drafts from blowing around sparks from your coals, but they can help prolong the life of your charcoal.


Inside - You'll want to choose a spot that is large enough for your hookah group. Crowded spaces can lead to more accidents. Choosing a spot inside your home will also depend on what you'll be doing during your smoke session. Rooms or locations inside your home without carpet are key!
Seating

Obviously you want to have enough seating available for everyone. Don't make the last person have to sit on the floor or on the arm of a chair or some other awkward spot. Comfortable seating is important since you'll be smoking for a while.
Your Hookah's "Seating"

Where is your hookah going to sit? If you have a taller hookah over 24", it's best to have it sit on the ground. For all other shorter hookahs that can sit tabletop, make sure that what you're using as your surface isn't your one-of-a-kind beloved coffee table or a super expensive dining room table. That is, unless it's protected. Ideas for protection can be anything from a thick table cover to a large enough piece of canvas. You just want to have some sort of barrier in case a spark flies or a piece of charcoal hops off your bowl. Buy you some time to grab it with your tongs.
Entertainment
Movies, TV, or cruising the web for funny videos is always fun while smoking hookah with friends. Nowadays you can stream anything to your smart TV. You know what's also a fun form of entertainment while smoking hookah? Music videos. Two birds with one stone. You have music and visuals. If this is your end goal, make sure everyone has a decent spot for viewing and enjoyment.

Other ideas for entertainment are listening to music and vinyl listening parties. You can have either a set playlist or have a collaboration amongst the group. If you're doing a vinyl night, have people bring their favorites!
Activities

There is a lot of variety in this category. The basics are board games or card games. But, this could be anything really as long as the hookah is safe. Karaoke? Live it up. You could dig out some oldies but goodies like pictionary. Gaming is an obvious choice, but things can get a little rambunctious so just be careful! If you're not planning on just vibing with your friends then having some activities can keep things very entertaining.
Accommodations

You'll want to make sure that your hookah space is not only comfortable and entertaining, but make sure that you also have beverages and snacks on hand. It's definitely important to stay hydrated while smoking hookah so have water available!
Leveling Up Your Existing Hookah Space

Alright, we're not talking about a home renovation here ["MOVE THAT BUS"!], just a little pick-me-up. If there's already an established spot where you smoke hookah on the regular, there's a few things you can do to make it feel more like a home hookah lounge.
Seating: Wait what? Again? No, here I'm talking about comfort. I love when I go to a hookah lounge and there are couches or padded benches with tons of pillows. I would argue that anyone would enjoy a hookah a whole lot more sitting in a spot like this. Add some pillows (not the kind for your bed, but I guess that would work) to your space, maybe somewhere to put your feet up, or some side tables for drinks so you're not cluttering up the space around your hookah. Again…accidents!


Speakers: If you don't already have a way to play music where you'll be smoking hookah, bring in some speakers or some sort of way to play music! It'll definitely help set the ambience.


Lighting: Would you rather have a hookah in brightly lit space or in an environment with moody lighting? That's what I thought. Having just a few table lamps will do the trick. Having some cool accent lighting will kick things up a notch! I'm sure we've all seen some type of lighting that can change color with your phone. Introducing some fun lighting can definitely change the mood of your hookah space.


Visuals: Artwork! Whether you're just going for a chill vibe or more of a party atmosphere, visuals can help! I mentioned previously that watching music videos is a great idea while smoking hookah for this exact reason.
Creating a Home Hookah Lounge

The world is your oyster here! If you want to have a completely separate space for hookah, then let your creative juices flow. It's not uncommon to see some hookah enthusiasts take things all the way for their home hookah lounge space!

If you have a spare room or some odd, random area that doesn't have much functionality then this is something you may want to consider. Again, if you have the ability to do so, have the space, and want to set aside some budget for a DIY hookah lounge it's all up to what you have available.

Some useful tips when creating an entire home hookah lounge setting:
Depending on what vibe you're going for, second hand or thrift store furniture is a good place to start. I would be wary of furniture with any sort of cushion, for self-explanatory reasons. But, you can use inexpensive, impersonal tables and side tables that it won't matter if they collect charcoal burns or spilled drinks. Heck, you can probably find some really unique, funky furniture to make your home hookah lounge that much more interesting.


I mentioned earlier about protecting your existing tables for where your hookah will sit. If you're going this far to create a designated hookah space, you could consider plexiglass for your protective layer. You can usually pick it up at home improvement stores, and sometimes they'll even cut it to size for you!


If you've been eyeing some new pillows, use your old ones for your home hookah lounge. If you have some old chairs that you don't particularly care for anymore, have them in your hookah space for spares when you don't have enough seating available.


DIY projects are a great idea when creating a designated hookah space. You can make simple shelves to display and store your hookah supplies. You can customize that cheap table you found at the thrift store. The ideas are endless.



Thrifting again for the win when it comes to decorating your home hookah lounge with visuals! You can find some interesting art second hand. Tapestries are great for large wall spaces, and old rugs can be used to protect your carpet.
Are Your Hookah Supplies Close? 

No matter what your in-house hookah lounge setting is, having your supplies close (and also organized) can take things up a level! First of all, make sure that you have the basic essentials. Secondly, decide where you want your hookah stuff to live.

It makes things a whole lot more simple when preparing a hookah when you have everything you need right at hand. I've gone into more detail on this in our blog here. If you're building up a designated hookah space in your home, maybe this is where all of your hookah supplies live.
---
Whether it's weekends, a random weeknight, or chilling by yourself where you enjoy hookah should reflect what you want. It doesn't matter if it's small changes or dedicating a space for hookah, creating your own home hookah lounge environment goes hand in hand with the fun and relaxation of reveling in your favorite shisha flavors.

How do you smoke hookah at home?
---
Categories
Month List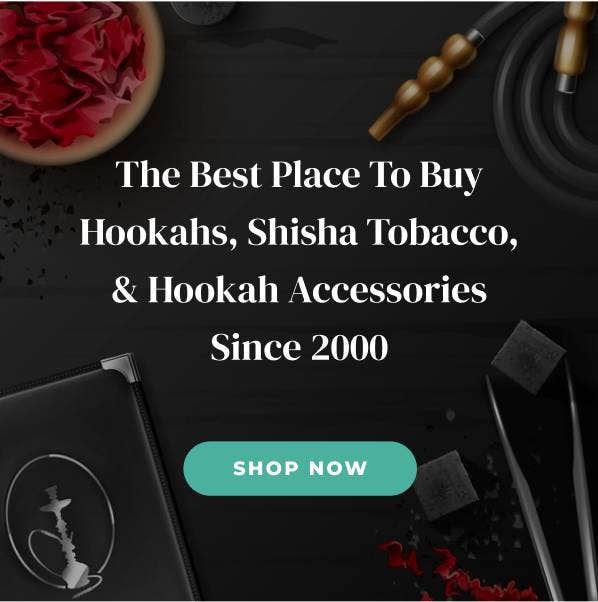 Shop All Hookahs, Shisha Tobacco, Charcoal, Bowls