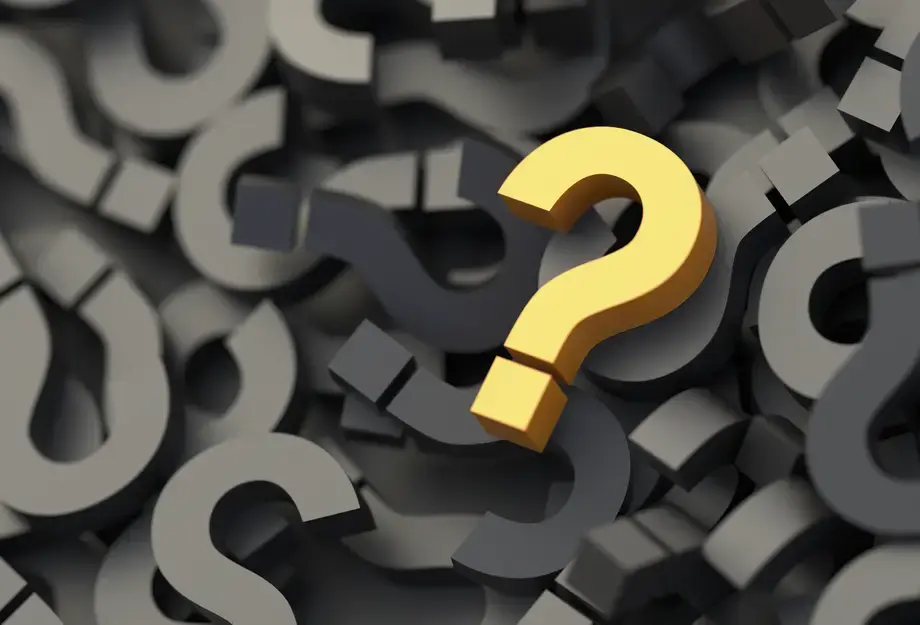 Frequently Asked Questions
By
terance
/ April 4, 2014
All of us here at Hookah-Shisha want to make your experience with us is nothing aside from top notch. From ordering to shipping to setting up your hookah, we are here to help! You can find the answers to nearly all of your questions on our Ordering Information page, but in the past decades we have been around, these are the most commonly asked questions we receive. And, as always, you can always reach out to our Customer Serivce Team at any time!
---
What can I expect when I place my order? Do you guys follow up with receipts or tracking numbers?
After you place an order you will receive an email confirmation that will contain a summary of the products you ordered as well as your Order Number. If you don't see your Order Confirmation email in your main inbox, please check your Promotions folder and, lastly, your Spam folder. If you still do not see your Order Confirmation email feel free to contact our Customer Service Team.

Once we have processed your order we will begin to prepare it for shipping. We strive to process and ship all orders within 24 hours of the time they are placed. After your order has been packed and receives a shipping label, you will receive a second email that will contain your tracking number. Please note that your tracking number may not be immediately active when you first receive it. All of our packages are picked up at 6:00pm CST. At that time the corresponding shipping courier will scan your tracking label, activating your tracking number.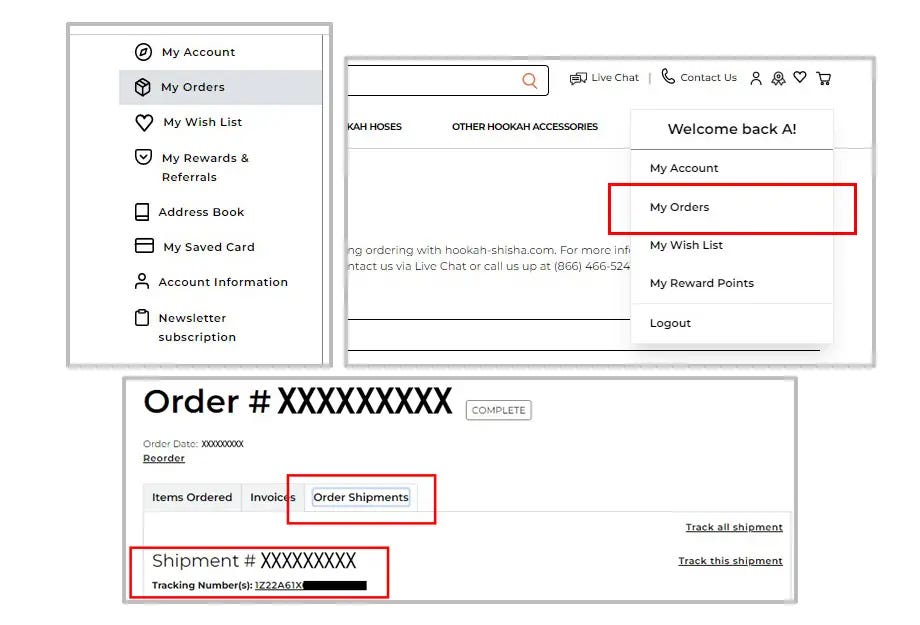 Note: By creating an account you can view all of your Orders, Reward Points, Saved Addresses, and more. You can also locate tracking information for your Orders.
---
When will my order arrive?
Orders typically ship out 1-2 business days after they have been placed and processed. Domestic orders within the lower 48 states generally take 1-4 business days depending on the shipping method chosen and the destination. Please note that this shipping time does not include any unforeseeable weather delays or other issues with the shipping courier.

International shipments can take anywhere from 2-3 weeks in travel time alone. This does not include the time needed to be processed through U.S. Customs and the customs offices in the receiving country. Please note that Express International Shipping does NOT bypass the customs screening process, but it will expedite the amount of travel time it takes to reach your country's customs offices.
---
I received an email to verify my age. How do I verify my age?
When you place your first order on our website, our system attempts to verify your age based on the information you entered. If our system is not able to verify your age, our Customer Service Team will attempt another method to do so. If we are still not able to verify your age, you will receive an email from us. The easiest way to verify your age is to reply to the email you received with a photo of yourself holding a government issued I.D. similar to being "carded" in person. You definitely can block all sensitive information on your I.D. as we only need to see the name, date of birth, and photo to match to your person.

Once your account has been verified for age you will not be asked to complete this step again. Please note that if you do not set up an account and continue to only check out as a "Guest", you may continuously be asked to complete this age verification step on each order placed. It is beneficial to set up an account not only for this reason but you can also build and earn Reward Points.
---
What forms of payment do you accept?
We accept payments via Visa, Mastercard, Discover and American Express. This includes any prepaid gift cards from these providers. To avoid any issues during checkout, please make sure that the correct billing address is entered for the card you wish to use for payment. For prepaid gift cards, you may be required to register the card by calling the phone number on the back before use. We do not accept PayPal, personal checks, bank transfers, Western Union, etc.
How to order when using a prepaid card

When placing an order using a prepaid card, you will enter the 16 digit number the same as you would a credit card number, and you will need to select "Credit Card" as your payment method. It is important that you hold on to that card after placing your order, as any potential refunds will go back to that specific gift card. If you place an order using a prepaid card and cancel before it ships, we will void the transaction. Refunds on prepaid cards can take up to 1-2 weeks depending on the provider.
---
How do I apply a coupon code?
During the checkout process, you are welcome to use either a coupon code OR your loyalty Reward Points (if you have created an account). To use a coupon code, click "Promo Code" underneath "Redeem" and be sure to hit "Apply".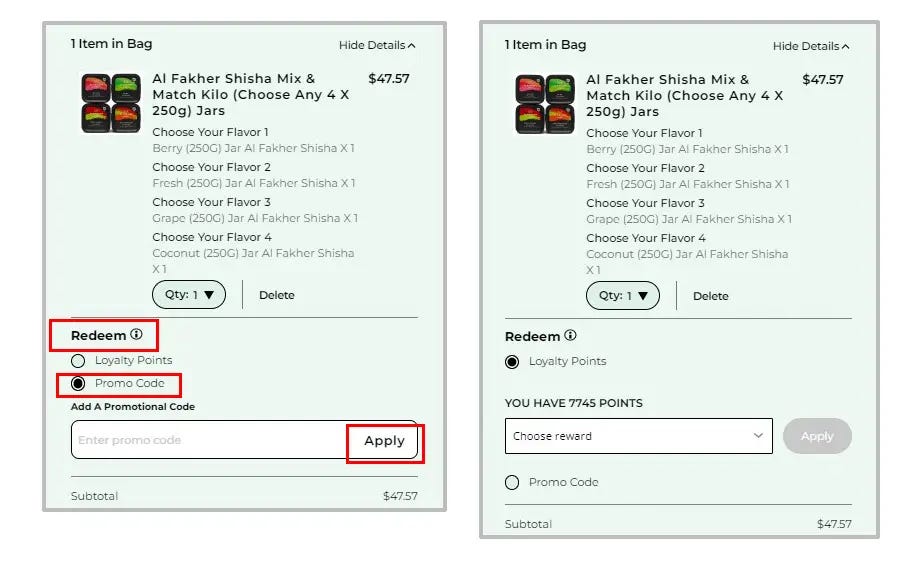 ---
How do I change my order after I submit my purchase?
After your order has been placed we work diligently to have it processed through our warehouse as quickly as possible. For this reason we ask that you immediately contact us after placing an order if you have made a mistake or need to alter your order. Once your order has been processed through our packing department no more changes will be able to be made. You are however always welcome to send back any unopened, unused items for an exchange or refund.
---
How do I cancel my order? How long until my money is available again?
When you place an order, a pending hold on the funds required for payment is placed on your card. These held funds are not collected until your order has received a tracking number and ships. You may call, chat in, or email to cancel an order before it receives a tracking number and ships. The best way to request an order be canceled is to call us or chat with us immediately. Once a payment has been voided it will typically take 2-3 business days for the pending transaction to drop off of your account. This depends on your bank.
---
How long until your Out of Stock items are back in stock?
This varies by item. Many of our items are handmade and imported from overseas so sometimes it is tough to say. We receive regular shipments from most of our vendors about every 4-6 weeks. Once a shipment is received into our facility we update our website as soon as possible.
---
Do you do price matching?
Price matching may be possible. It is best to give us a phone call or chat in with the item you are wanting to price match. The item must be in stock, identical, not part of a sale or promotion, and from a reputable competitor.
---
I'm worried my order will break in transit, how do you package your hookah pipes?
We take great care to ensure your order arrives in perfect condition - 99% of our orders arrive on time and undamaged. Anything breakable, such as glass or ceramics, are wrapped carefully. We also utilize packing cushions and/or styrofoam packing peanuts. Even with the great care we take to ensure safe travel to you, it is always possible damage may occur in shipping. For this reason, all of our shipments are fully insured and we will replace any products that arrive damaged or broken
---
What do I do if an order arrives damaged or broken?
Despite the attention and care we devote to hand-packing each individual order, unforeseen circumstances while an order is in transit can damage the package contents. If something arrives damaged, follow these steps to ensure the fastest and most thorough possible service:
Take photos of the damaged item(s) as well as the shipping box and shipping label. Please include several photos, if necessary, to illustrate the damage in detail. We ask for these images not only for documentation but also to file a claim with our shipping couriers.


Email the photos along with a detailed description of the damage and your order number to info@hookah-shisha.com. You may also live chat with us to send over your images and resolve the issue.
Once we receive your email and photos, we will reply to confirm with you. At that point we will outline your options and request any additional information if needed.
---
What if something is wrong with my order
We strive for the highest level of accuracy in order fulfillment. Our orders are triple checked to ensure they leave in perfect order, but occasionally mistakes are made. We will be happy to correct any mistake we make and we ask that you contact us immediately upon discovery of any errors.
---
My order is stuck in customs, what do I do?
If your order is stuck in customs, they are most likely just waiting on you to pay duties/taxes. The easiest way to figure that out is to contact your customs office with the tracking number. They will inform you if duties/taxes are needed to be paid to import your order or if it is required for you to pick up your order in person if it was "undeliverable". If you are unable to pay the duties/taxes you may "refuse" the package and have it sent back to us. Once it arrives back at our warehouse you will be refunded everything, minus the cost of shipping and a 15% restocking fee.

Note: All international packages will be declared 100% accurately based on the contents. We are unable to falsely declare packages or create false invoices. It is highly recommended that you research and understand your country's tobacco importation laws and customs processes before placing an international order. While we hold ourselves accountable for the products and shipping, Hookah-Shisha waives any responsibility relating to customs import fees, restrictions, or seizures.
---
Where are you guys located, can I come and shop in person?
All orders are shipped from our warehouse in Austin, Texas. We do not have a storefront nor the ability to allow any in-person transactions. Orders that are shipping within the state of Texas generally take 1-2 business days in travel time once they have left our facility. If you're in Austin, you will most likely receive your order the following weekday after it has shipped.
Categories
Month List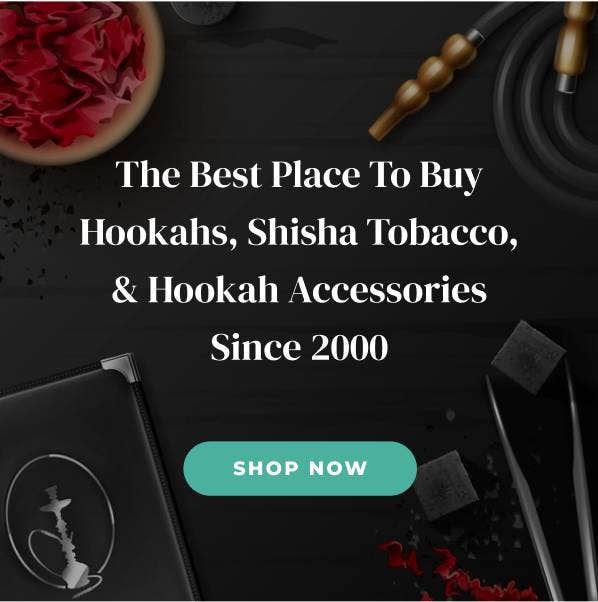 Shop All Hookahs, Shisha Tobacco, Charcoal, Bowls