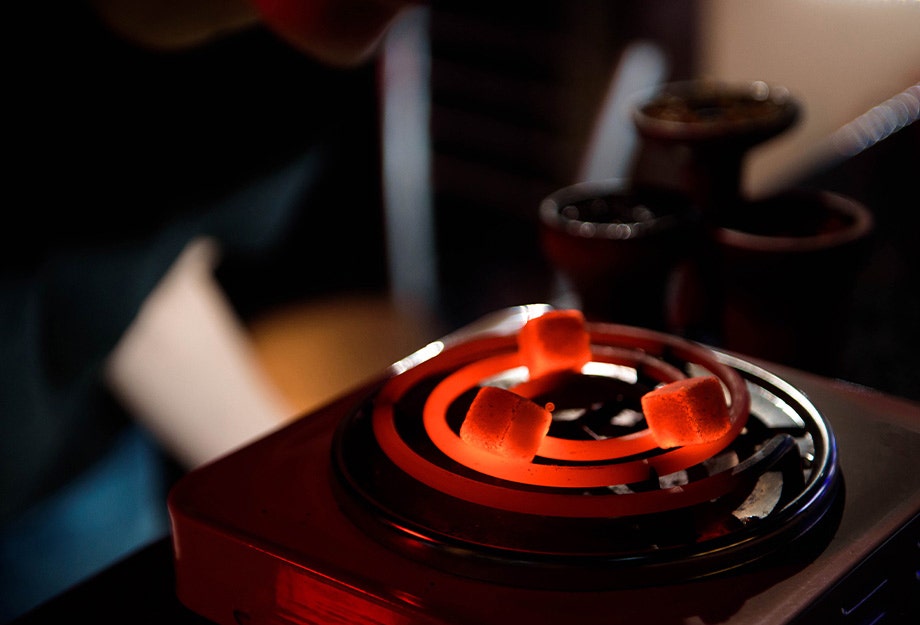 Hookah Charcoal Burners
And the hookah gods said let there be fire!
The most important tool in the world of hookah isn't the hookah or the shisha, it's the coal. Let's be honest you can't enjoy a hookah session without a little heat, because who likes a non functional hookah? The greatest hookah sessions are achieved by using natural coconut coals that have been cooked until they are glowing red. For many hookah enthusiasts lighting up coals can be the most therapeutic part of starting a session.
You don't have to settle for just one type of coal, because there are a wide variety of coals on the market to choose from so be sure to check out all the hookah charcoal options that are available. The coals are only one part of this puzzle, but the most important question we have to ask ourselves is how will you light them? Lucky you, we have compiled a list of the best hookah coal burners on the market to help you make the right decision.
The Standard Single Coil Electric Hookah Charcoal Burner
The standard single coil burner is the sweet spot in the world of charcoal heaters. It has enough power to get you natural coconut coals burning in about 10 mins. We find this to be the perfect amount of time to get your hookah cleaned up, and a fresh bowl packed.

If you need more than 10 minutes this coal burner is equipped with 3 different levels of heat, so you can choose you heat accordingly. It is only 8 inches by 8 inches so you don't have to worry about it taking up too much space in your prep area.
Fumari Hookah Coal Burner
The Fumari hookah coal burner is a small upgrade from the Standard Single Coil, this is a popular charcoal burner of choice for hookah lounges. The fumari burner has three heat functions, using the high heat function we were able to produced glowing red coals in 8-9 min. The coils of the burner are raised slightly from the ash tray allowing optimal airflow underneath the coals for an even cook.

The metal framework design allows the burner to be almost cool to the touch while operating. We don't encourage that you to touch your burner while it's on, but feel free to use the side handles if you feel the need to move it. The handles can also be used in the clean process, by holding the handles you can empty any charcoal ash into the appropriate dispense area.
Newport Hookah Coal Burner
When there is no electricity around, what is a hookah smoker to do when they want to light up their favorite Natural charcoal? Bring out the flames! The Newport Hookah Coal Burner is a must have for anyone that enjoys bringing their hookah with them on camping, hiking, and beach trips. The burner is fueled by Butane, it is portable and refillable so you only need one of these burners to set you straight.

A single Butane tank can produce high heat flames at up to 2400 degrees, for over an hour. It only takes 8-10 minutes for coals to become fully cooked using the Newport Coal Burner, but your surrounding environment will always play a big role if you're outside. Just think after you take the coals you could use some of the flame to get some S'mores going and who says no to S'mores right?
Electric Blazn Burner Hookah Charcoal Heater
Whoa are we in the future! The Blazn Burner is a product you might see in a futuristic sci-fi movie, with it's sleek metal chassis and ultra bright red lights. The Blazn burner brings your favorite hookah charcoals from black to glowing red in 5-6 minutes. This burner is equipped with an auto turn-off feature, so you will never have to worry about over cooked coals.

The heat comes from two replaceable infrared tube, that reach 750 degrees in a matter of seconds. You can only fit 3 cube or flat coconut coals in the burner tray but with speeds like this a second round of fully lit coals can be produced in no time. The infrared bulbs have a lifespan of 100 hours at about 5 minutes per session that equals around 1200 round of coals.
Categories
Recent Post
Month Lists