Fumari Island Papaya Hookah Tobacco Review
By
Jono
/ January 26, 2011
The question is "Will Fumari Island Papaya hookah tobacco whisk you away to a far away tropical island paradise?" The answer is yes, without a doubt!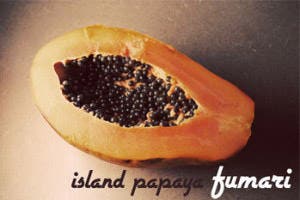 I don't know too many people that actually know what papaya tastes like. For those that don't know, it's a sweet buttery fruit with a musky taste that some compare to mangos or bubble gum. Let's take a tasteful journey and find out for ourselves what Fumari Island Papaya tastes like.
Personally, I think Fumari Island Papaya has a bright pink melon flavor that I can only describe as having a strawberry/raspberry/lemon/pineapple/mango melon vibe with a swift kick to the tongue. Very flavorful, and very sweet. The zing you get from Island Papaya is out of this world. This is by far my favorite Fumari hookah flavor yet.
Fumari Island Papaya has been a crowd favorite at my parties, friends' parties, and at the hookah lounges I've been to. The 100g pouch is almost an insult to my enthusiasm. This is definitely one of those "buy in bulk" hookah flavors. Give it a shot for yourself, look me in the eye, and tell me it's not amazing! I dare ya!
Comments are as always welcome. Also, head over to our Facebook page and hit us up with your thoughts there as well. Happy smoking, friends.
Categories
Recent Post
Month Lists