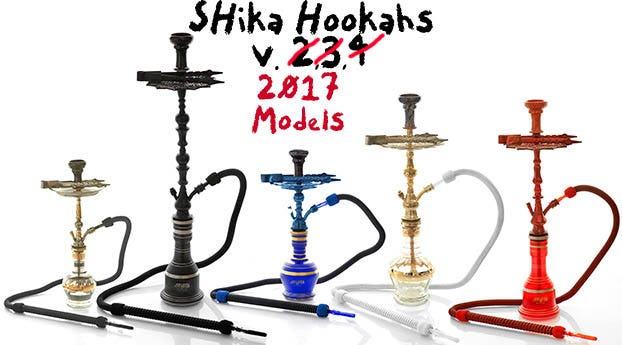 New Brass & Electroplated Shika Hookahs 2017-2018
By
SmokeOrPass
/ October 16, 2017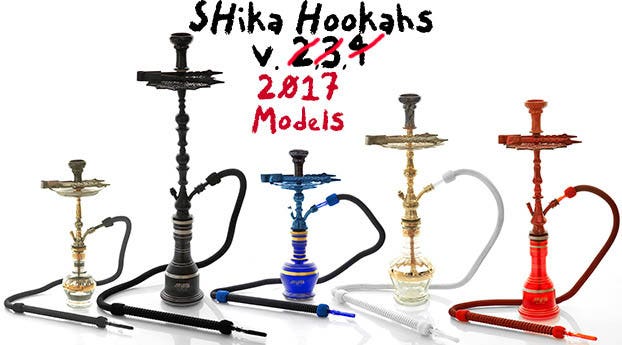 It's fall, which means that once again we get to see what's new with the Shika Hookah team. Over the past couple of years each new model has been introduced as an upgraded version; i.e v2, v3, v4. This time around we're changing it up a bit and launching the collection as the 2017 Shika Hookah models, but if you wanted to keep up with that tradition it's 4.5. Shika made their mark in the hookah community by creating unique hookahs with a traditional style and jaw-dropping hand engravings. Each hookah is crafted in Egypt with the use of solid brass, copper, and stainless steel to create a long lasting hookah pipe.
We've received updated models of many classics from last year's batch like the Zizo and Genie, along with some new models and accessories. The site will be updated with a few more pieces from the collection later on this week, but for now let's take a look at what's new for your next Shika hookah.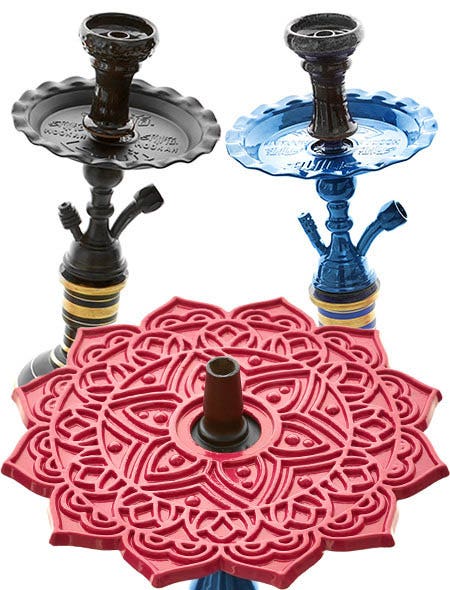 One of the first updates we saw for the electroplated series was the multiple tray options: Sonson and Patron (mandala). Each of the electroplated hookahs will come with a Sonson tray that features a wavy edge with a slight slope for your coals to rest. The Patron edition upgrade found on most of our electroplated models will arrive with a heavyweight Mandala tray. The Patron version of the Legend hookah will include both trays to be used at the same time or to have one as back up.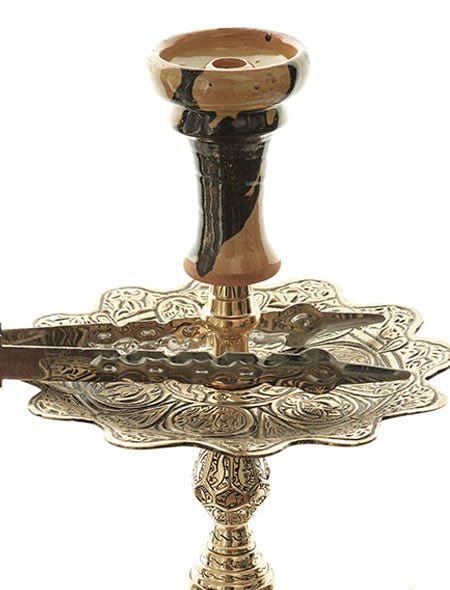 The multi-colored oblivion bowls will be a nice surprise to new Shika owners, as they are much larger than any other bowl that would normally accompany a traditional hookah. This batch of Oblivion bowls arrived with new color options (randomly selected color for each hookah) and a slightly textured exterior combined with thicker walls. They've also introduced an unglazed option for the shisha saving Dragon bowl , which is perfect for people that dedicate accessories to a particular flavor. These bowls can also be used with any shisha that you'll find on our site, so what will be next in your bowl?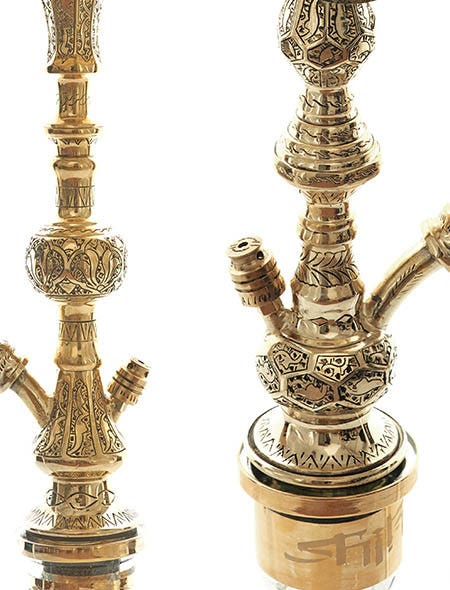 One of the biggest eye catching features for any Shika setup is the highly intricate detail found along the stem and around hub. We were really impressed last year with detail on Skyrim hookah and now it seems the Shika guys saw some room for improvement and updated all of their solid brass hookahs with more details and clean symmetrical lines. Members of the Shika manufacturing team include highly skilled artist that utilize a single hammer and nail to make all the engravings. TLDR: All of these marks came from a hammer and nail. CRAZY.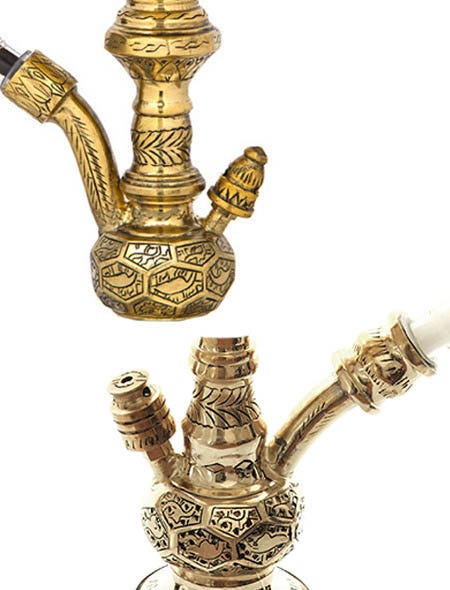 Last year the hose ports for most of the Shika brass hookahs displayed a slightly flared and hammered hose port. The engraved brass models for 2017 moved away from the flared port to a much sleeker rounded design with multiple ridges. This updated port gives the Typhoon hose a snug fit and with the proper use of a hose grommet you'll be able to use any of our silicone hookah hoses. The castle top purge cap from 2016 is no more as the updated design flows together seamlessly with the hose port. The purge valve now includes a top air passage that helps to expel smoke from the base easier for a fresher smoke.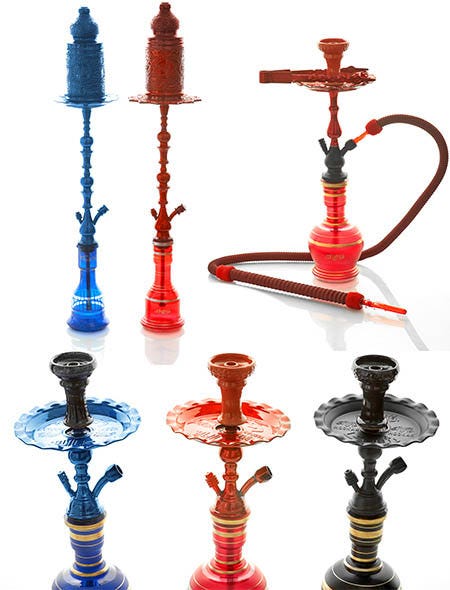 The Electroplated series started off with the Legend hookah and later evolved into a larger collection with hookahs like the Duel, Pen Pen, and Zoba. Last year everything had a smooth matte finish but this year Shika wanted to stunt and brought out the chrome candy paint for all of their electroplated hookahs. Shika doesn't leave you with mix matched accessories, as this reflective coat is displayed on the coal trays, wind covers, and tongs.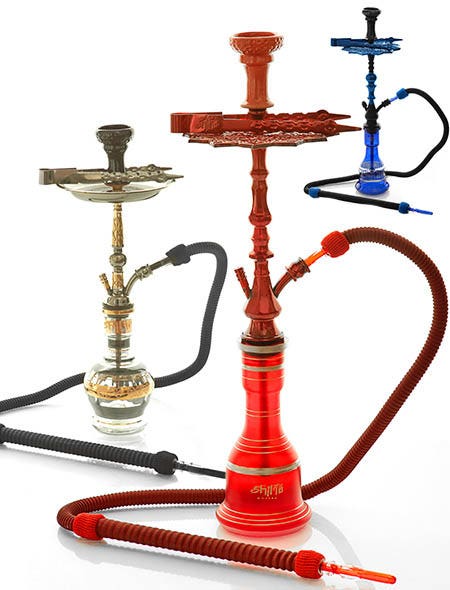 This week we'll be updating our pictures for the 2016 models that have been upgraded like the Hodor, Mini Hilal, and Avatar. These hookah will be available for purchase while we get our photo shoot started, because there are some fans that have been patently waiting and don't want to wait for photos . We'll also be adding a couple more electroplated models this week and a few more accessories. If we hear any news on more Shika hookahs we'll be sure to grab them up and present them to you first!
Categories
Recent Post
Month Lists