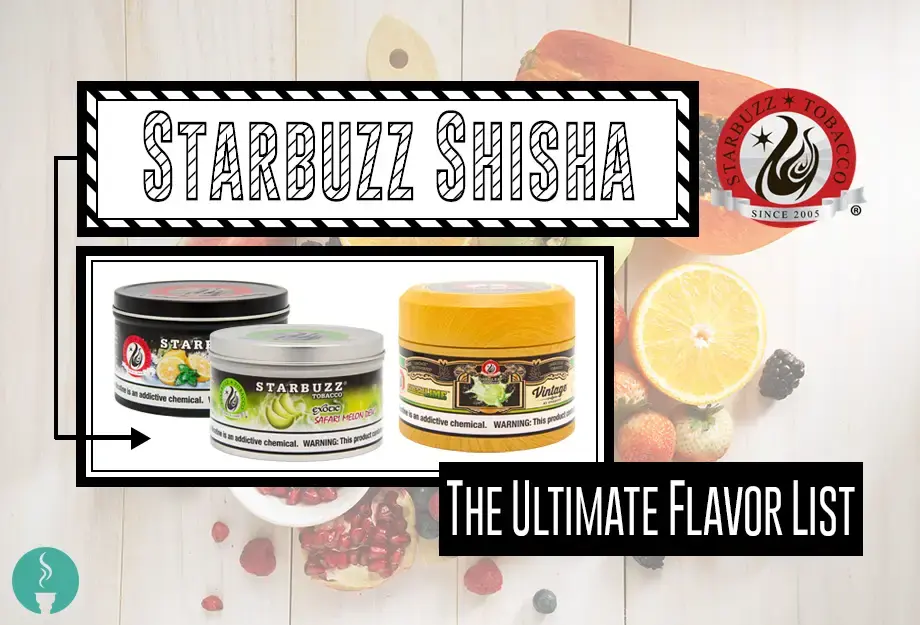 The Ultimate List of Starbuzz Hookah Flavors
Starbuzz shisha tobacco is by far one of the most popular shisha brands in our arsenal. Unfortunately, our customers don't always experience the full line of awesome flavors because they are leery of the ambiguous flavor names. You might be surprised to learn that Starbuzz Pirates Cave doesn't taste like how a cave smells, and Blue Mist doesn't taste like the smell before rain.

We pulled some of the most head scratching names from all of their flavor collections and gave you a little flavor guidance on all to help you make your next Starbuzz shisha purchase!
---

Starbuzz Shisha Tobacco Flavors (Original Line)
Apple Americano - If you like dark, rich, espresso flavors wrapped in the sweetness of a candy apple, then this flavor is for you. It sounds like a strange flavor pairing, but these deep flavors play very well off of each other.
Apple Cinnamon - Starbuzz Apple Cinnamon hookah tobacco smells like its name. Sweet and spicy, this shisha tobacco's taste matches its aroma pretty closely, and as always you'll be exhaling Starbuzz's signature monster clouds.
Apple Martini - Although it looks like boiled spinach, Starbuzz Apple Martini hookah tobacco offers up a unique and delicious shisha tobacco flavor. The sweet candy-like smell is dead on Green Apple Jolly Ranchers. The flavor is a little less sweet; tangy, like a Granny Smith apple.
Arabian Coffee - This cafe inspired flavor is a deep, chocolaty coffee that would go well when mixed with vanilla or mint.
Banana - Starbuzz Banana hookah tobacco is a medium cut, juicy shisha tobacco. The flavor is not as strong as its aroma; might taste better when combined with some of your other favorite Starbuzz fruit flavors.
Blackberry - This shisha tobacco tastes more of blackberry candy than fruit, with floral undertones.
Black Grape - The intense grape smell will knock you over when you open the lid! With a hint of anise, this strong flavor balances sweet with spicy.
Blueberry - Starbuzz Blueberry hookah tobacco is a good call if you want a blueberry shisha tobacco that's a touch less sweet than its competitors.
Blueberry Grape - There is a balanced presence of grape and blueberry. Smoking this hookah tobacco proved that it is a match made in heaven. The session starts with blueberry as the more dominant flavor and then eventually the grape comes to the front. The flavors come out with a deep character that is simply exquisite.
Blue Mist - This is the best selling Starbuzz flavor on Hookah-Shisha.com, and the most universally loved. With a sweet, light, blueberry/cotton candy flavor, it's a great shisha to start with, and is perfect for daily sessions.
Blue Surfer - This is the less ambitious version of the Silver Surfer. Blue Surfer may not be a superhero, but it does bring a mix of sweet tropical fruits and cooling mint.
Bubble Gum - Starbuzz Bubblegum hookah tobacco is perfect for the smoker with a sweet tooth. This shisha tobacco smells just like its name and produces monster clouds with a sweet, aromatic finish.
Candy - Squish together the refreshing flavors of pineapple and banana into a hard candy, and boom! You've got Starbuzz Candy shisha.
Cantaloupe - Starbuzz Cantaloupe shisha tobacco lives up to its name. This hookah tobacco is not overly sweet and has a juicy medium to fine cut tobacco mixture.
Cappuccino - Starbuzz Cappuccino hookah tobacco is a creamy and mild coffee flavor, more latte than espresso. This shisha tobacco produces a light smoke density for a Starbuzz flavor, but still has good longevity.
Caramel Apple - Starbuzz Caramel Apple hookah tobacco hits a home run, nailing caramel apple spot on. Big, delicious clouds with an apple base and poignant caramel overtones. It is packed pretty juicy with few stems.
Caramel Macchiato - Similar to the drink, this shisha flavor is creamy, and rich, with a hint of caramel sweetness.
Cherry - Starbuzz Cherry shisha tobacco lets you return to the heartland of hookah smoking. This mixture is a medium cut that is nice and juicy. For a little variety, you may want to try mixing this shisha with a chocolate flavored hookah tobacco.
Christmas Mix - Seriously. This tastes like Christmas. It's a wintery mix of cinnamon, nutmeg, spice, and everything nice.
Chocolate Mint - Starbuzz Chocolate Mint hookah tobacco lives up to its namesake; but be warned, the mint overtones are menthol-based and pretty strong.
Chocolate Strawberry - Starbuzz Chocolate Strawberry is a classic hookah tobacco flavor; everyone agrees that this shisha tobacco is delicious, like eating long-stem strawberries dipped in chocolate.
Citrus Mint - Starbuzz Citrus Mint hookah tobacco is a delicious blend of citrus fruits, with a minty, menthol finish. This sweet and fruity shisha tobacco draws sweet and finishes with cool, massive clouds.
Citrus Mist - Similar to the famous Blue Mist, Starbuzz Citrus Mist shisha tobacco is equally pleasing. Robust citrus flavors with a refreshing, tingly menthol aftertaste makes this hookah tobacco a favorite. It smells like gummy bears, which translates well into the flavor of the smoke.
Classic Cola - Starbuzz Classic Cola hookah tobacco can't produce the fizz, but if you like gummy cola bottles, you'll like this flavor.
Classic Mojito - A delicious blend of spearmint and lime, this hookah tobacco finishes a little sweeter than most mint shishas; more of a sweet mint, without the menthol coolness you get from most mint shisha tobacco.
Coco Jumbo - Put 'da lime in 'da coconut and smoke it all up! (In case you didn't catch that...it tastes like lime and coconut.)
Coconut - Starbuzz Coconut is an incredibly creamy coconut shisha tobacco. This delicious hookah tobacco is also great when mixed with Starbuzz White Peach shisha.
Code 69 - Cool fruit punch flavor mixed with thick clouds of tart citrus.
Cosmopolitan - Starbuzz Cosmopolitan hookah tobacco lives up to its name; if you like the drink, you'll like the smoke. If you want to get a little adventurous with this shisha tobacco, try substituting the water with cranberry or grape juice.
Cotton Candy - This hookah tobacco almost exactly mimics this carnival treat, kicking up some huge, puffy clouds, even if they're not pink.
Double Apple - A sweet mix of red and green apples with hints of anise underneath.
Egyptian Pharos - Tea leaves with cream creating a unique spice smoke.
Exotic Grape - A nice mix of both red and white grape flavor, resulting in a slightly more complex blend of delicious grape flavors. If you like grape, this is definitely one to try.
Flower Power - This flavor is full and intense. It mixes together an aromatic floral punch with fruity sweetness. It's like being punched in the face by a flower dressed up as an orange. Crazy, right? Crazy good.
Fruit Sensation - "Fruity" flavor can be pretty vague, but this shisha picks one fruit, and sticks with it! You're going to get a mouthful of pear with this Fruit Sensation.
Fuzzy Lemonade - This shisha tobacco smells similar to Lemonheads candy but has a sweeter lemon flavor, with a hint of mint mixed in.
Fuzzy Navel - This shisha tobacco is a delicious peachy tropical concoction, with just the right amount of sweetness.
Grapefruit - This flavor stays true to its name. A great citrus flavor perfect for mixing, or just on its own.
Guava - This shisha offers up a delicious blend of guava and tropical flavors.
Hard Rush - Winter fresh mint gives an extra kick to a generous combination of fine fruity flavors.
Holiday Mix - Banana in your face with a warm blend of cinnamon cream and spices.
Honey Berry - What would normally be a standard sourberry, gets an extra swirl of complexity by adding a hint of honey liqueur.
Jasmine - Starbuzz Jasmine shisha tobacco offers up a nice floral aroma and subtle taste. If you want to enjoy smoke without a lot of fruit, mint and other strong flavors, you may want to consider trying this smooth and delicate hookah tobacco.
Kiwi - Like its namesake, Starbuzz Kiwi shisha tobacco offers up the exotic aromas and flavor of the kiwi fruit.
Kiwi Strawberry - Delicious, fruity, exotic. Delicious, sweet aroma and tasty thunderclouds, this hookah tobacco lives up to its name.
Lebanese Bombshell - I'm interjecting personal opinion into this one. I'm going to be honest: it's weird. But I love it. If you've ever wanted to smoke a forest, this may be the closest that you can get. Taking a long drag of Starbuzz Lebanese Bombshell is akin to breathing in cedar wood shavings. Like I said: it sounds weird, but it is totally great.
Lemon - Lemon Starbuzz is an accurate tasting lemon shisha tobacco. Just like slicing into a sweet lemon, this hookah tobacco is a traditional style shisha with medium to thick cut tobacco and a good amount of juice.
Lemon Mint - Similar to Starbuzz Lemon, this flavor is an accurate lemon flavor, just like slicing into a sweet lemon, but with a light, cooling mint addition that combines really well into this smooth, cool flavor.
Lemon Tea - They nail the flavor of the title well: this hookah tobacco tastes like lemon, finishes with a touch of tea.
Mango - Starbuzz Mango hookah tobacco offers up the nice fruity aroma and taste of mango.
Margarita - Sporting a delicious, citrus flavor reminiscent of everyone's favorite cocktail, producing Starbuzz's famous dense, white clouds. Yum.
Marlett - This flavor is a little confusing. The Starbuzz website even says that this particular flavor is always changing depending on 'trends'. However, the majority of reviews describe it as being similar to a rich merlot. This includes grape, berry, and spicy flavors.
Melon Blue - Semi-sweet blueberry with a mellow green melon exhale.
Orange - Starbuzz Orange shisha tobacco offers up delicious aromas and taste. If you like citrus hookah tobacco, you should definitely add this to your cache.
Passion Kiss - This could mean a lot of different things. But today, it means tropical fruit.
Passionfruit Mojito - After firing up a bowl of this shisha, we noticed everything from citrus to spice flavors, and of course there is the passion fruit and mint flavors in there. It wouldn't be a mojito without the mint, yes?
Peaches & Cream - Starbuzz Peaches and Cream shisha tobacco offers up a mellow, smooth take on fruity hookah tobacco. The cream dominates over the peach, which is more like an ice tea peach than a succulent peach.
Pina Colada - Starbuzz Pina Colada shisha tobacco is a great mix of pineapple and coconut. This superb pina colada shisha flavor will make you want to get caught in the rain.
Pineapple - Starbuzz Pineapple shisha tobacco is a super sweet and accurate flavored hookah tobacco. It's a great mixing flavor, too; Pineapple mixed with Starbuzz Coconut or Starbuzz Banana is always a crowd pleaser.
Pink - Did you know that there are over 200 different species of raspberries? Well you absolutely do not need to know that in order to enjoy the light raspberry flavor in Starbuzz Pink! Some say there's even a hint of lemonade underneath it all.
Pirate's Cave - There's nothing hidden about this arrrrrriginal flavor! It's a no nonsense, swashbucklin', lemon-lime explosion! Think of Skittles or Mt. Dew, and you're in the right direction.
Plum - Sweet and fruity, with authentic plum flavor.
Pomberry - This flavor might seem mysterious, but it's actually exactly how it sounds. Pomegranate. Berries. Booyah.
Pomegranate - This shisha tobacco offers up very sweet aromas. While the flavor of this hookah tobacco is not nearly as strong as the smell, you can count on a nice, juicy cut and big clouds.
Pumpkin Pie - This hookah tobacco offers up a blend of spicy clove and cinnamon, which really resembles pumpkin pie.
Raspberry - This hookah tobacco tastes just like raspberry and has a good level of sweetness to it.
Rose - Presenting delicious floral aromas, this hookah tobacco delivers a slightly different smoking experience than the ubiquitous fruity flavor varieties, and it burns for a long time.
Royal Grape - Strong grape flavor with an underlying hint of vegetation. Sounds odd, but the flavors balance each other out.
Safari Melon Dew - This shisha tobacco offers up super sweet melon flavor, with a taste that is spot on every time. This is one of Starbuzz's flagship hookah tobacco flavors; one that many customers buy again and again.
Sex on the Beach - Similar to the drink that is its namesake, this shisha flavor combines one part lemon and one part orange, shake, and serve under a hot coal twist!
Sour Apple - Starbuzz Sour Apple shisha tobacco definitely lives up to its name. It smokes fine by itself, but it is amazing when mixed with a caramel hookah tobacco.
Spearmint - Starbuzz Spearmint shisha tobacco nails the smell and flavor of Wrigley's spearmint gum.
Spicy Red - Reach in your pocket and pull out a piece of cinnamon gum. Now compare it to this smoke profile, we think it's pretty close.
Strawberry - Strawberry Starbuzz shisha tobacco is a fruity classic. This hookah tobacco is a great smoke on its own or as a mix.
Strawberry Daiquiri - Obviously, there is strawberry in there, but on top of it you get some nice citrus liqueur type flavor that recreates the tropical drink pretty well.
Strawyberry Margarita - The smell of Starbuzz Strawberry Margarita shisha tobacco is dead-on, and it tastes great! A nice, perfectly sweet tropical drink hookah tobacco, this shisha will put you in a good mood.
Sweet Apple - Starbuzz Sweet Apple shisha tobacco emphasizes the sweet and loses the anise/licorice flavors that are common in apple hookah tobacco. While the aroma is very sweet, the smoke is more reminiscent of sour apples.
Sweet Melon - Starbuzz Sweet Melon shisha tobacco is a delicious melon. Unlike other melon flavored hookah tobacco, this one is particularly potent, with strong aromas and flavor.
Tangerine Dream - Starbuzz Tangerine Dream shisha tobacco tastes exactly like it smells: like an orange cream; Orange Julius; Orange Creamsicle. Copy? This hookah tobacco kicks out some fab aromas, and delicious taste that matches it.
Tequila Sunrise - Starbuzz Tequila Sunrise shisha tobacco gets pretty close, with maybe a little more berry than pomegranate (grenadine) in the flavor. Plenty of orange and tequila flavors as well; if you like this drink, you'll like this smoke.
Tropical Fruit - This hookah tobacco evokes spice gumdrops, or perhaps the gum from a pack of baseball cards, with a nice fruit blend. The flavor matches the aroma well.
Turkish Apple - Turkish Apple is a sweetly spiced eastern apple flavor of shisha tobacco from Starbuzz. Made with the modern day hookah smoker in mind, this tasty blend is loaded with spices and sweet apple while remaining relatively light on the anise, making for a sweeter blend than most apple shisha blends.
UFO - Imagine taking every kind of citrus fruit available and throwing it in a blender with some marshmallows and whipped cream: that is the only way to describe the indescribable UFO!
Vanilla - This creamy and delicious hookah tobacco smells as good as it tastes, kicking out some damnabulous big clouds.
Watermelon - Watermelon and smoke is always a tasty combination, and Starbuzz Watermelon shisha tobacco lives up to this axiom. Fruity and delicious, this hookah tobacco doesn't disappoint.
White Grape - This shisha tobacco puts a twist on the usual soda pop/candy grape flavor you get in hookah tobacco. Sporting a very strong and fruity aroma, it generates big, smooth clouds that are sweet and fruity, just not purple.
White Peach - This puts out a peach flavor that is incredibly sweet and almost creamy; one of the best peach hookah tobacco flavors out there.
Wild Berry - Starbuzz Wild Berry shisha tobacco is very sweet, kicking out fruity, candy-like flavor and aroma.
Wild Berry Mint - Very similar to the Starbuzz Wild Berry flavor, just with an added cooling mint to help keep your bowl nice and cool.
Winterfresh - This shisha tobacco has a strong, pungent aroma; this mint will clear your sinuses! If you are looking for a powerful mint hookah tobacco, you'll love the thick, powerful clouds that Starbuzz kicks up with this flavor.
---

Starbuzz Bold Shisha Tobacco Flavors
Apple Doppio - Deep, rich apple flavor with an intense, dark licorice sensibility.
Apple Mist - Starbuzz Bold Misty Apple shisha tobacco will mesmerize with a misty medley of succulent green apple, complemented with spicy notes for added flavor.
Asian Persuasion - Starbuzz Bold Asian Persuasion shisha tobacco is a floral blend inspired by the southeasterly quarters of Asia. This amazing blend is a mixture of potpourri and other floral tones, combined with delicious fruity tones to sweeten the pot(pourri).
Black Mint - One of Starbuzz's best new flavors. It's a kick-in-the-teeth-spearmint with a light, sweet, undertone of anise. Even if you don't like the anise (black licorice) flavor, you will like this.
Black Peach Mist - It's a mist with a twist! Strong peachy overtones are complemented by sweet blackberry undertones. Quite delish!
Brownie - This decadent flavor from Starbuzz provides you with a delicious blend of silky smooth chocolate and subtle sweet notes. This flavor profile smells great out of the can and once it's fired up your neighbor might want to join in on the desert session. The only thing missing from this flavor is a scoop of ice cream.
Code Blue - This flavor is similar to Blue Mist but with a "bold" essence. Where does the "bold" come from? Maybe in the chocolate-y aftertaste. It's been described as tasting amazingly similar to a Tootsie Roll!
Cosmo Power - An 'out of this world' combo of sweet fruit and floral flavors
Dibs On Ashley - Dibs On Ashley is one those mysterious Starbuzz flavors that provides a roller coaster experience for your taste buds, and leaves you wanting to hop back in line for the next ride. Double apple experts might be able to pinpoint the undertone of anise, while fans of fruitier profiles get to experience a sweet give and take between grape and mint.
French Buzz - A delightful orange sherbet taste that mixes in hints of vanilla and graham crackers.
Geisha - Serving up smooth berry flavors along with notes of peach, and just a hint of a minty "mist." Starbuzz Geisha hookah tobacco will keep you intrigued for a long time.
Golden Grape - One of the most pure grape flavors out there. It's a favorite among grape flavor lovers!
Grape Freeze - Sweet minty grape. More grape than mint
Grapefruit Mint - Starbuzz Bold Grapefruit Mint takes the refreshing essence of mint and blends it with the tangy sweetness of grapefruit, making for a shisha flavor that is both exhilarating and flavorful.
Green Savior - The herbal intensity is soothed with smooth spearmint undertones, and an overall aroma that will leave you smelling lovely for hours.
Irish Peach - A sweet peach flavor that has been described as tasting similar to peach bubblegum.
Irish Kiss - Apparently peaches are Irish according to Starbuzz, because this smack on the lips is filled with peachy-keen flavor and topped off with a sweet mint.
Jack The Ripper - Have no fear! Starbuzz Jack The Ripper is only here to give you a robust grape blend with tingling undertones of spices. This flavor has enough power to stand on its own two feet, but be prepared for a surprise when you start mixing it with some of your favorite flavors. Add a touch of mint or maybe apple, and thank us later.
Lady in Red - This flavor is reminiscent of Big Red chewing gum. There's a slight sweetness, with a cinnamon spice on top.
Margarita Freeze - Imagine a frozen margarita on a hot summer day - and you've got Starbuzz Margarita Freeze!
Mighty Freeze - This shisha is packed with tons of lemon tartness and icy spearmint. Hints of lemon drop candy meld perfectly with menthol freshness to give you a delicious burst of chilly fruit flavor.
Mint Colossus - A blend of mellow mint flavors, this hookah tobacco kicks up some massive clouds with a blend of wintergreen and Starbuzz White Mint taste.
Peach Ice Tea - Just like the title says: Starbuzz Bold Peach Ice Tea shisha tobacco is a delicious blend of rich, juicy natural peach, complemented by a sweet ice tea flavor.
Peach Mist - Starbuzz Bold Peach Mist shisha tobacco is an amazing mix of peach and cool mint.
Peach Queen - Starbuzz Bold Peach Queen shisha tobacco offers up a subtle peach cobbler flavor. This hookah tobacco also has some herbal qualities to it, almost like a white peach tea.
Pineapple Freeze - With this flavor, you get the sweet, tropical flavor of pineapple with hints of cool, refreshing mint to make it a perfect flavor for a nice summer smoke.
Pink Lady - Just like the well known drink that it's named after, Starbuzz Bold Pink Lady has underlying inklings of grenadine with a lime twist!
Purple Savior - There was nothing better than running in your kitchen as a kid and chugging grape soda from the 2L bottle in the fridge. You may have outgrown that particular habit, but you can relive it as an adult with this grape soda tasting shisha that comes complete with a "fizzy" quality.
Queen of Sex - It's sweet and tangy, just like you'd expect from royalty. With ripe citrus flavors washing over your senses, you'll become a jester in this queen's court. (I don't even know what that means, but you get the picture.)
Simply Mango - Featuring a very clean and distinct mango flavor, Starbuzz Bold Simply Mango is sure to become a favorite of anyone who enjoys good tropical fruit flavored hookah tobacco.
Simply Mint - Starbuzz Bold Simply Mint shisha tobacco kicks up some nice, no frills, icy mint flavor.
Spiced Chai - This newer Starbuzz shisha flavor is delicious, it has a very dessert-like smell out of the can but delivers a creamy spiced taste. Initially we thought it was cookie dough but the chai begins to come through as the session warms up.
Tropicool - A layered medley of tropical fruits like pineapple and citrus are present in this flavor, with just a hint of mint.
Watermelon Freeze - This will appeal to anyone who is fond of watermelon bubble gum. Along with a delicious candy watermelon flavor, this hookah tobacco has the added coolness of mint on the finish.
White Bear - The writing's on the can for this blend, Starbuzz Bold White Bear will send your session to a tropical destination surrounded by a massive amount of sweet pineapple. White Bear is almost identical to the gummi candy and as you exhale your taste buds may pick up on a slight citrus note that sends you down memory lane.
White Chai - Get ready for a spicy peach flavor unlike any spicy peach flavor you've ever tasted in the history of spicy peach flavors! Starbuzz Bold White Chai actually tastes very similar to Starbuzz White Peach, but with some spicy tea undertones.
White Mint - If there were a volume scale on mint, this flavor would be turned up to 11.
---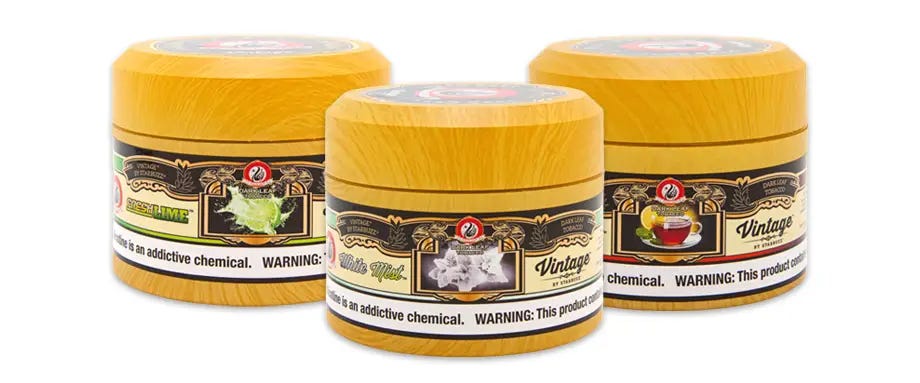 Starbuzz Vintage Shisha Tobacco Flavors
Alaskan Freeze - A nice cooling mint with strong tobacco undertones that are common in dark leaf tobacco blends.
Colombian Spice - This robust Colombian coffee blend is not only incredibly stout and buzzy, but also smooth and flavorful. This powerful coffee blend gives off cinnamon notes throughout the smoking session, and makes for a relaxing morning hookah.
Dark Caribbean - When you open a can of Starbuzz Vintage Dark Caribbean shisha, get ready to get hit in the face with an overwhelming pineapple, citrus, coconut blend mixed into a robust dark leaf tobacco.
Dark Mist - A blackberry blend that rivals the ever popular Starbuzz Blue Mist. Made of the same elements as Blue Mist - mainly the trademarked Mist flavor - but with a dark leaf tobacco, Starbuzz Vintage Dark Mist promises to be similar.
Dark Vanilla - Dark Vanilla is a powerful, robust blend of vanilla shisha with lasting effects. Great as a mixer, this Starbuzz Vintage Dark Vanilla pairs with other Starbuzz Vintage flavors nicely, but can also smoke well on its own.
Delhi Tea - A unique blend that, if you couldn't tell from its name, is reminiscent of a smooth, earthy tea with hints of star anise, cinnamon, and cardamom.
Fresh Lime - A deliciously tangy and sour plain lime flavor. The flavor translates well from the taste, not featuring as much of the strong tobacco notes as others in the Vintage line.
Ginkco - Starbuzz Vintage Ginkco shisha tobacco packs a wallop of flavorful intricacies and tones. Upon smoking this flavor, we immediately catch notes of honey, ginger and a light sprinkle of mint. This is a great afternoon bowl on a hot summer day.
Honey Dew Me - A smooth, honey dew melon flavor that is sure to please. The flavor translates well into a nice, refreshing melon flavor, perfect for a summer smoke.
Indian Spiced Apple - Starbuzz Vintage Indian Spiced Apple is a tasty spicy apple blend, modeled after red Indian apples. The robust dark tobacco leaves bring forward the powerful spice blend with a subtle apple complement on the front end of the smoke. This shisha features both red and green apple, along with a sweet anise taste as well as a sweet tobacco flavor.
Morning Breeze - Featuring a sweet and sour lemon chai tea flavor that will woo you as much as it will wow you.
Orange Chocolate - The fresh zest of citrus orange combined with the rich creamy sweetness of chocolate; we're looking forward to getting to know this one!
Peach Spice - This rich peach, complemented by heavy spice notes, makes for an incredible smoke experience.
Root Beer - Much like the soda of the same name, you'll find yourself reminiscing with this sweet blend of spices with a touch of vanilla creaminess that tastes just like the drink!
Shanghai Passion - This flavor is a strong blend that tastes of herbal tea with light cinnamon undertones.
Spice Me Red - Cinnamon, spicy, delicious. This member of the Starbuzz Vintage line, Spice Me Red shisha, is very similar to a stick of cinnamon flavored gum, with strong notes of sweet berries.
Sweet Cigar - Starbuzz Vintage Sweet Cigar is a solid hookah tobacco flavor featuring rich notes of sweet sugary goodness. This flavor is great for mixing and adding a little extra robustness to your bowl along with an element of vanilla sweetness.
Tiramisu - Tiramisu, what a brilliant idea. This subtly sweet flavor features a delectable creamy taste with notes of coffee and java. This is a must try flavor for all you coffee lovers and dessert aficionados.
Tokyo Spice - This flavor combines sweet citrus with light notes of spices. The orange and lime blend has quickly made this shisha flavor an office favorite.
White Mist - Starbuzz Vintage White Mist shisha tobacco is a deliciously creamy flavor, with incredible notes of peach and spice mixed in for a wonderful smoke session.
Categories
Month List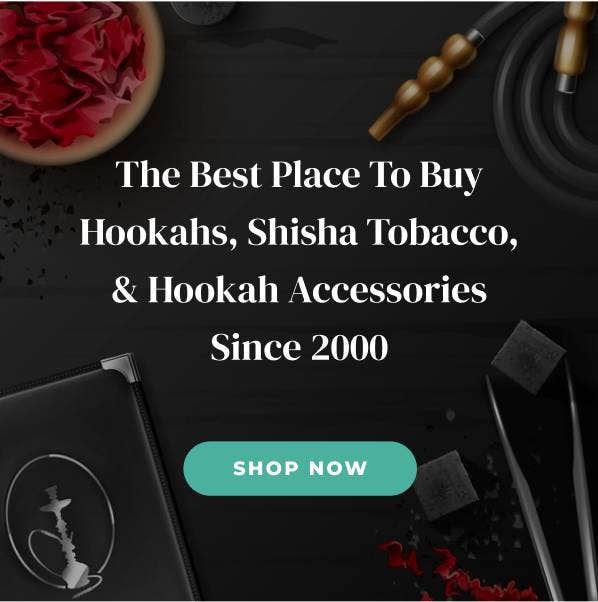 Shop All Hookahs, Shisha Tobacco, Charcoal, Bowls