Top 5 Starbuzz Hookah Tobacco Flavors For 2020
By
SmokeOrPass
/ June 12, 2020
Brace yourself Starbuzz fans because we're talking about some of our favorite flavors and BLUE MIST is not on the list. There's a reason for this; we're only talking about the newer blends that have come along in the past couple of years. The oldies have made a name for themselves already and are still very deeply loved by the community.
Starbuzz tobacco changed the game back in 2005 and introduced a modern take on the shisha industry. It was the first brand marketed towards the American market and we got our first taste of flavors that didn't have single flavor names like many of the traditional options available at the time.
They have since gone on to create multiple lines of tobacco, hookahs, accessories, and even charcoal.
So sit back and get ready to check out our favorite new-age Starbuzz tobacco blends!
1. Starbuzz Bold Spiced Chai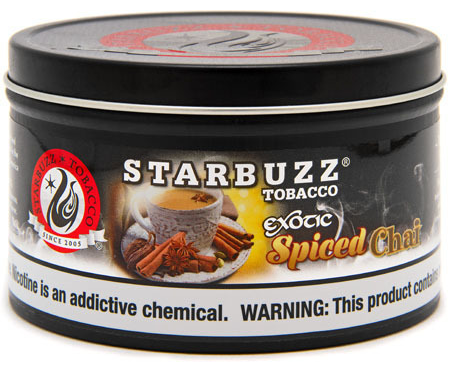 We had to pause ourselves when this one dropped only because we were already deeply familiar with the original Spiced Chai from Fumari. Going into our initial session we knew that Starbuzz had to bring something different to the table. Once we cracked the can open, that became a true fact!
This sits high on our list because it's such a decadent treat. This aroma delivers a sweet cinnamon cookie scent with a multitude of subtle creamy chai tones. There was so much interest in the first session that we had to bust out the camera to get everyone's take on this delicious blend. We haven't forgotten about the OG but this one will always have a place in our hearts.

2. Starbuzz Exotic Passionfruit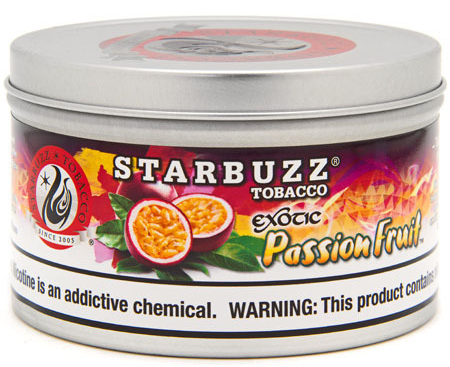 Not only is this an amazing solo session flavor, it's also one of the most popular flavors of the recent releases from Starbuzz. We attribute this to the can art as to the reason why it's picked up as a first time buy and then the flavor performance is the reason why it's ordered again.
Once we started to see this trend, it was time for all of us to give it a run for it's money. No surprise to us this blend kicks BUTT! You can smell it a mile away before you even open the can, and it's just as powerful inside your bowl. This is the only solo flavor on our list and although you expect to receive one type of taste profile, the flavor actually produces a stronger fruit taste to start and finishes on an even sweeter note.
If you've never had a passion fruit flavor, this is a perfect start!

3. Starbuzz Egyptian Pharaohs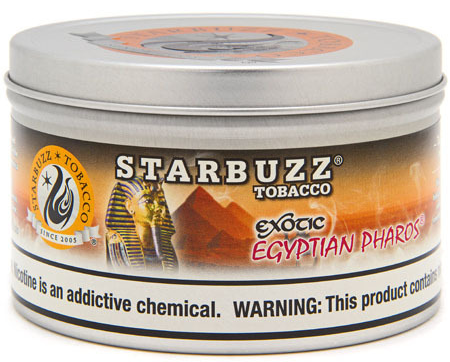 There aren't many tea inspired flavors in the Starbuzz lineup unless you're looking at their Vintage dark leaf tobacco collection or the robust grape - ginger tea from the Asian Persusian blend. Egyptian Pharaoh's is the only blend within the original line to contain a tea leaf flavor profile. The packaging art in this situation doesn't really help you make an informed decision. Will it taste like an old pyramid or sand? Is it spicy or minty?
We had the same questions, although "old pyramid" may not have been on your guess list. Upon opening this can you still might not know what you're getting yourself into, but we actually like these types of blends as it gives us something to decode. One of the first things that caught our taste buds was the subtle creaminess to the smoke which helped sweeten the flavor and provide a unique texture.
The earthy aroma within the scent and taste during our smoke session continuously brought us to tea leaves. We're not talking about a cup of sweet green tea, this is more of a darker tea with sweetened cream and spice. One of our favorite things about the Egyptian Pharaohs blend is that each session feels very unique in the way that the flavors play out in the mix.

4. Starbuzz Bold Spicy Red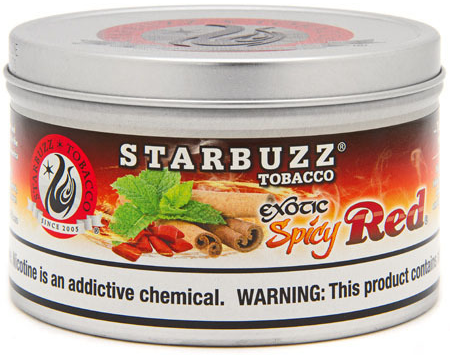 Remember in the paragraph before this when I asked "Is it spicy or minty?". Well, this one is both! The Starbuzz Spicy Red blend is a flavor profile that you've probably tasted before from a stick of gum. This is easily one of the best attempts at recreating this iconic taste and it's the type of flavor that is delicious in back to back smoke sessions.
It's the perfect balance between being a powerful flavor while at the same time not strong enough to knock you out or flavor-stain your hookah equipment. They nailed the combination of sweet and spice but this cooling mint comes in at the perfect moment of your exhale. Even though we call this one a great solo session, you can easily get this in a mix with several other profiles like vanilla, cherry, or whatever else you're feeling.
This is a classic for us!

5. Starbuzz Bold White Chai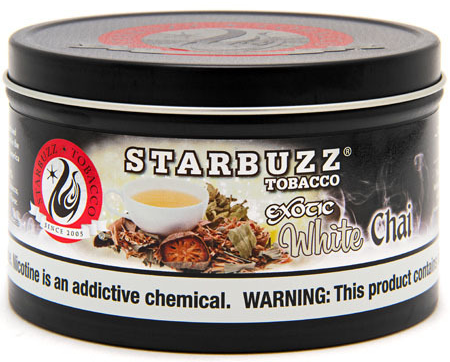 We're rounding out our list with ANOTHER chai blend but this one is different, we promise. When we heard about this flavor we assumed the "white" in the title was referring to something along the lines of their White Mint flavor. A vanilla esque chai sounded like the perfect kind of party for us, and this was before the release of Spiced Chai, so we really had no idea what would happen here.
Upon its arrival we could smell it as it came into the building....PEACH. Ladies and gentlemen, this is an amazing journey through clouds of flavor. Not only are you getting bright and sweet creamy chai, there's also a whopping amount of white peach flavoring that sends this flavor clear up the charts on our favorites list. If you like Peach flavors but stay away from chai/coffee blends, you're missing out on a fun one.
The chai is definitely present in the flavor profile but the combination of peach, spices, and whatever else they threw in the mix makes it a perfectly balanced flavor blend. You'll catch this one smoking in the warehouse often with a touch of some dark leaf mint.

What Are Your Blends?
We showed off our favorite newer Starbuzz blends, now let's see yours! Be sure to let us know if these are blends that you've had before and if they would make your top 5 list. Did we miss your flavor? Drop us a comment below and we hope you enjoy your Starbuzz flavor journey for 2020.
Thanks for reading.
Happy smoking
-SMOKEorPASS
Categories
Recent Post
Month Lists