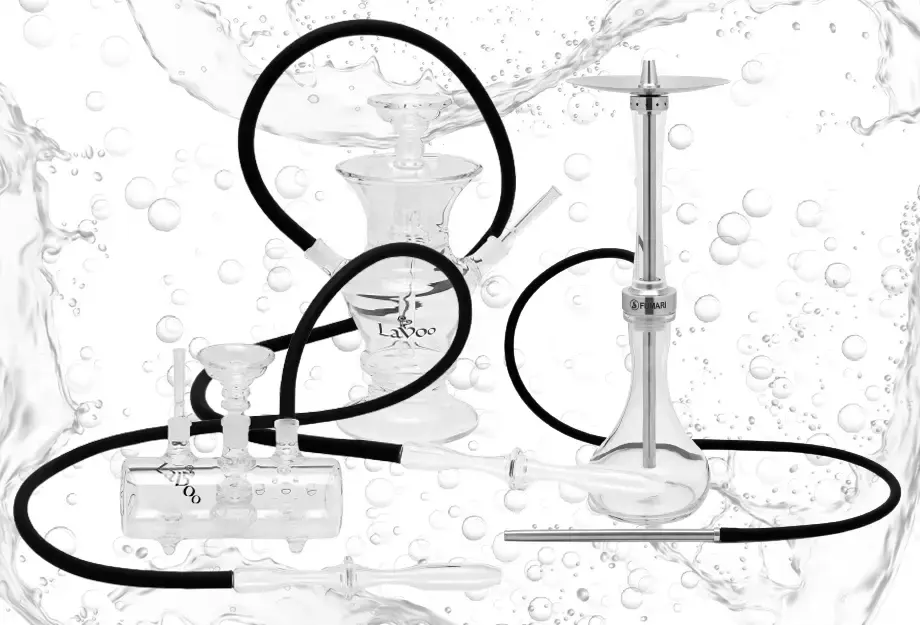 How To: Clean a Glass Hookah
By
katie
/ August 29, 2014
All-glass hookahs like those from Lavoo, or hookahs with glass components other than the base, are amazing showpieces as well as a unique style of hookah that rapidly gained popularity. Watching the smoke from your favorite shisha travel from the bowl through the entire hookah is mesmerizing. You can find them in various sizes and designs, but one thing you may notice (we did) is they can be a little tricky to clean, especially the inside!

No worries. Through our experience we have narrowed down some of the best ways to clean your glass hookah. The following steps will help you get that beautiful glass to sparkle all while getting a thorough cleaning.
---
Rinse Thoroughly

After you have your glass hookah empty, take note of the most problematic areas - such as water "stains", smoke "film", and maybe some pieces of shisha tobacco that wiggled its way into the base. Fill it back up with clean water about ¼ full and shake it around a bit. Rinse and repeat with just water to help spot those areas that need some more attention.

Note: Before we continue on, let's pause for a second to talk about temperature shock. Anything glass is prone to this phenomenon. This occurs when the temperature of the glass is suddenly exposed to an extremely different temperature, causing cracks and sometimes total breakage. For example, if your hookah had ice in it and then you went to wash it with hot water…BOOM, the perfect scenario for temperature shock. Always keep this in mind when washing any hookah.
Pre-Wash

You know that cycle at the car wash before you start scrubbing? That's the point here. Grab a small amount of dish soap and fill the base again with the same amount of water to make a nice, concentrated soapy mix. Swish this around, carefully! We don't want any glass going for a flight! Rinse with warm water until no more soap suds come out.
Use a Cleaning Solution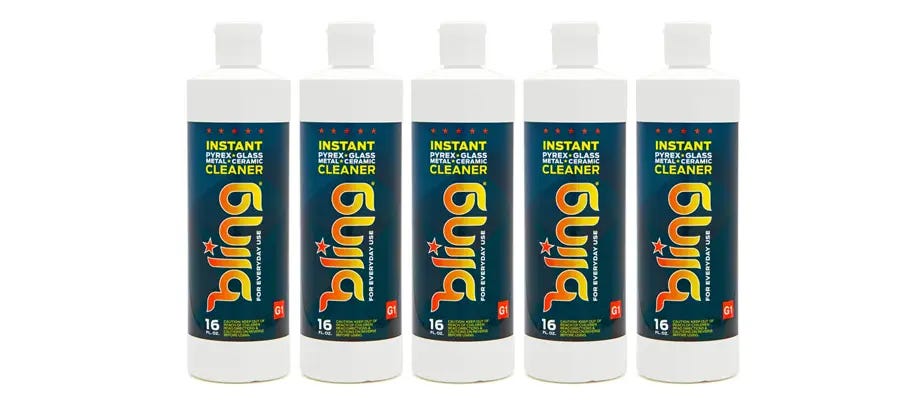 We recommend using Bling Hookah Cleaning Solution. Bling is a non-toxic, alcohol-based cleaning solution that contains micro-abrasive cleaning "crystals." This product acts as a disinfectant, deodorizer, and "scrubbing" solution all in one and leaves any hookah base sparkling clean.


When in a pinch, a mixture of a little water and a coarse salt (think of a thick solution, just enough water to swish with) will get you the same scrubbing effect (but not the full benefits of Bling!). You can also add some lemon juice and a small amount of baking powder to help lift off water marks.

With whatever solution you choose, or have on hand, swish it around vigorously, but again carefully. Tilt and rotate the hookah to make sure you hit any really gritty spots.
Give it Some Time, Let it Sit

If you're using Bling, we have found that it does help to let the cleaning solution sit for about 3-5 minutes, just enough time for the solution to break up the gunk remaining in the hookah. Make sure to swish it around every minute or so to ensure the solution simply doesn't run down to the bottom and skip its duties. Rinse and repeat as necessary.
Get to Detailing
This is the tricky part. We suggest at least attempting to use a Shaft Brush, and you will almost definitely need to bend and manipulate your Shaft Brush to be able to reach all the nooks and crannies. Bend the brush however you need to and scrub any remaining stains or grime from the inside of the hookah.

Pro-Tip: For tight areas, pipe cleaners can do some wonders. We're talking about the kind you used for arts and crafts when you were a little tike. If you can score the longer ones, even better. Smoke shops may sell pipe cleaners as well, but they're generally too small.
Rinse and Rinse, and Rinse Again

Rinse out the entire hookah thoroughly until the rinse water is just pure water and you don't feel anything on your hands. You may be able to see some areas that may need some additional scrubbing. Repeat any of the previous three steps as necessary.
---
There you have it! The best way to keep any glass hookah parts as clean as possible is to wash, or at least rinse, them after each use. Water sitting in a hookah quickly begins to cause you more problems later on. Save yourself the extra trouble and clean your hookah regularly!

Scrub-a-dub-dub and happy smoking!
Categories
Month List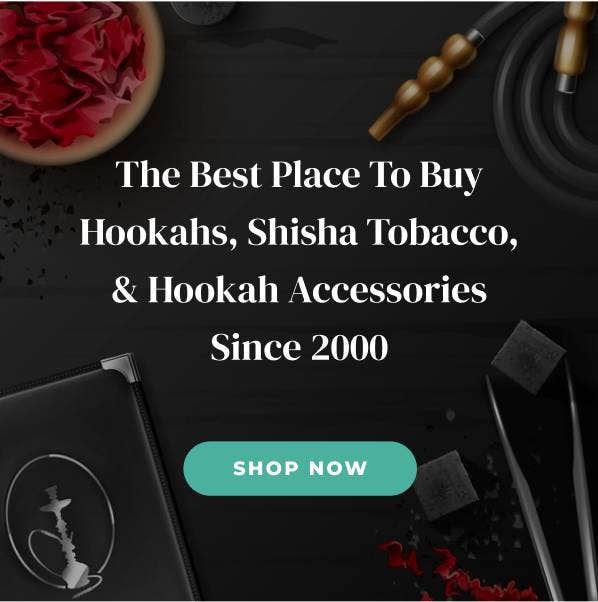 Shop All Hookahs, Shisha Tobacco, Charcoal, Bowls