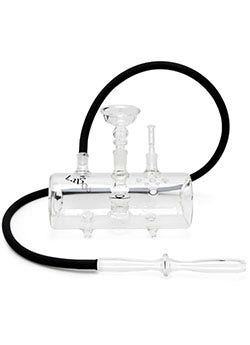 How To Clean A Glass Hookah
By
Katie
/ August 29, 2014
All-glass hookahs have grown increasingly popular over the last year or so, especially in our store! We now carry Roi Glass Hookahs, Evolution Glass Hookahs, Lavoo Glass Hookahs, Round Glass Hookahs, and Art Glass Hookahs. One thing we have noticed is that they can be a bit tricky to clean! Don't worry, with the proper guidance and tools you will have that glass sparkling in no time. Below is a step by step guide on the best way we have found to clean any all glass hookah.
Step 1: Rinse Thoroughly – You'll want to dump any old water out of the hookah. Fill it back up with clean water and shake it around a bit. Rinse out the whole hookah again until you are satisfied.

Step 2: Cleaning Solution – Thoroughly coat the inside with a cleaning solution. We recommend using Bling! Hookah Cleaning Solution, but another great option you can use is shower foam. A third option would be a mixture of water and Epsom salt.

Step 3: Let it Sit – Let the cleaning solution sit for about 3-5 minutes, just enough time for the solution to break up the gunk remaining in the hookah. Once you have thoroughly covered the inside of the hookah with the cleaning solution and let it sit, shake it well. Rinse and repeat as necessary.
Step 4: Scrub with a Shaft Brush – This is the tricky part. You will almost definitely need to bend and manipulate your shaft brush to be able to reach all the nooks and crannies. Bend the brush however you need to and scrub any remaining stains or grime from the inside of the hookah.

Step 5: Rinse Again – Rinse out the entire hookah thoroughly one more time, and you will be able to see exactly what areas may need some additional scrubbing.

Step 6: Touch-Up – Inspect the hookah for any lines or remaining gunk that needs to be cleaned off, and touch it up as necessary. Other than that, you should have a sparkly glass hookah by now!
Categories
Recent Post
Month Lists