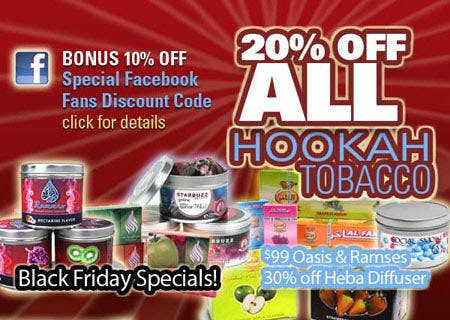 20% off All Hookah Tobacco! - Black Friday Sale 2010
By
Grabertrain
/ November 25, 2010
Edit 11/30/10: The 2010 Black Friday Sale has come to a close. Stay tuned for more holiday specials soon! Thanks to all of our supporters, and Happy Smoking!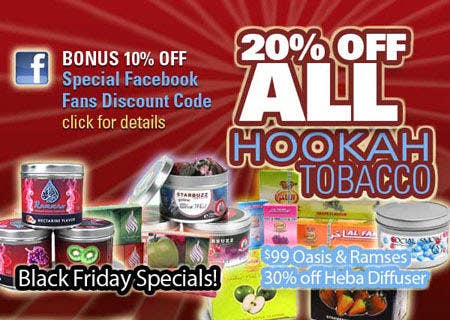 Wow, is it that time of the year already? Yes it is! Our annual Black Friday sale is officially underway, and this year is the biggest one yet! Last year we took 20% off select brands of shisha tobacco, and this year we're taking the savings even further by taking 20% off ALL brands of Hookah Tobacco! Starting now and ending on Monday, November 29th at Midnight Central Time, every brand of hookah tobacco is 20% off the listed price. No coupon code necessary! Hooray!
Additionally, during the Black Friday weekend we're lowering the price on two of our more popular Nammor Hookahs - The
Nammor Ramses III Hookah
and the
Nammor Oasis Hookah
, both of which are on sale for more than 22% off the regular price at $99.95 each!
| | |
| --- | --- |
| [caption id="" align="aligncenter" width="250" caption="On sale for $99.95!"][/caption] | [caption id="" align="aligncenter" width="250" caption="On sale for $99.95!"][/caption] |
| | |
| --- | --- |
| Don't forget about our favorite hookah accessory, the Heba Diffuser! Pick one up for yourself at 30% off the list price if you haven't already, or get one for a friend! | |
Wait, there's more!
How about an additional 10% off coupon that can be applied to all the other non-sale items in our store? All you have to do to get this coupon code is head over to our Facebook page (click the button below) and hit the ol' "like" button. Already a fan of ours on Facebook? No worries! The coupon code will be visible once you visit our Facebook page. The 10% off coupon has no minimum purchase! Go get it now! Remember, The 2010 Black Friday Sale is only for 4 days and will end on Monday, November 29th. As always, Happy Smoking!
Categories
Recent Post
Month Lists