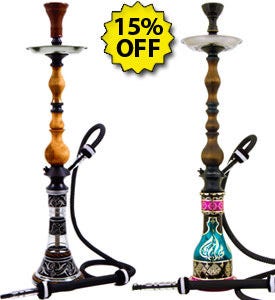 Egyptian Hookah and Regal Hookah Sale
By
Danny
/ September 16, 2013
This sale has ended. Check out our coupon code page for all of our great daily deals on hookahs, coal, and accessories.
This week at Hookah-Shisha.com we are having a big sale on two of our most popular hookah lines - Regal and Egyptian hookahs. Regal hookahs are some of the most beautiful, unique, and highly sought after hookahs in the world today. Comprised of hand lathed reclaimed wood and anodized aerospace grade aluminum, these hookahs will last a lifetime. All Regal hookahs are 15% off through September 23rd, 2013.
Also on sale this week is our exclusive line of multi-hose Egyptian hookahs. These days, you can find a high quality single hose Egyptian hookah anywhere you look, but multi-hose options are sorely lacking. Well worry not, because our Egyptian hookah line features your best bets for 1, 2, 3, and 4 hose Egyptian hookahs and they are all discounted 15-20% through September 23rd, 2013. Be sure to check out our upgraded Pharoah 2-Hose and Nile 3-Hose hookah combos as well, both are 20% off this week only.
Categories
Recent Post
Month Lists