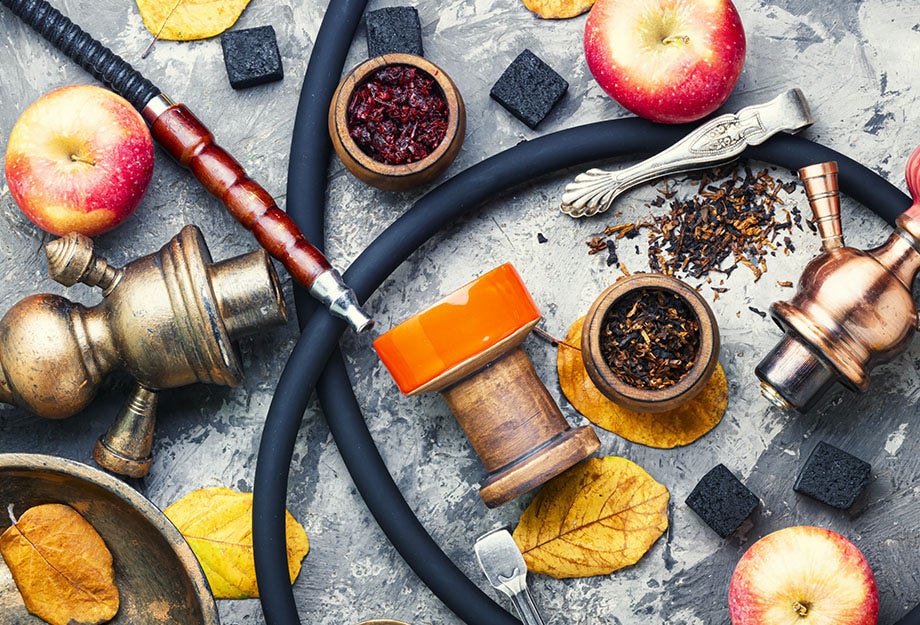 How to Set Up a Multi-Hose Hookah
By
SmokeOrPass
/ May 21, 2019
We've been working hard and are proud to finally announce the return of Multi hose hookah packages!

Easily one of the most requested products from you all, our customers, Multi hose hookahs are now back on the menu! Featuring a variety of different brands and models, our Multi Hose category has simplified the buying process, guarantees that you will receive everything that you need to smoke with multiple people, and takes care of any of the "will this adapter fit on this model" doubt.
In this blog, we will be going into more detail on each brand of multi hose hookahs available on the site.
We'll also have multiple instructional videos to help you affix your Auto-seal hose adapters to the hookah safely and securely.

What's An Auto-seal Adapter?
Well I'll tell you, since you asked! One of the biggest flaws of older multi hose hookahs was that everybody involved needed to "plug" the hose with their thumb or a plug when they were not smoking, else air would be getting into the hookah and preventing it from smoking correctly.
When you see the phrase "auto-seal," this means that the hose adapter is designed to automatically "plug" itself when nobody is smoking.
This is accomplished through the use of ball bearings in the hose adapters that "lift up" when you inhale to allow smoke to pass through, and "fall down" when not in use, thus "sealing" the hookah.
No more fuss about constantly reminding your friends to plug their hose when they aren't taking a hit!
How-To Make Your Mya Hookah A Multi Hose Hookah
Mya Saray, one of the original brands that offered multi hose hookahs, have always been one of our go-to hookah brands for those that are looking to add a 2nd, 3rd, or even 4th hose to their set up.
Many of their models feature threaded hose adapters, purge valves, and hose port "plugs" that are easily removed to make room for another adapter. Many of these hookahs can be made into multi hose setups in no time!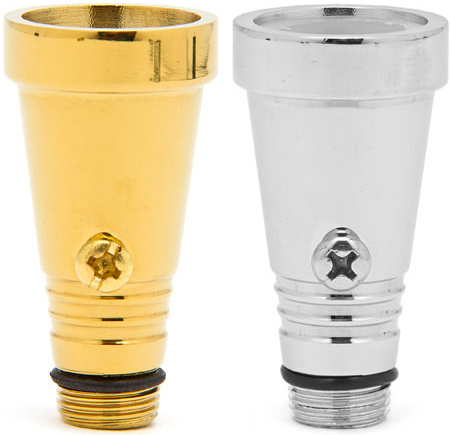 Now, when it comes to the Mya hose adapters themselves, there can certainly be some confusion. Mya hose adapters are available in two colors (silver and gold) and two sizes, (small and large).
I know what you're thinking, "I have a large Mya hookah so I definitely need the large adapter, right?" Well, not necessarily! The "small" and "large" sizes on these adapters do not refer to the actual size of the adapter or which size hookah they are compatible with.
They actually refer to the size of the threading on the adapters themselves, so it is entirely possible that a "small" adapter works with a "large" Mya hookah, or vice versa.
Lucky for you all, we have done a whole bunch of hands on research to figure out which adapters fit which Mya hookahs so you don't have to.

How-To Make Your Pharaohs Hookah Into A Multi Hose Hookah
Pharaohs Hookahs have a wide variety of hookah models as well as gorgeous base options and it comes as no surprise to find out that many of their models can have more than one hose!
In fact, they have several models that can go all the way up to 4 hoses, such as the Pharaohs Tut hookah. They also have models that are two and three hose compatible, so there are plenty of options to choose from that will fit any situation!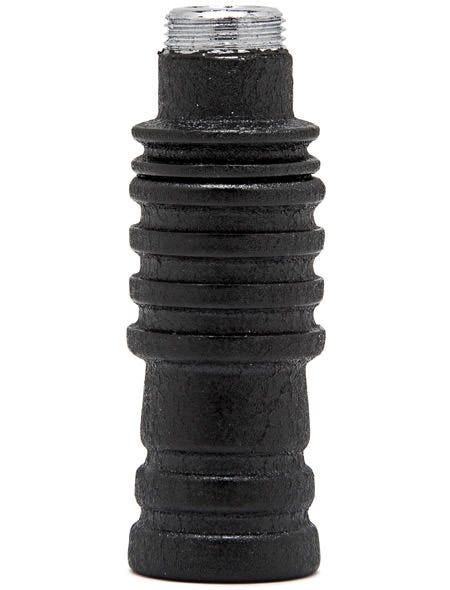 Now let's get down to some of the "quirks" for these multi hose Pharaoh's hookahs. On several models, such as the Pharaohs Ion hookah, the hose adapter that is already attached to the hookah is permanently threaded into the hookah hub.
This means that you will not be able to remove the original hose adapter on this hookah. Despite this, the original adapters are also the "auto-seal" adapters so this will have no effect on your hookahs capability to automatically seal itself when not being smoked.
The ball bearing included with these adapters is also able to be removed for cleaning, or if you just don't like having the "auto-seal" functionality.
How-To Make Your Amira Hookah Into A Multi Hose Hookah
And on to the final brand! Amira makes some great two hose hookahs and they have a wide variety of stem designs ranging from stainless steel all the way to natural grain wood. They also offer a multitude of color options that are very rarely seen in hookahs, such as green, purple, and rose gold!
Amira also features two different styles of base technology (I promise this is important.) On one hand, they feature "Magna" technology where the base magnetically seals with the stem, providing a rock solid, airtight connection.
On the other hand, they feature their patented "twist-to-lock" base designs. While they aren't powered by magnets, these twist to lock bases "click" onto the stem to provide a sturdy connection.
When I mentioned the base design was important, I wasn't kidding. The hose adapters that Amira manufacturers are ONLY compatible with the "twist-to-lock" design of hookahs. They will not function with the "magna" technology.
Okay, now that we've got that out of the way, let's get into the fun stuff!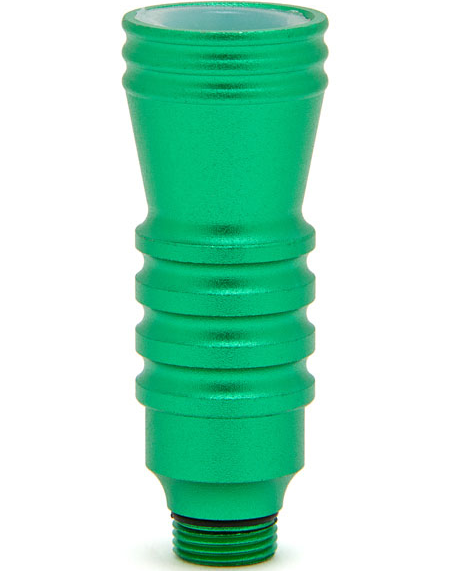 Now, there is another "quirk" with these Amira hookahs that might be a little confusing right out of the box. The Amira hookah that you will receive will contain a hose adapter (non auto-seal) and a purge valve already attached to the hookah.
For some reason, the existing adapter and the purge valve on these are not able to be completely unthreaded from the hub. They are permanently there.
That being said, you are able to remove the top half of the adapter and purge valve (leaving just a small threaded piece) and attach the corresponding "auto-seal" adapters to the hookah by threading them on over top of the permanently affixed piece.
Don't forget to put in that ball bearing!
Hookah-Shisha Multi Hose Accessory Packs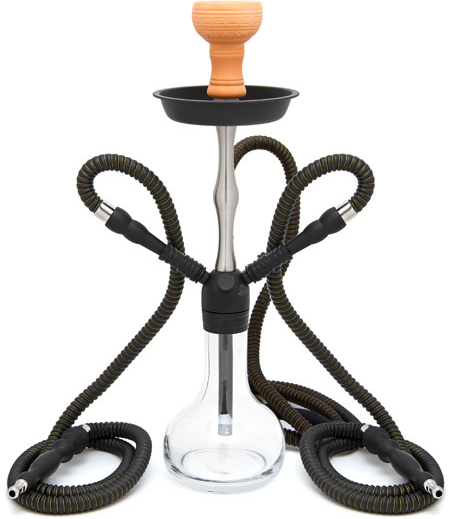 Many of the hookahs in our Multi-Hose category have a variety of different hose styles that come included from the manufacturer. It was impossible for us to make "accessory packs" for allll the different color and style options for the default hoses out of the box.
Because of this, we decided to send you a matching set of hoses on top of the hose that you would normally receive when you purchase a hookah within our Multi-hose category.
So not only are you getting a matching set, you are also getting a whole other extra hose at no extra charge!
This will be the case with the hose adapters that come with the Amira packages and the Mya packages. The adapters that are originally attached to these hookahs do not have the "auto-seal" capability, so in an effort to make sure you receive a complete, self sealing hookah, you will receive the appropriate number of auto-seal adapters as well!
This means that you will have an extra hose adapter in the box with your hookah.
There is one last quirk I would like to mention regarding our multi hose setups. When you receive your hookah package, the extra adapters and hoses will most likely be separate from the hookah itself, so there is some minor assembly required.
Closing Statement
So that should be a good overview of the specifics of each particular multi hose hookah brand that we offer, as well as a helpful "How-to" multi-hose upgrade tutorial.

Once again, our multi hose hookah packages will come with everything you need to make your hookah a fully functioning multi hose setup, and hopefully we have taken the "guesswork" out of it for y'all!
As always folks, if you ever have any questions for us, or if there is ever any issue with your order, you are always more than welcome to reach out to us at 1-866-HOOKAHS, through our LiveChat program, or email us at info@hookah-shisha.com
<3 Sean & Shaunn
Categories
Recent Post
Month Lists