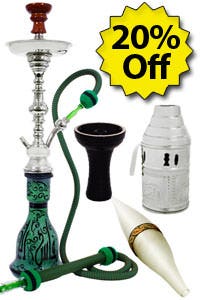 Nammor Hookah Sale - Upgraded Hookahs, Free Shipping, and More
We're having a huge sale on our flagship brand of hookahs - Nammor! Nammor hookahs are hand crafted by our team of hookah masters to offer the best Egyptian hookah performance at an incredible price. For this week only we are marking prices down anywhere from 15-25% on all Nammor Hookah models. We have also added a slew of upgrades to some models and are offering Free Shipping on others. Holy cow that's a lot of savings right there.
On top of putting all Nammor Hookahs on sale we've got 5 special upgraded hookah packs which are also on sale this week. All 5 of these hookahs will come with a Black Phunnel Bowl (great for juicy shisha), a Mystique Ice Hose Tip, and an XL Egyptian Wind Cover. This is all on top of the already included Nammor Washable Hookah Hose, Free Shisha, and Free Coals. This is a sale for the ages. If you are looking to buy a big, beautiful Nammor Hookah Pipe this is the week.
Categories
Recent Post
Month Lists