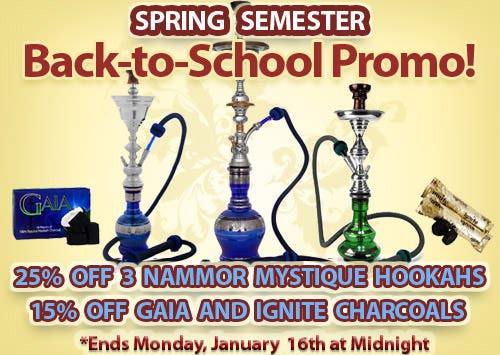 Spring Semester Back-to-School Promo - 25% off Nammor Mystique Hookahs and More!
By
Grabertrain
/ January 10, 2012
Edit January 17, 2012: This sale has come to a close. Thanks for everyone's support, and be on the lookout for more promotions soon! Happy Smoking!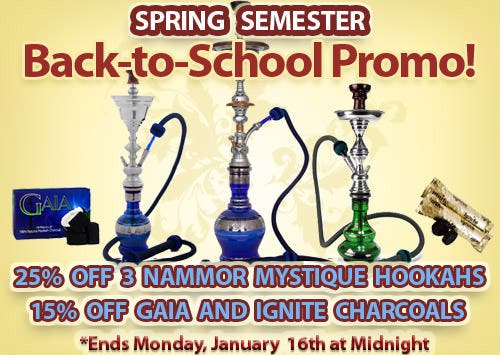 Howdy Hookah Friends! It's about that time for the winter break to end and classes to start for all of our college student friends, so we decided to do a little spring semester "back-to-school" promotion! Following the popularity of the Nammor Mystique Old School Hookah we offered a few months ago for Black Friday, we're now offering a similar deal on 3 more Nammor Hookahs - From now until the end of the day on Monday, January 16th the Nammor Bondi Ice Hookah, the Nammor Cleopatra Hookah, and the Nammor Nile Hookah will come with an upgrade to a Mystique Ice Hose Tip and a black Vortex Hookah Bowl (the Bondi Ice will also come with a Heba Diffuser) - all at 25% off the retail price. Hooray!
Also, our 2 brands of hookah charcoal (both natural and quick-light) are
15% off
!
Gaia Natural Coconut Hookah Charcoals
are clean-burning, long-lasting, smooth, and have received almost unanimous positive feedback. Alternatively if you enjoy the convenience and ease of quick-lighting charcoal, pick up a single roll, half box, full box, or 3 box super pack of
Ignite Quick-Lighting Coals
at the same discount.
Also, in addition to getting a free 16-piece box of Gaia Coals on any order over $30, we've now added the option of getting 2 rolls of Ignite quick-Lighting Charcoals instead. Weather you're a fan of quick-light hookah charcoals or simply want to try them out of curiosity, we invite you to pick up a couple rolls on us on your next order over $30. Click here to get the coupon code!
These deals will be going on all this week, and will end at 12:00 Midnight on Friday, January 16th. Happy Smoking!
Categories
Recent Post
Month Lists