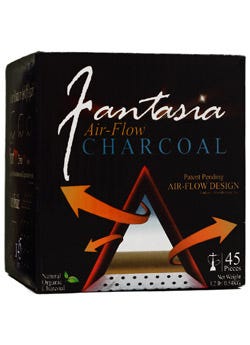 Top 10 New Hookah Products from 2011
By
Grabertrain
/ January 5, 2012
Howdy Hookah Friends, we hope everyone had a fantastic New Year! 2012 is officially underway, and boy do we have a lot of exciting things planned! As the hookah industry continues to grow and gain popularity, more and more new innovative and creative hookah accessories, shisha tobacco brands, and awesome-smoking hookah pipes will be introduced, and we will try our darndest to be the first ones to have them available in our store. Here's to an awesome year ahead of us! Just for fun, here we present the top 10 new hookah and shisha products that were introduced in 2011, ordered according to a combination of sales figures, customer feedback, and popularity. Enjoy! Note: The customer review count on these products were tallied on January 1st, 2012 and may change as time goes on.
10. Fantasia Air Flow Charcoals (

100%

positive reviews) - Utilizing a unique "v" shape that allows oxygen to flow underneath the coal and thus keeping it stoked, the Air-Flow Charcoals from the makers of Fantasia Hookah Tobacco do not need to be ashed or rotated. The positive feedback we've received puts them on the number 10 spot on this list!
9. Econo Mya Thunder Hookah (

100%

positive reviews) - Owners of the Econo Mya Thunder Hookah comment favorably on its sleek and modern look, sturdy glass base, and the huge smoke clouds it produces. This hookah is perfect for a beginner and possesses the quality Mya Saray is known for.
8. Mya Freeze Hookah Hose (

100%

positive reviews) - This innovative hookah hose from Mya Saray "Changes everything you thought you knew about hookah smoking" according to one reviewer. Utilizing a frozen replaceable "icicle" inside the handle, the Mya Freeze Hookah Hose has quite a wide draw and produces think, chilled smoke clouds.
7. Khalil Mamoon Double Pear Tall Hookah (

91%

positive reviews) - These 42 inch tall monster hookahs come from the famous Egyptian hookah manufacturer Khlil Mamoon and are available in 5 colors (green, black, red, blue, and yellow). The authentic hand-made appearance and wide draw makes these hookah pipes a favorite amongst aficionados that value traditional Egyptian craftsmanship.
6. Hookafina Shisha Tobacco (

100%

positive reviews) -The number 6 spot on this list is a "pleasant surprise" according to many reviewers! With over 35 delicious flavors to choose from and a unique packaging design, Hookafina Shisha Tobacco is a "must try" for any hookah fan!
5. Gaia Natural Coconut Hookah Charcoals (

100%

positive reviews) - Smooth, long-lasting and odorless, Gaia Coals are the newest natural coconut coals to hit the hookah market and are quickly converting hookah fans to be their "go to" natural coals. While only currently available in a 16-piece box, a larger size will be available very soon!
4. Tonic Washable Hookah Hose (

100%

positive reviews) - These fully washable hookah hoses from the makers of Tonic Hookah Tobacco are a great value (only $10 each) and possess an impressive pull. With 12 colors to select from (which all glow under a black light!), these hookah hoses are fun and affordable.
3. Starbuzz Bold Hookah Tobacco (

100%

positive reviews) - This new line from Starbuzz was introduced last June and has been garnering fans ever since! Customers frequently comment on its rich and flavorful smoke quality with one reviewer calling it "the best of the Starbuzz line." While only 4 flavors are currently available, 3 more will be released in the very near future (Skull, Tropicool, and Cosmo Power).
2. Hookah Flip Inverted Hookah Bowl (

96%

positive reviews) - This novel way to smoke shisha tobacco was a sleeper hit once the good reviews started pouring in. Utilizing the simple fact that hot air rises, the Hookah Flip continues to convert skeptics with the long-lasting and smooth smoke that it produces!
1. Mystique Hookah Ice Hose Tip (

97%

positive reviews) - The number 1 spot on this list goes to what is quite possibly the most popular hookah accessory ever to first grace the likes of upscale hookah lounges, and since its introduction earlier this year to our store, the Mystique Ice Hose Tip has been allowing both hookah experts and novices alike to experience the coolest, smoothest smoke imaginable!
Categories
Recent Post
Month Lists