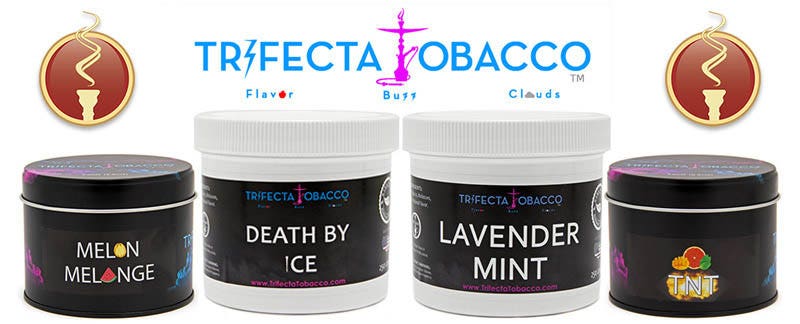 Trifecta Hookah Tobacco Flavors - Brand Overview
By
SmokeOrPass
/ March 24, 2017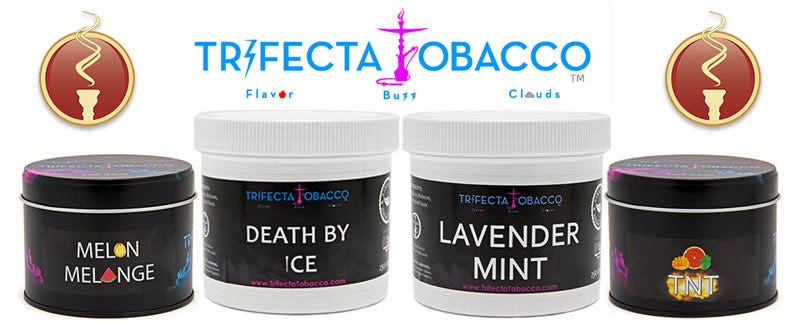 TRIFECTA Hookah Tobacco
LAVENDER MINT! If you haven't had a bowl of this remarkable flavor, go ahead and add it to your flavor queue right now. If you're not a fan of floral blends then start off at Pearfect, because everyone can agree it's perfect. These two flavors help comprise the Dark Leaf Blend collection from Trifecta Hookah tobacco.
Trifecta was added to our shelves in September of 2016, after grabbing the attention of many hookah experts with their original blonde line in the prior year. Since its arrival we've seen it fly off the shelf, restock and fly again. This stuff is good, plain and simple.
Trifecta tobacco is manufactured here in the US, utilizing both Virginia and burley tobacco leaves. We all have a favorite flavors from the collection and the customer feedback matches our positive beliefs. If you'd like more info about trifecta, take a minute to explore this blog for tips on packing and flavor recommendations.

Trifecta Blonde Leaf Hookah Tobacco
If you can handle a full bowl of Twice The Ice Extreme, we here at Hookah-Shisha would like to applaud you. The original version of this icy peppermint blast received positive reactions from the community, along with their TNT(mango, grapefruit, mint), and Mountain Fog(yep almost like the green drink).
They continued releasing new blends including some limited flavor batches, and listened closely to the feedback given from the consumers. This golden leaf tobacco is easy to prepare for beginners, while providing some complex flavors for advance smokers to enjoy.
Each 250g jar contains a medium level chopped tobacco cut with a moderate amount of juice. The flavor list is growing, currently we have 9 blonde leaf blends including staff favorites like Spiced Java and Melon Melange.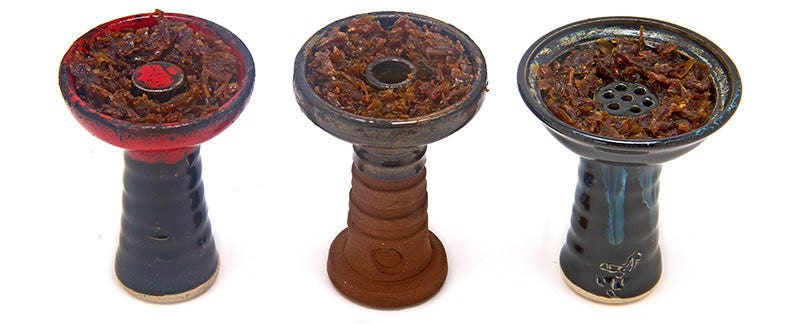 How To Prepare Trifecta Blonde Leaf Tobacco
You could easily pull off a cloudy and flavorful session from a stock Furat hookah, or experience a crisper flavor on a Kaloud setup. This juicy tobacco is very versatile and can be used in any style of bowl atop any hookah combination.
One of our customer service heroes Trenton likes to smoke Twice The Ice Extreme fluff packed in an egyptian bowl, whereas I prefer a 80 ft. or Rook phunnel bowl with a semi dense pack. If those packing method terms went over your head, Trenton sprinkles his shisha up to the inner rim and I pat mine down after sprinkling then add a little more.
We use about 3-4 pieces of natural hookah charcoal for each smoke session. Since this tobacco doesn't require any special tricks you can just toss it in a bowl and let the flavors soar.

Trifecta Dark Leaf Tobacco
After creating a name for themselves as being a company that could bring unique flavors to the market, they went on to create a dark leaf line for the advanced smokers. This time around they used burley tobacco leaves to create a heavy flavor profile and stronger buzz.
The Trifecta dark blends became an instant hit, and they've continued their rise with the release of more flavors like Blueberry and Orange Seville Coffee. These blends are all made in small batches so you receive the freshness with each jar.
Although the buzz level is stronger than their original line, it comes no where close to the strength of a tangiers bowl, which is why many intermediate smokers can enjoy these blends.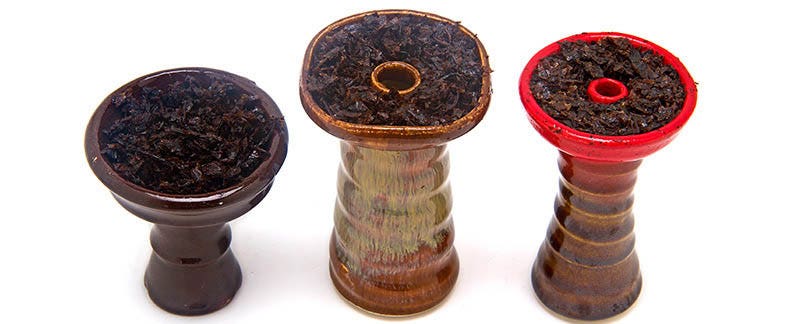 How To Prepare Trifecta Dark Leaf Tobacco
Are ready for another no brainer? Trifecta really makes it easy for you with their dark leaf line. Dense pack it if that's how you like to enjoy your dark blends, or save on shisha with fluff to semi dense preparation.
As usual we recommend the use of a phunnel bowl with this tobacco to keep our juice in the bowl and achieve a longer session. Using foil or a heat management device will yield around 1:45-2:30 hrs of flavor with proper coal placement.
We enjoy our session with the same coal arrangement as their blonde line, so 3-4 pieces of natural hookah charcoal creates an optimal smoking experience. You won't need to acclimate this tobacco but we recommend mixing up the juices before preparing to achieve the full flavor.
Trifecta! Trifecta! Trifecta!
Achieving success with two lines launched closely together is a great feat in the hookah world, and Trifecta is showing the community that they're here to stay. We hope to see a continuation of the flavor releases within the dark and blonde collection. Two lines, all unique flavors, smoke them however you feel.
We're gonna continue smoking our bowl of Pearfect mixed with a little BDH(melon,peach,mint), and let you think about what flavors you think you'd enjoy. If you already have a favorite flavor, drop it in a comment below.
Thanks for reading and we hope this helps!
Smoke. Love. Peace.
SMOKEorPASS
Categories
Recent Post
Month Lists