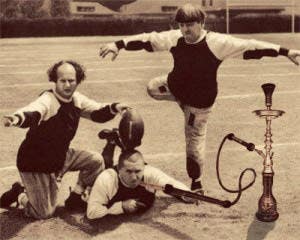 Hookah Party! Hookah Tobacco flavors for your Halftime Hookah Party!
By
Jono
/ February 4, 2011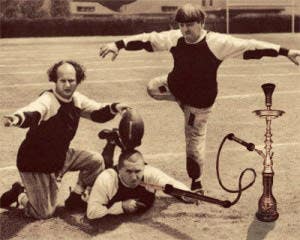 With the "BIG GAME" just around the corner, I'm getting ready to throw my annual Halftime Hookah Party with tons of pizza, snacks, drinks, friends, and of course HOOKAH! We have a tradition that whenever our team scores, we pile in our friend's truck and haul up and down the neighborhood screaming our heads off! I'm sure it's annoying being my neighbor, especially if you're routing for the other team. But it's all in good fun. So today, I come to you with a few tips on how to spice up your halftime hookah party, specifically, to point you in the right direction when deciding what
hookah tobacco flavors
to choose. First things first. You have to know what flavors go well with pizza and other football friendly snacks and/or beverages and which ones to stay away from. I recently conducted a survey on our
Facebook page
to get some of our customers' opinions. When asked what the best types of hookah flavors to have on hand during the big game were, a large majority of the people said citrus and/or fruity flavors. Some that come to mind are Pineapple, Strawberry, Pina Colada, Safari Melon Dew, and Orange Soda. Others added flavors such as Cola, Vanilla, and Chocolate. Mint flavors, however, were surprisingly hit and miss this time around. I always think Mint is a good idea, but the people have spoken with opposing opinions. So we'll cancel Mint off our list. On the flip side, according to our poll, one flavor to stay away from at an event like this is Rose. What? Too much testosterone in the air for a little floral sweetness? All joking aside, I agree. Let's avoid the potpouri if we can, ok? Here's my top 10 Halftime Hookah flavors for this year's Big Game!
1.
Starbuzz
Blue Mist
2.
Romman
Good Times
3.
Al Tawareg
Tropical Pineapple
4.
Al Fakher
Golden Strawberry
5.
Starbuzz Pina Colada
6.
Al Tawareg Orange Cream
7.
Starbuzz Safari Melon Dew
8.
Romman Sweet Melon mixed with Al Tawareg Tangy Orange and Starbuzz White Peach
9.
Al Tawareg Dark Chocolate
10.
Starbuzz Cola mixed with Romman Cola If the pizza is hot, the glasses stay full, and the hookah stays lit, your Halftime Hookah Party will be a success, regardless of the outcome of the game. Either be a humble winner or a graceful loser...and have fun! Happy Smoking to all of our fans of the pigskin!
Categories
Recent Post
Month Lists