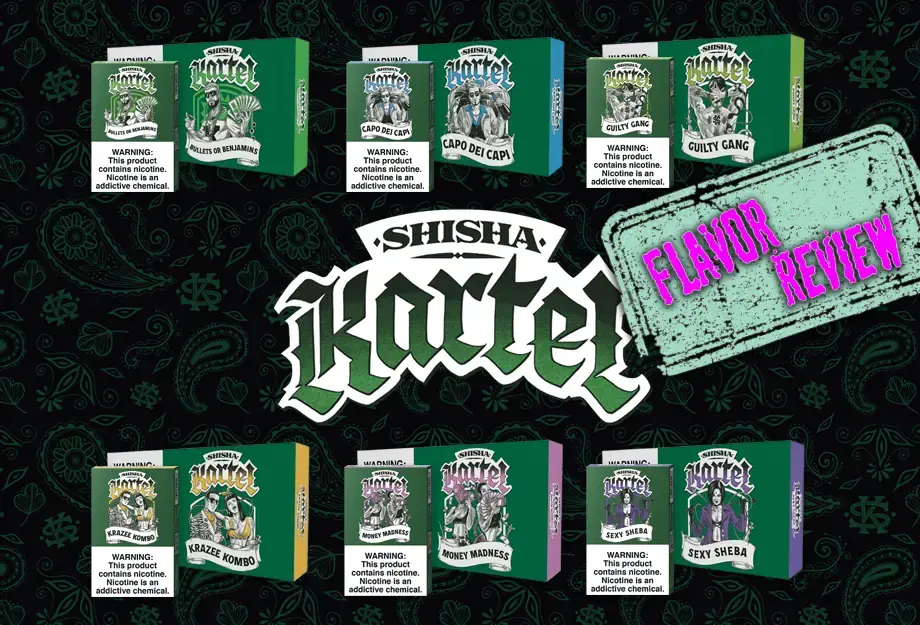 Shisha Kartel Flavor Review
By
double allen
/ May 30, 2023
Recently the shisha developers at Al Fakher released one of the most anticipated new shisha brands: Shisha Kartel. Of course we tested/smoked/tried all of it!.

Right at the time of this brand launch we featured this blog on three specific flavor descriptions. That was just to give you an idea of what was in store. This guide is to let you know how they all smoked, what the taste was like, and more.

I spent an entire weekend smoking through/testing these flavors (three times over) to provide an honest-hookah-enthusiast's opinion for you. Keep in mind that I've been smoking hookah for almost 20 years and have tried nearly every shisha tobacco flavor under the sun - traditional or herbal. This review is also not only my own opinion. When we received the anticipated Shisha Kartel the entire office needed to get our hands on it!
---
What Is Shisha Kartel Hookah Tobacco?

Shisha Kartel is a flue-cured, blonde leaf tobacco shisha. There are no colored dyes used, and Shisha Kartel hookah tobacco can be used by anyone whether you're a long-time hookah smoker/owner or just picking up your first personal hookah.

It is handcrafted in Dubai using a proprietary blend of premium golden tobacco leaves after spending two years of vigorous taste testing and research. You can expect some very unique flavors and optimum smoke output!
How Do You Smoke Shisha Kartel Tobacco?
Because Shisha Kartel is a blonde leaf shisha tobacco you have a lot of options for the types of bowls and charcoal you choose. Shisha Kartel hookah tobacco performs best with a loose packing method and can be smoked inside any style of hookah bowl.

As a reminder, a "loose" or "fluff pack" shisha tobacco pack method is when you sprinkle the shisha into your bowl of choice and lightly pack it down until the shisha leaves are settling right under the hookah bowl lip.

If you have a larger bowl, for longer sessions or smoking with several people, you have the option to load up a slightly larger amount of shisha into your bowl (as long as it's not a "dense pack").
---
Smoking Shisha Kartel Review
Throughout the office we used all different types of phunnel style bowls, traditional Egyptian bowls, heat management devices, and foil in various combinations. Most of us found ourselves using three pieces of natural hookah charcoal from various brands, regardless of our choice of using foil or a HMD.
Bullets Or Benjamins
Watermelon is one of those fruity shisha flavors that can overpower a mix. With Bullets Or Benjamins this was not the case. Every flavor in this blend tells its own story! On the inhale you can definitely taste the refreshing honeydew first. It's sweet but not too sweet, just a very clean tasting melon. The "icy" part of the "icy watermelon" hits next and it's a great menthol cooling effect with no 'taste' of mint.

What's unique about this blend is the pomegranate. Pomegranate is a bizarre fruit in that it's tangy but sweet but tart and has its own unique flavor profile. Blended into the watermelon and honeydew, it's the balancing act keeping your taste buds bouncing from flavor to flavor.
Capo Dei Capi
For those of you who enjoy cola, Capo Dei Capi is definitely worth a try! The cola used for this blend is a very traditional, spiced cola taste. It blends really well with the vanilla cream for a strong vanilla cream soda!

In my opinion, this one can handle a little extra heat to bring out the complexity of the mix. It produced the best clouds for me out of the six Kartel flavors, and it lasted the longest as well.
Guilty Gang
Out of the six Kartel flavors, Guilty Gang was the one that was more light and airy. Not in a bad way! The pear used in this blend is very true to a pear flavor. It's lightly sweet, refreshing, and earthy and doesn't get muddled up. It almost has the effect as if it was a melon?

As a "50/50" split blend, the icy lemon carries its weight. It brings a zest and tang to the pear for a perfect balance. The menthol part creates a nice, smooth and icy exhale.
Krazee Kombo
To me, Krazee Kombo was the most "icy" out of the six Kartel flavors. You really feel it on the inhale. The strawberry component of that was very different from the strawberry used in a lot of the other shisha brands. It was like taking a bite into a perfectly ripe strawberry - not like a candied strawberry. This blended very well with the raspberry, which sort of becomes an undertone and more of the aromatic portion of this mix.

The money maker in Krazee Kombo is the peach iced tea that comes in from behind! The fresh peach is very earthy due to its tea tones but doesn't pose a threat to the other flavors like peach can do sometimes.
Money Madness
This one was NOT what I was expecting…in a great way. Most coffee flavored shishas are sort of easy to tell what they will taste like with a quick smell of the shisha inside the package. Money Madness is not a super-strong, coffee forward flavor; with most coffee shisha mixes the coffee can sometimes overpower the rest of the blend. Not here!

What balances out the coffee really well in Money Madness is the creamy marshmallow. It can keep up! This Shisha Kartel flavor tastes like a perfectly mixed mocha latte where the coffee isn't super sweetened but lets the marshmallow do its thing to bring a smooth, gentle sweetness and not skipping out on the creaminess. [For all of you long-time hookah smokers who remember Romman Turkish Coffee, this reminded me of that buttery, earthy coffee if you added cream. So delicious!]
Sexy Sheba
Having "cooling" and "icy" in the flavor description, one might think this is super cold…but it's not. Sexy Sheba definitely has a strong menthol finish but doesn't overpower the blend. To me, I tasted more of the mango than I did the pomegranate. The mango is ripe and it delivers the sweetness here. As you would expect, the pomegranate is bringing the balance with its tangy tartness. It is refreshing as well.


---
All of the Shisha Kartel tobacco flavors delivered great, flavorful clouds of smoke! Each one of them is such a unique mix that you have to give every one a try to really get a sense of the research that was put into them!

Have you tried any of the Shisha Kartel tobacco flavors yet? If so, which one(s) is your favorite? Let us know in the comments!
Categories
Month List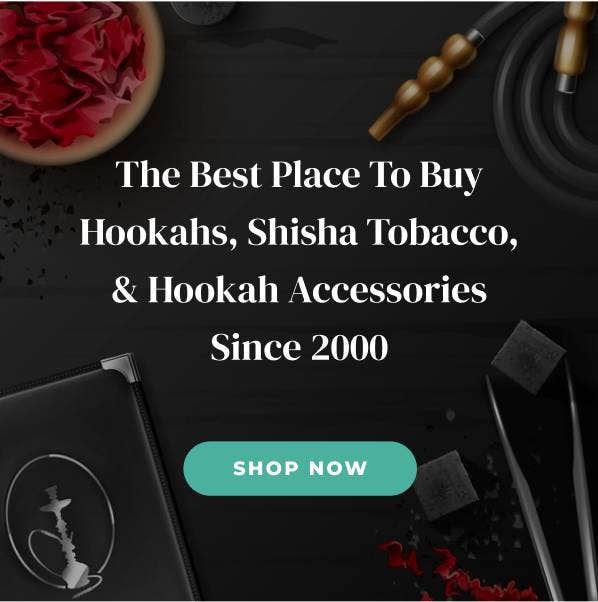 Shop All Hookahs, Shisha Tobacco, Charcoal, Bowls