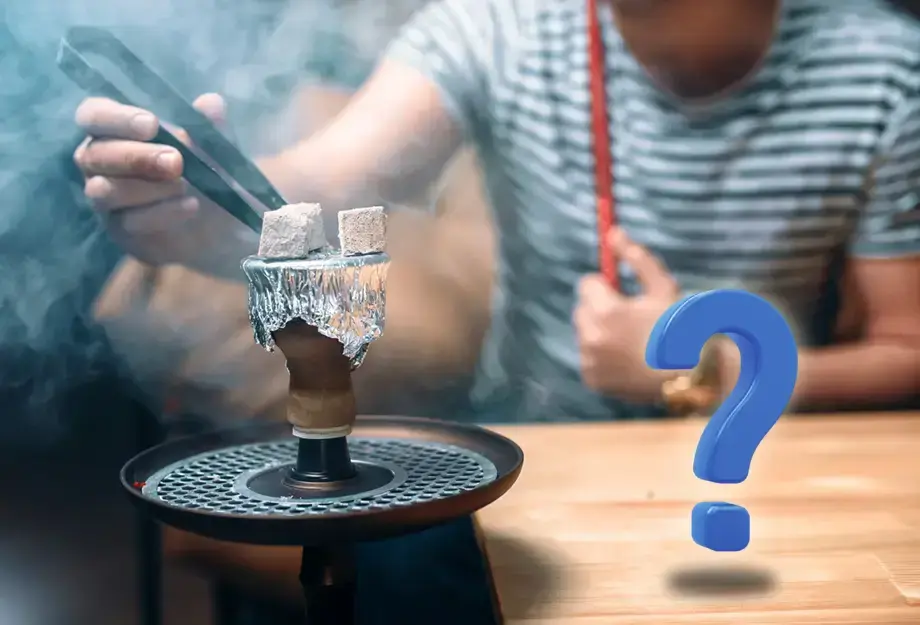 What to do While Smoking Hookah
By
double allen
/ October 31, 2023
Pairing a hookah with some of your other favorite hobbies goes hand-in-hand for an elevated smoke session. Whether smoking your hookah on your own or enjoying shisha with friends, there's something out there for every hookah enthusiast to enjoy while having a hookah.

We've outlined some of the most common things to do while smoking a hookah, and we've also included a couple you may not have thought of before.
---
Have a Hookah Party!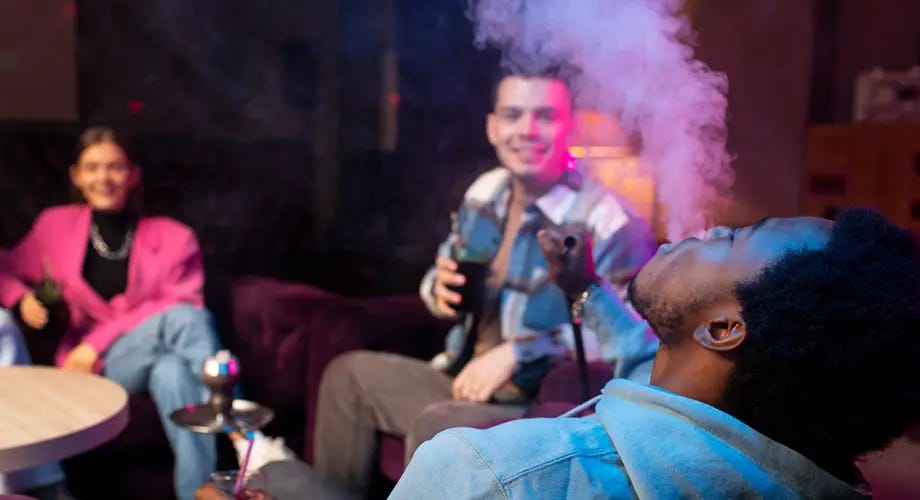 Most hookah smokers today are probably smoking solo most of the time, however hookah has been a long-time communal activity throughout history. And, I almost guarantee that if you're having a social get-together and you bust out a hookah, you'll soon notice that your hookah hose will begin to get passed around.

It's also not uncommon for people to get together specifically to smoke hookah and not just at hookah lounges. Hookah smokers who have other hookah enthusiasts in their friend groups often come together to share new shisha mixes, show off new hookah gear, or just simply to enjoy hookah with others who also share the same enthusiasm for hookah.

You can check out some of our tips on Being the Best Hookah Host and Setting Up a Home Hookah Space on our blog.
Play Some Games with a Hookah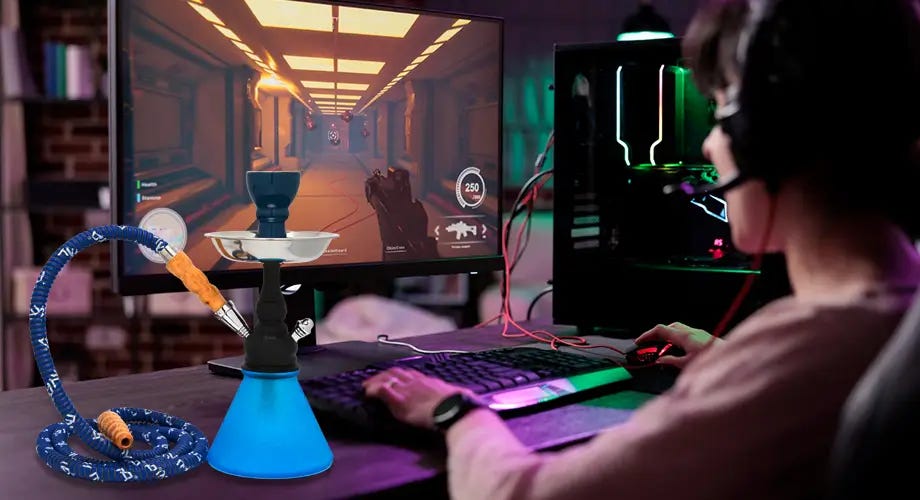 This is probably the most common thing to do while smoking a hookah, video gaming that is. It doesn't matter what platform you're playing on or what console you're playing with, hookah works with them all!

Smoking your favorite shisha and checking out for a while is the perfect way to end a busy day. It's also a fun way to enjoy a hookah with friends. If you're workin' with a PS4, PS5, or Xbox then you may want to have one of these bad boys. The AO Hookah Hose Controller Holder allows you to keep gaming without having to pause to take a hit of your delicious shisha mix.

Remember this type of gaming? It's still legit, especially with a hookah. Often if you're having a hookah party you'll be gathered around with your people in one spot, and regular board and card games are great for keeping things low-key but still entertaining.

While doing any type of gaming, tabletop hookahs usually work out for the better. You can find out some of the best ones here.
Make Some Art & Smoke Your Favorite Shisha
This one is for all my fellow creatives out there.

As long as I've been smoking hookah I've paired it with art, because that's what I spend a lot of my free time doing. It doesn't matter if I'm painting or working in Photoshop, I usually have a hookah sitting right next to me.

Depending on what kind of creative juices you have flowing, you may want to include a hookah into your workflow. Granted there may be some art styles where a hookah might get in the way, but even then a hookah off to the side still allows you to enjoy two things you love at the same time.

If you're not a dedicated artist, enjoying a hookah works great with many other projects too. Especially those tedious ones!
Binge-Watch Your Favorite Show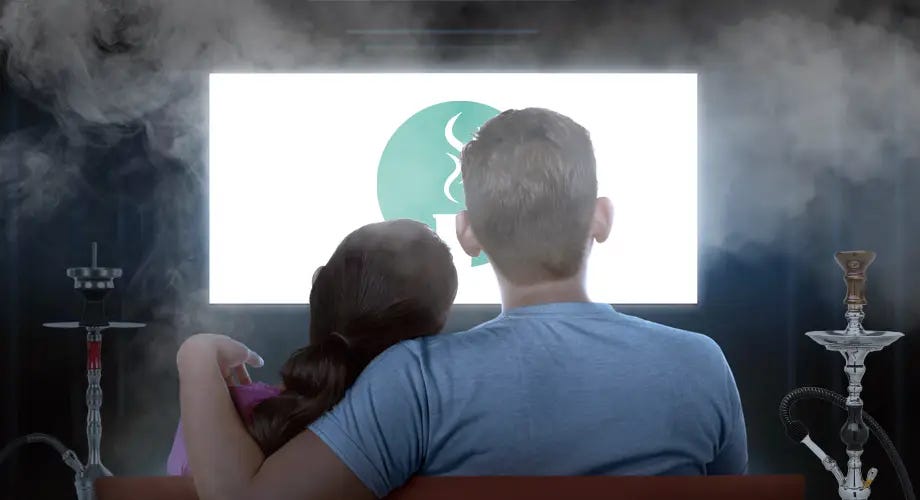 If you're smoking a hookah, you'll likely be couch-locked for a while so what better time is there to catch up on your favorite series. Maybe you're like me and you have a list of new movies you keep putting off watching. Sounds like time for a bowl or maybe two!

Whether it's a party of one or a party of five, this activity simply allows you to sit back, relax, and spend some quality time with your hookah.

Pro-Tip: Keep your larger (28" tall and above) on the ground so you don't block your view. [That's where they should be smoked anyway ;) ]
Read a Book & Learn Something New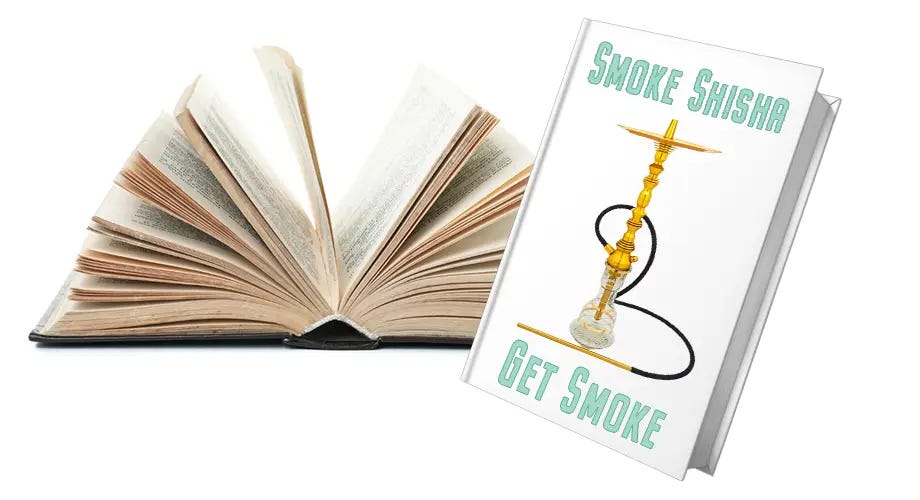 For those non-gamers and those needing to put your devices down for a while, reading while smoking hookah is another great pairing. Whether you're starting a new book or finishing one up, chilling with a hookah works well because you're going to be stagnant already and in a peaceful state of mind.

If you're not a heavy reader, but you've been looking into a new hobby, it's the perfect time to do some online reading into your new skill with a hookah. Pair this with a beverage and/or a snack and you've got a chill afternoon set up.
Catch up on Those Studies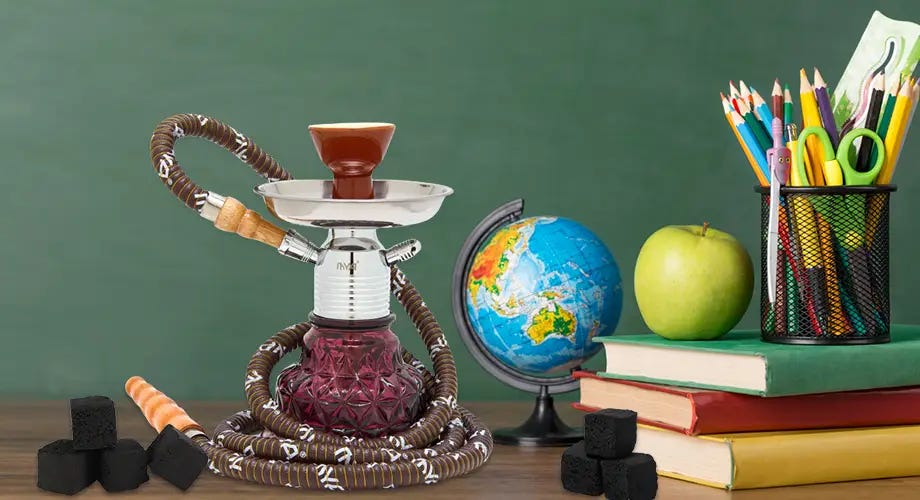 This is the whomp-whomp option on this list, but it's something some hookah smokers may not have thought of yet!

You've got to be at least 21 to purchase a hookah so you'll likely be taking some more aggressive classes that will take up more of your time outside of class. Studying and hookah go well together because 1) You're going to be sitting still for a while and 2) Your hookah can help keep you from getting bored.
"Death-Scroll" Through Your Socials & Just Chill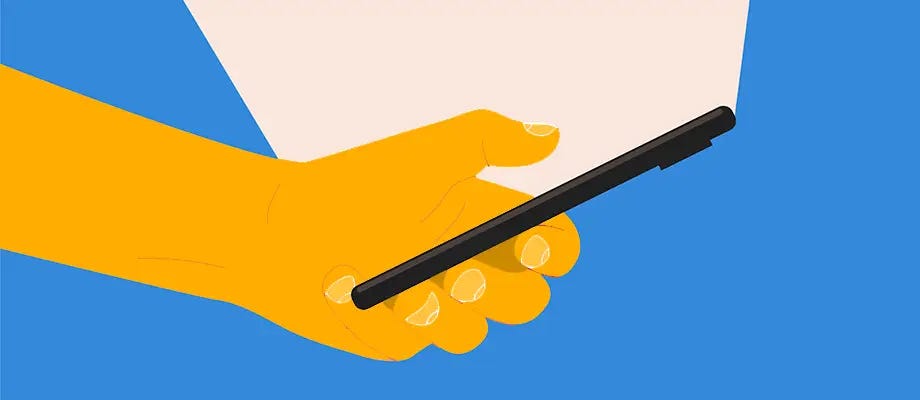 While this is probably already being done in any situation…getting lost online is much better with the companionship of a hookah. For those times where your day off is dragging and you're thinking for something to do, put-a-hookah-on-it (Portlandia anyone?)!

Hookah is relaxing so why not catch up on your social feeds at the same time? And for all you influencers out there, creating content or working on a project on your computer pairs well with smoking a hookah…as long as your content category isn't too extreme. We don't recommend DIY carpentry or auto repair with a hookah.

If you're going to be scrolling endlessly, scroll on while smoking your favorite shisha flavor!
---
What does your hookah smoking ritual usually include? Let us know down below in the comments! While this is a list of just some of the more common things hookah smokers like us enjoy, there're definitely creative ways to incorporate a hookah into several other hobbies.

Which reminds me…it's time to load up a hookah. :)
Categories
Month List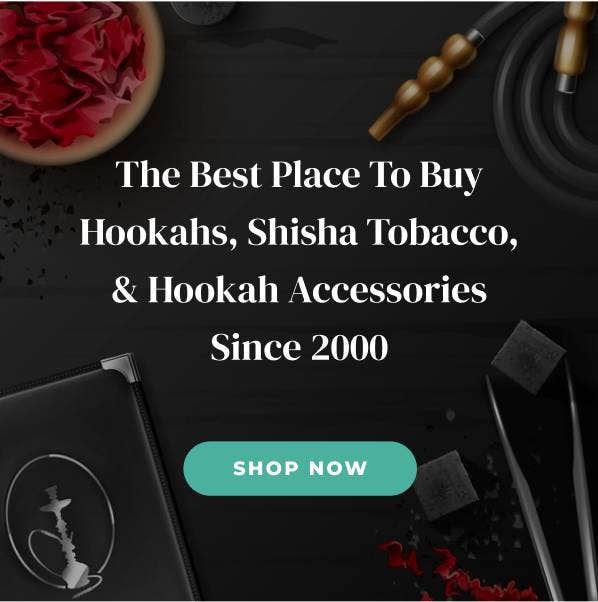 Shop All Hookahs, Shisha Tobacco, Charcoal, Bowls