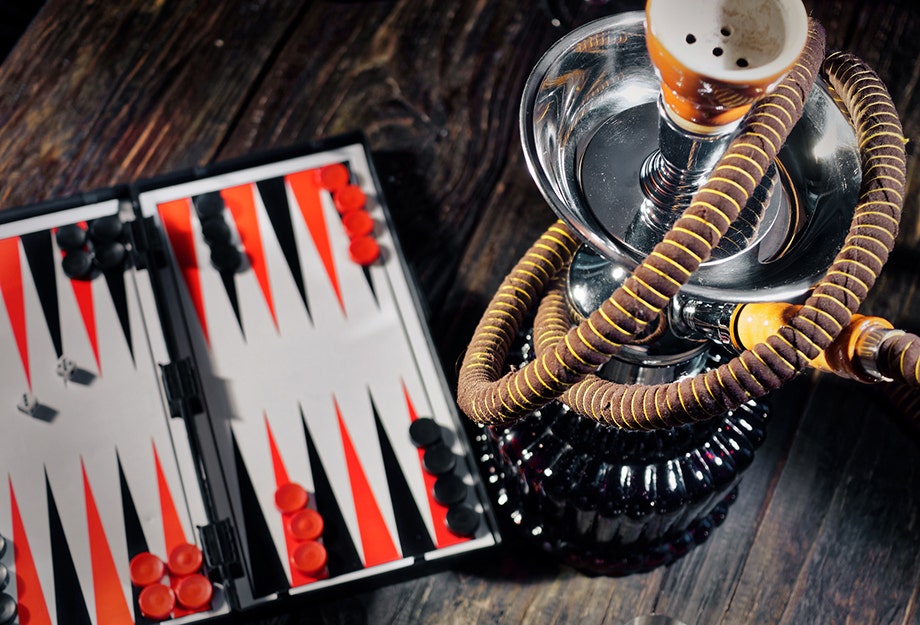 The Best Tabletop Hookahs
Can any hookah be a tabletop hookah? Well, I suppose so, but you can quickly have a disaster if your hookah is too tall. Generally hookahs have sat on the floor until more modern styles emerged in smaller sizes. If you've experienced attempting to manage your coals on a 32" hookah sitting on a dining table (I still don't understand why people try this), then you can see why having a smaller hookah is better for surfaces that are further off the ground. For a long time the average hookah size was anywhere between 28" and 36" in height. Nowadays hookahs come in all sizes from 6" to 48". For tabletop hookahs anything on the smaller end, under 24", are best - depending on the table.

There are some key things to keep in mind when searching for a hookah that you know you'll predominantly want to use on a table larger in height than a coffee or side table.
You'll have to manage your heat by adjusting your coals, can you reach them without risk?

Depending on the stability of your table, the rumble from the hookah may shake the coals around or off of your bowl: potential mini asteroids heading for your table and/or floor, anyone?

If you have company, passing the hose could move the hookah around or create wobble or, again, possibly knock coals off of your bowl. Seeing a trend here?

And the worst of all, a toppling hookah. This could be from a number of situations but a fallen hookah is a disaster no one wants - broken bowls, broken bases, burn marks, water spillage, etc.
Without further ado, here are the best table top hookahs right now.
---
Shishabucks Cloud Tank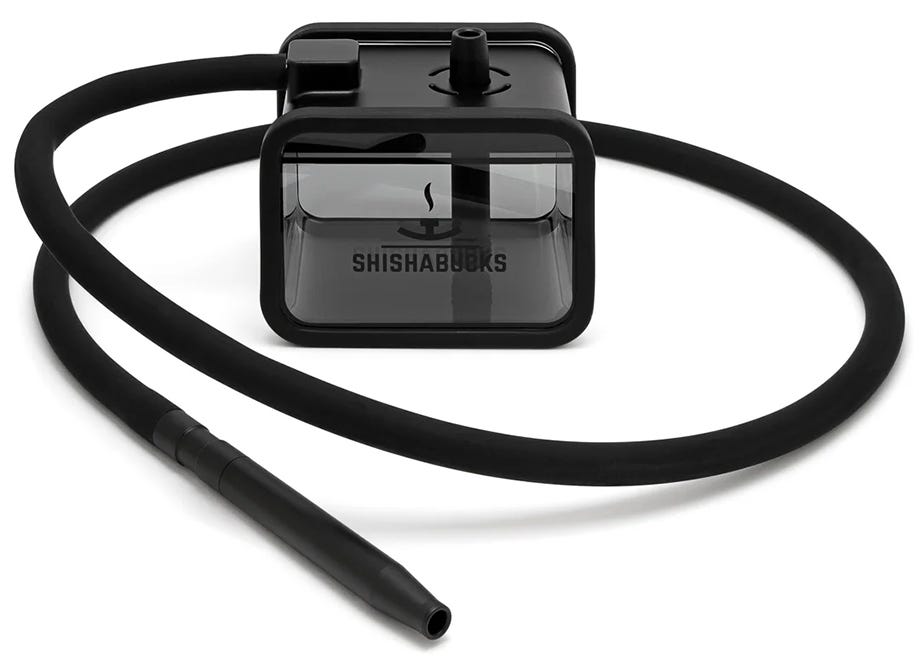 The Shishabucks Cloud Tank hookah is a gamechanger for both portability and home use. Not quite a cube like its big brother the Cloud Micro, the Cloud Tank is a little over 5" tall and about 5.5" on its long side. The base is made from acrylic and has two rubber "bumper" edges making this base ultra resistant to damage. On the top side of the hookah is an anodized aluminum top that makes a perfect seal and comes off in one piece making cleaning a breeze. A patent pending purge system in the downstem prevents water from going up into your bowl when purging. Where is the purge? It's hidden in the flat aluminum top right under the bowl. An integrated diffuser keeps things quiet while smoking so you don't have to hit rewind on your movie. As if there weren't enough cool things on the Tank, it all packs down into the base to fit inside the included travel case!
Apple On Top Tabltop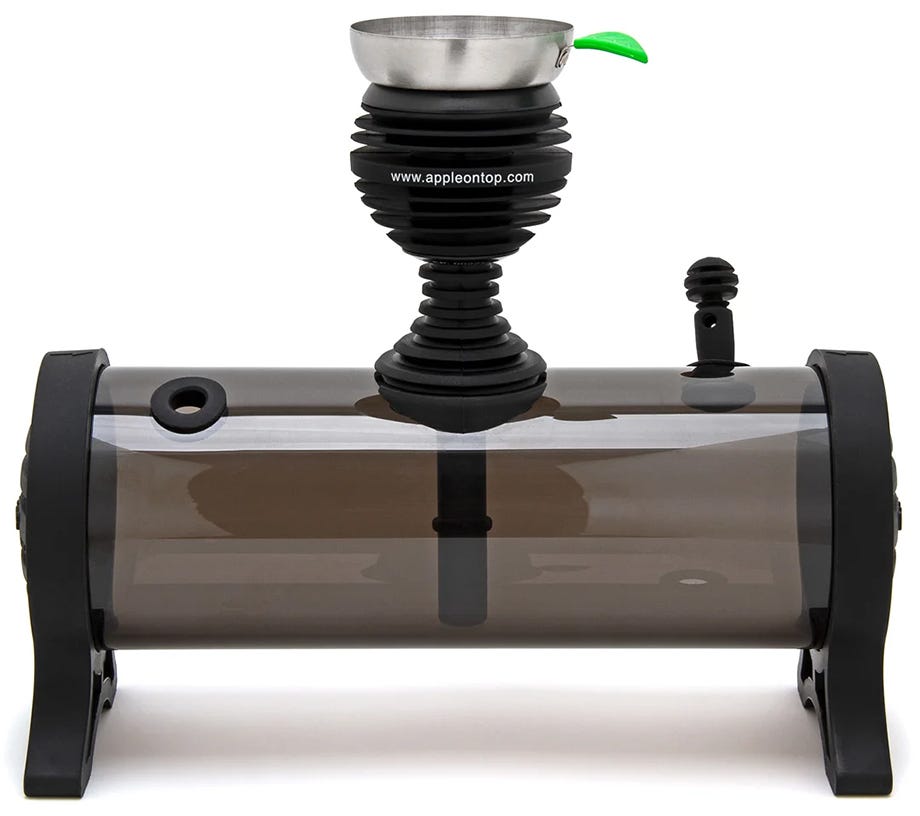 As the name suggests, the Apple On Top Tabltop was designed to be your go-to for a tabletop hookah. From their groundbreaking AoT Bowl to this hookah, we get another nearly unbreakable product. The Tabltop hookah is made from shatterproof acrylic for the base, silicone for the accessories and aluminum for the small parts. The bowl on this is just like the AoT Bowl in that the exterior is silicone which holds an aluminum bowl insert and included coal tray. There is also a built-in diffuser to quiet down your session which makes this hookah great for gaming, card games, board games, watching a movie, you name it!
MYA QT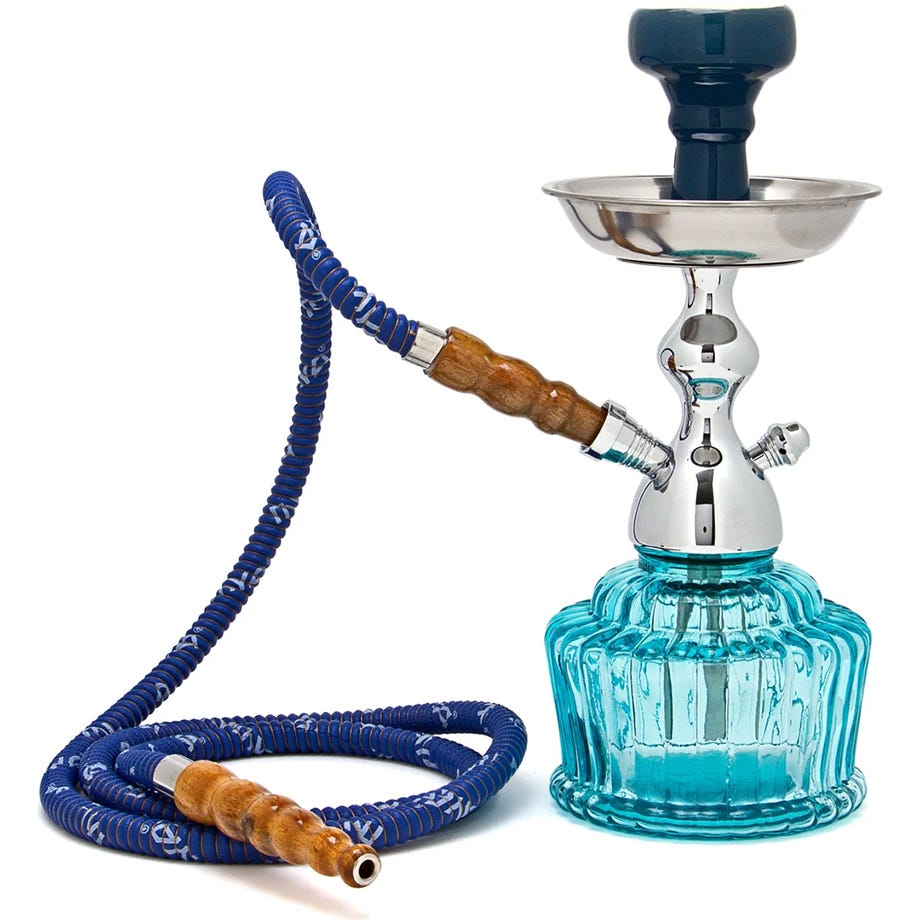 If you've seen this hookah recommended by us several times, there's a reason. It's one of the most popular MYA hookahs and has been forever. The MYA QT comes in both a silver stem option and a gold stem option. It's about 14" tall when assembled. Available in a variety of color choices, the base on the QT is heavy duty! It sits on a firm footprint meaning tip-overs are less likely. What's also nice about the MYA hookahs is that they come apart entirely - which means easier cleaning and easier to find parts! The QT also has the ability to change out the purge valve for another hose adapter in order to convert the stem into a two-hose version.
Khalil Mamoon Mini Beast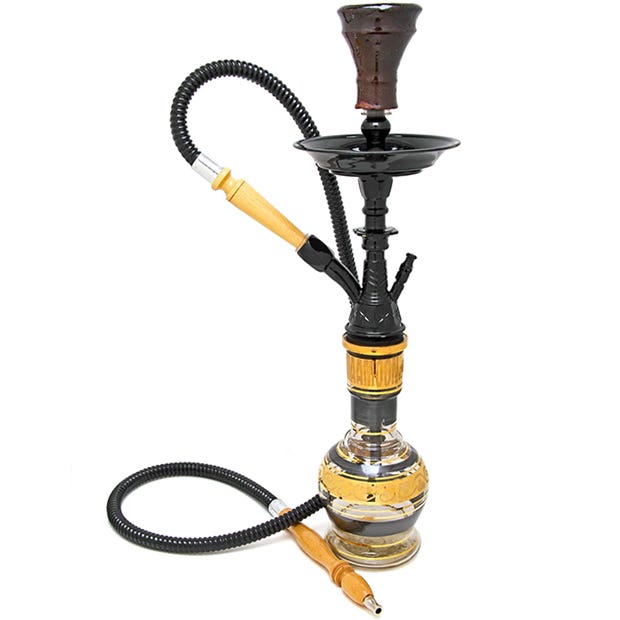 KM hookahs are well known in the hookah world for their quality craftsmanship and traditional designs. Although smaller than the more common KM hookahs, don't let that make you believe the KM Mini Beast doesn't perform the same! You can get just as great quality smoke from this 23" tall beast. Speaking of size, I personally would use this on a coffee table since it's probably a little too tall to manage on say a kitchen/dining room table. [If you're looking for a smaller KM go with the Mini Classic.] What makes this KM Beast good for a coffee table though is the base. The style is a mini version of the Jumbo Bases we've seen before, but it makes for a more stable version then the usual bell-style base. Solid stem and a stable base makes this beast good for video gaming.
Pharaohs Saghir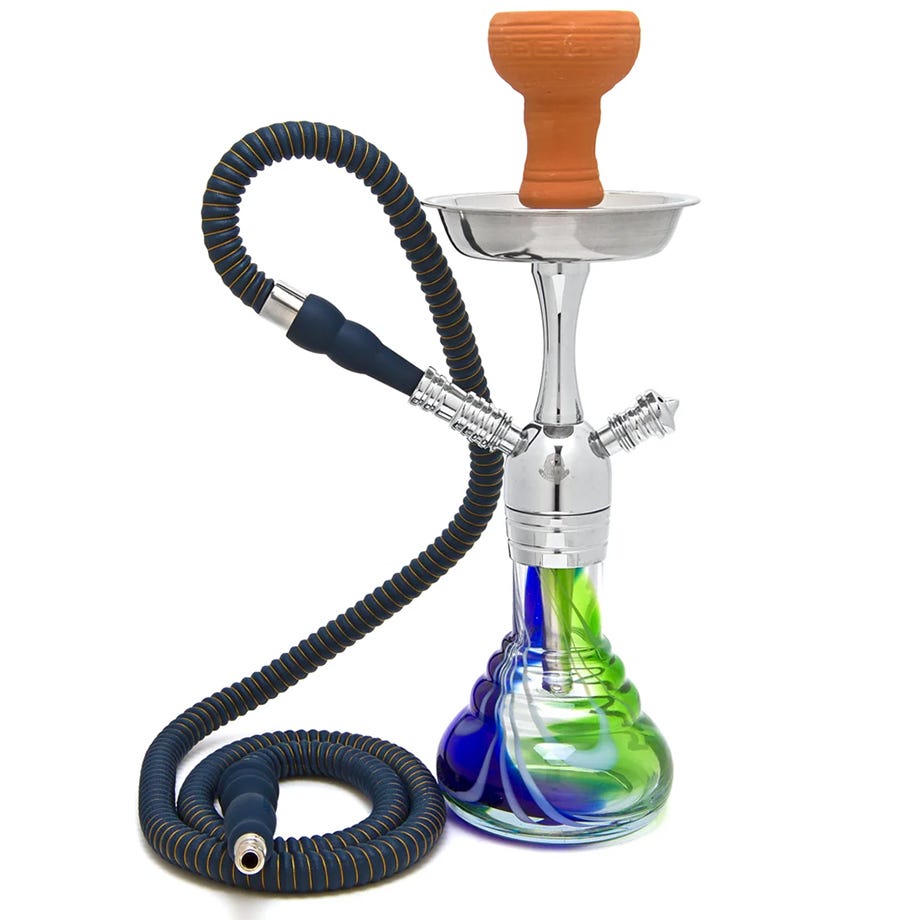 Easily one of the favorite hookahs from Pharaohs, the Saghir combines modern technology with a traditional hookah look. At a little over 13" tall and with a sturdy base this hookah makes it perfect for a tabletop option. The base has a swirl design that comes in several color options. The Saghir is also able to convert to a two-hose hookah using one of the Pharaohs Hose Adapters so you don't have to pass around a single hose. The best feature on this hookah…its twist-to-lock style base! This means with just a half turn the stem 'clicks' into place and eliminates the need for a base grommet!
MYA Bocci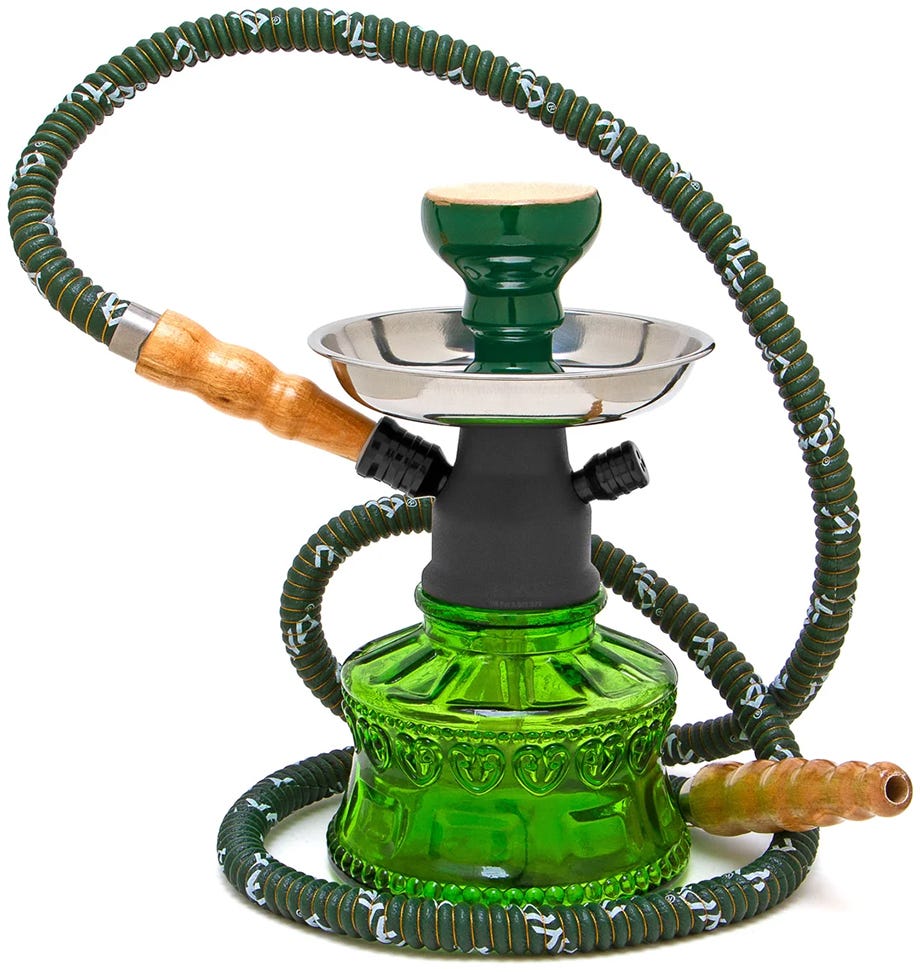 Another MYA we like for any tabletop smoking session is the MYA Bocci. You wanna talk about stable bases? The base on this is very sturdy and the thickness of the glass reminds us of the one on the QT. What's unique about this smaller MYA hookah is that the stem comes in a matte black finish. In any color choice the stem stands out as a key focus aesthetically. When built it stands at 9" tall and comes with one of the standard MYA hoses. MYA keeps killin' it with their smaller hookahs!
Starbuzz Unicus 1.0 and 2.0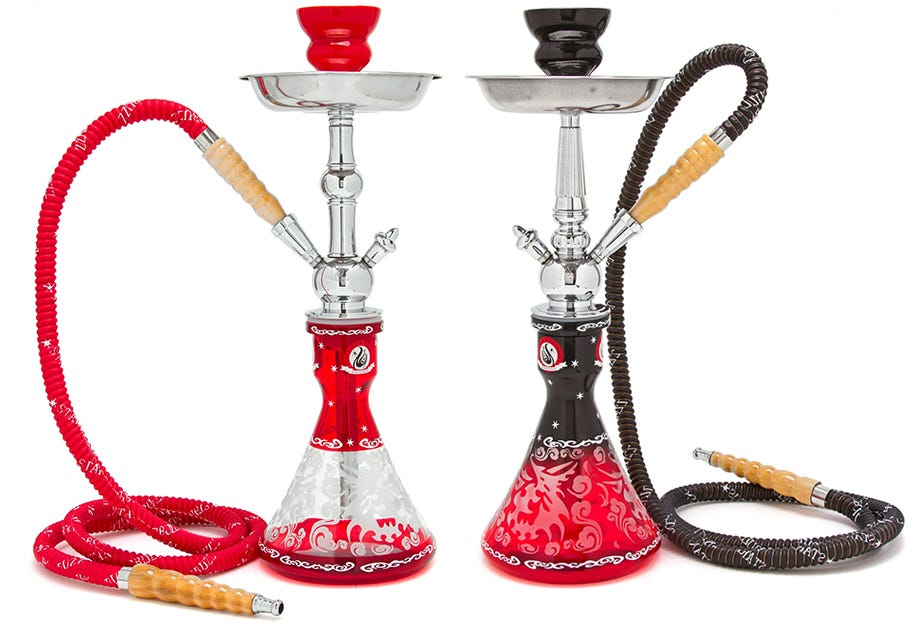 Two great options for a tabletop hookah come from Starbuzz: the Unicus 1.0 and the Unicus 2.0. Both versions are 17" in height and feature one of the most stable bases we've seen on hookahs throughout the years, the pyramid-style base. The two differences between the Unicus 1.0 and 2.0 versions are simply the design aesthetic on the stem and base. The predecessor to the Unicus 2.0 kept things simple with a smooth stem and one-color base design available in different color options. The Unicus 2.0 features a more ornately decorated stem and two-tone color bases, also available in a variety of options. Both Unicus hookahs won't be an issue on any flat surface.
---
Play it smart. Smoke it smart? Tabletop hookahs are mainly what the average hookah smoker is looking for and there are a lot of options out there. The ones we discussed here are our favorites. For your next game night, party, or even if you just like to smoke while gaming by yourself, keep these options in mind. If you want more recommendations feel free to reach out to us!
Categories
Recent Post
Month Lists