Al Fakher Flavor Mix Contest
By
Katie
/ September 10, 2014
**Update #2**
Our winner has been chosen. Congratulations to Danny for his winning mix - Honey Lemon Mint Ricola! Thanks everyone for participating, this was a lot of fun. Check out the comments section of this post for all of the entries and be sure to keep your eye on the Hookah Love Blog, as well as our Facebook, Twitter, and Instagram pages for future contests!
**Update**
Here are the top 10 finalists! We will announce the winner tomorrow (September 17).
Marie, Cinnamon Toast Crunch, 1/3 cinnamon 1/2 vanilla 1/3 coconut.
Danny, Honey Lemon Mint Ricola, 40% lemon mint 40% honey 20% mint cream.
Doug, Autumn Asylum, 1/4 of each: apple, cinnamon, honey, vanilla.
Alyssa, Strawnilla, 1/4 vanilla and 3/4 strawberry.
Courtney, Lembellery, 15% lemon 35% melon 50% berry.
Aaron, Double Dipped Decadence, 1/2 blueberry 1/2 chocolate.
Ralphy, WTF: What The Fruit, 1/6 grapefruit 2/6 vanilla 1/6 strawberry 1/6 grape 1/6 mint.
Cesar, Vanilla Cola, 25% vanilla 75% cola.
Ryan, The Slatts, 1/4 of each: rose, jasmine, lemon, mint.
Elias, The Silly Nephew, 50% orange cream 30% blueberry 20% grenadine
It's time for another contest!
What Is The Contest?
We want to find the best Al Fakher mix recipes out there! And we're not just talking about 'Double Apple with some Mint' - no way, we want to find the most original, unique flavor blends that you've concocted.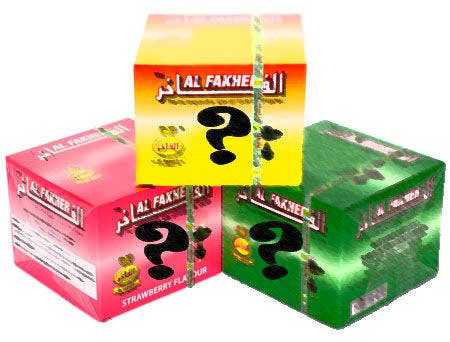 How To Enter
Enter by submitting your recipe in the comments section of this blog. You can submit as may recipes as you'd like, but please just list one recipe per comment. Make sure to include your email address that your Hookah-Shisha account is listed under. No one will see your email other than us, but you do need to include it when posting a comment. This is how we will notify our winners, as well as distribute prizes. Make sure to include the ratios in your recipes, for example: 1/4 coconut, 1/8 cherry, 1/8 chocolate, 1/2 cardamom. Finally, give your mix a name!
Rules
1) All recipes must include Al Fakher exclusively.
2) One recipe submission per comment. (There is no limit on how many recipes one person can submit)
3) You must have a Hookah-Shisha account. Don't have one? Sign up here!
4) Contest submission will be accepted until Monday September 15, Midnight CST.
5) We will choose the 11 best flavor mixes.
6) The top 10 winners will receive a swag bag full of samples, stickers, and other fun toys!
7) The first place winner will receive a Mya Acrylic Gold 1-Hose Hookah! Additionally, the number one flavor mix will be sold in a pack on our website, just like this last flavor winner is!
8) We will pull 11 of the flavor mixes out of a hat, then taste use the refined palettes of our our HS employees to determine a winner. Any questions? Don't be afraid to ask! You can reach us at hookahlove@hookah-shisha.com
Categories
Recent Post
Month Lists