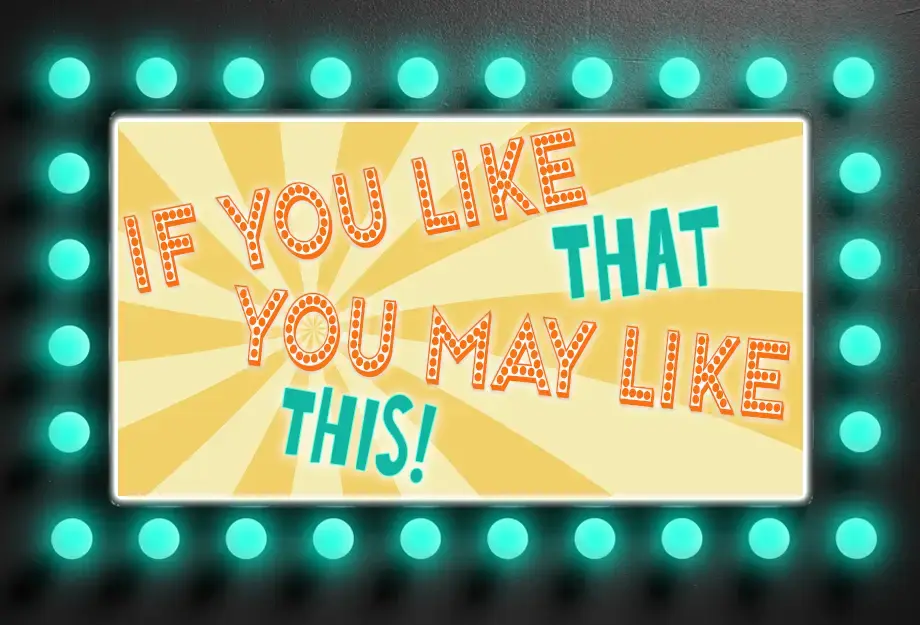 Al Fakher Fresh...! & Starbuzz Blue Mist
By
double allen
/ July 26, 2023
We're back with another shisha flavor comparison! As mentioned in our previous flavor comparison blog, it isn't uncommon for flavor profiles to exist across different shisha tobacco brands. Every brand has its own take. That could simply come from different amounts of individual ingredients or different types of tobacco leaves used. One blueberry shisha does not equally represent all other blueberry shishas.

Knowing this can help you when your favorite shisha flavor might not be available. Having a good knowledge of similar shisha flavors between different brands means when your favorite orange flavor is out of stock you already know that you also like (fill in the blank)'s orange.

In our comparison today let's look at two super popular brands that share a flavor that's pretty close.

Today's menu: Al Fakher Fresh…! and Starbuzz Blue Mist
---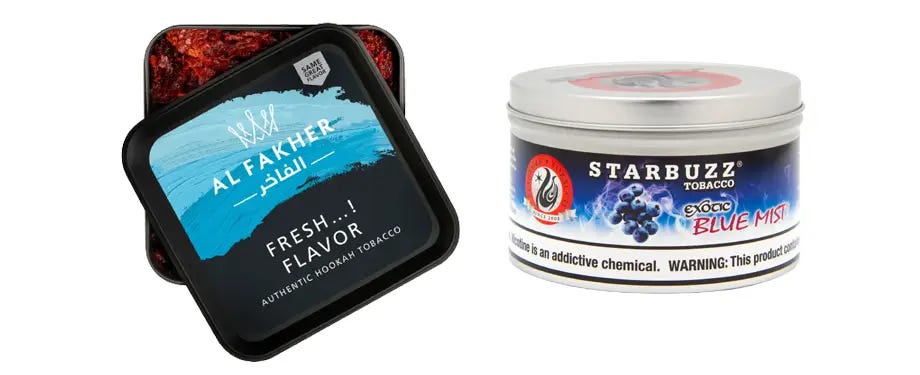 What Does Al Fakher Fresh...! Shisha Taste Like?
Al Fakher is a blonde leaf shisha tobacco made in the UAE that's easy to use and extremely popular. Known for their delicious single note flavors, Al Fakher has been one of the leaders in shisha tobacco for a very long time. Not too long ago they began to expand their line of shisha flavors to include pre-mixed combinations like Strawberry Cream, Mint Cream, and some of their other popular single note flavors mixed with their Mint. Hookah smokers liked what they were kicking up so they kept going! Fresh…! was part of an ongoing flavor expansion.

Al Fakher Fresh is a lightly sweet, airy, and enjoyable shisha flavor. The main components are blueberry and mint. You can expect this flavor to be…well…fresh! The mint isn't super cooling but it provides a nice balance to the sweetness of the blueberry. Here's the kicker. There's a little bit of something secret that lingers underneath, and the exact flavor profile of this mystery ingredient is interpreted a little differently from person to person. Some say they pick up a general, tropical mix of citrus flavors while others might say they taste a touch of grape. Regardless, Al Fakher Fresh is an enticing and refreshing blend to smoke!
What Does Starbuzz Blue Mist Shisha Taste Like?
Starbuzz shisha is made in the USA and has been around since 2005. Although they began modernizing the shisha tobacco world only a few years after Al Fakher, they quickly became a household name for hookah smokers. Today their "regular" line of tobacco has expanded into several different lines of shisha from their Bold collection to their dark leaf Vintage flavors.

Blue Mist has continuously been one of the top shisha flavors not only for their brand but also in popularity among all hookah enthusiasts globally. If you haven't heard of, tried, or seen Blue Mist on a menu in a lounge, where have you been for the past two decades?

Starbuzz Blue Mist is a combination of candied, sweet blueberry and a "misty" mint. This shisha flavor from Starbuzz is the perfect balance between sweet and refreshing. The mint isn't overbearingly cool and has just enough presence in this mix.
The Similarities Between Fresh...! & Blue Mist
Both Al Fakher Fresh and Starbuzz Blue Mist are blonde leaf tobacco shisha. This means they are going to have the "regular" amount of nicotine and don't require any super specific packing methods to get smoking.

Flavor-wise, each of them has a blueberry and mint element to them in their own way. I mentioned previously that Al Fakher Fresh was "airy". What I mean here is that it's not an "airy" shisha without much taste but rather a pleasantly flavored mix that's easy to smoke. Starbuzz Blue Mist could also be described the same way, however the "misty" secret to their popular flavor just hits differently. That being said, this is the biggest similarity between the two.
The Differences Between Fresh...! & Blue Mist

One of the main differences between these two similarly flavored shisha blends is the available sizes they come in. Al Fakher offers Fresh in 50g, 250g, and 1kg sizes whereas Starbuzz offers Blue Mist in 100g, 250g, and 1kg tins. What does this mean? Well, if you haven't tried Al Fakher Fresh you can pick up a 50g to sample it out before you make a commitment. On the contrary, if you want to try Starbuzz Blue Mist, you're looking at picking up a 100g tin to get you going.

The other big difference is color. There's nothing here that affects flavor or performance. Al Fakher shisha tobacco uses a food-safe dye to give it that easily recognizable red shisha color. This is pretty common across many shisha brands.

When it comes to flavor, each of them has a slightly distinct difference in how the blueberry comes across. The blueberry flavor in Al Fakher Fresh is more muted but still carries with it the sweetness of fresh blueberries. When smoking Starbuzz Blue Mist, you'll notice the blueberry is slightly sweeter and more pronounced.

The "minty" or "misty"or "airy" mint element of each is pretty close to each other. There are however slight differences when it comes to the mint aspect of each. In Al Fakher's Fresh flavor the mint is based on their over-so-popular Mint shisha that straight up tastes like fresh mint leaves. Compare that to Starbuzz's secret "misty" take on their mint component which is hard to describe unless you experience/smoke it.
How Does Al Fakher Fresh...! & Starbuzz Blue Mist Smoke?

Blonde leaf shisha tobacco is super simple to use. Being that both Al Fakher Fresh and Starbuzz Blue Mist are blonde leaf tobacco shishas, it isn't very easy to mess up packing these flavors into your favorite hookah bowl. Both work well with a "fluff pack" no matter if you're using a phunnel style bowl or a traditional style bowl.

Each of these shisha flavors don't require any specific heating method with your coals either. Both Fresh and Blue Mist smoke well with two pieces of quicklighting charcoal or two to three pieces of natural charcoal, depending on the size of your bowl. Al Fakher Fresh seems to handle heat a little better while Starbuzz can begin to become slightly "harsh tasting" with too much heat.

Performance was about the same when it comes to smoking a bowl of either one of these flavors. They both produced good clouds of smoke and their flavor lasted strongly throughout a 45 min to an hour session.
---
Have you tried one or both of these flavors before? If you've tried both, did you have a preference for one over the other? Did you like both?

Hookah is an artform and many aspects of it come down to your own personal preferences. With slight differences between these two flavors you can see that broadening your personal shisha choices can open up many new opportunities for new shisha mixes and blends.

Leave a comment below to share your experiences with Al Fakher Fresh and/or Starbuzz Blue Mist!
Categories
Month List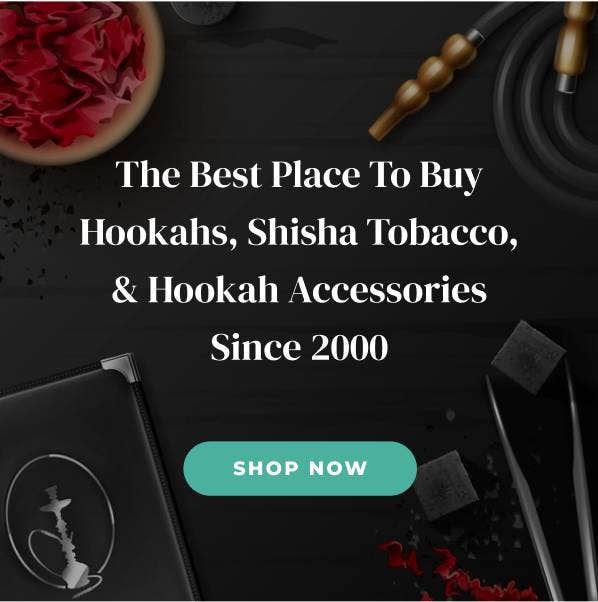 Shop All Hookahs, Shisha Tobacco, Charcoal, Bowls