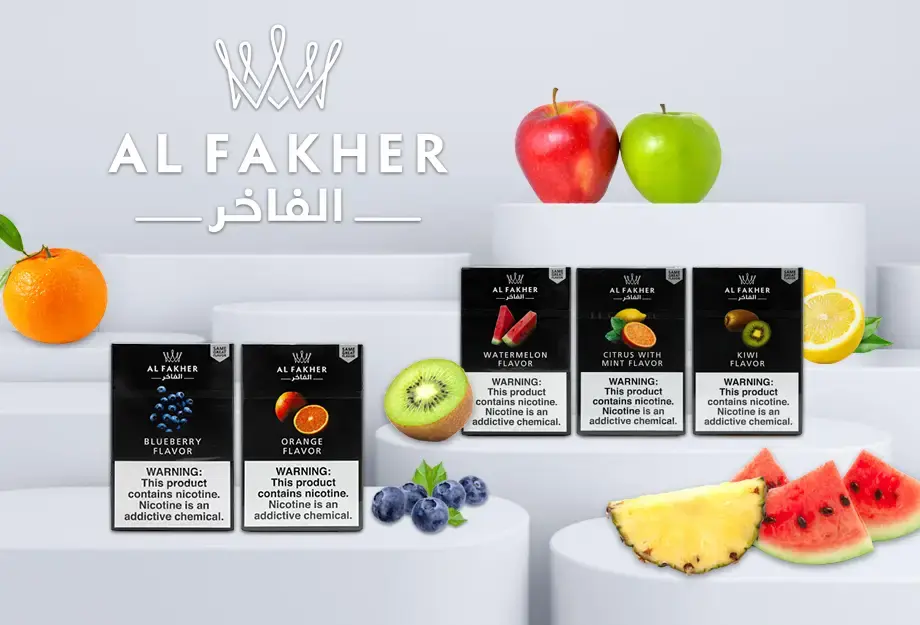 The Best Al Fakher Shisha Mixes
By
smokeorpass
/ January 10, 2020
When we talk about the basics of Hookah there's one brand that always pops up in the conversation...Al Fakher. The Al Fakher brand has been around in the hookah community before some of us were even thought of, plus a few more years on top of that.

The goal of their flavor line up is to provide you with very accurate and vibrant single note flavors. All of their shisha flavors can be enjoyed as a single flavor smoke session and they're even tastier when you mix em up!

Today, I'm going to lay out my TOP 10 AL FAKHER MIXES that I've/we've smoked and enjoyed in no particular order.
---
#1 - BLORANGE (Blueberry/Orange)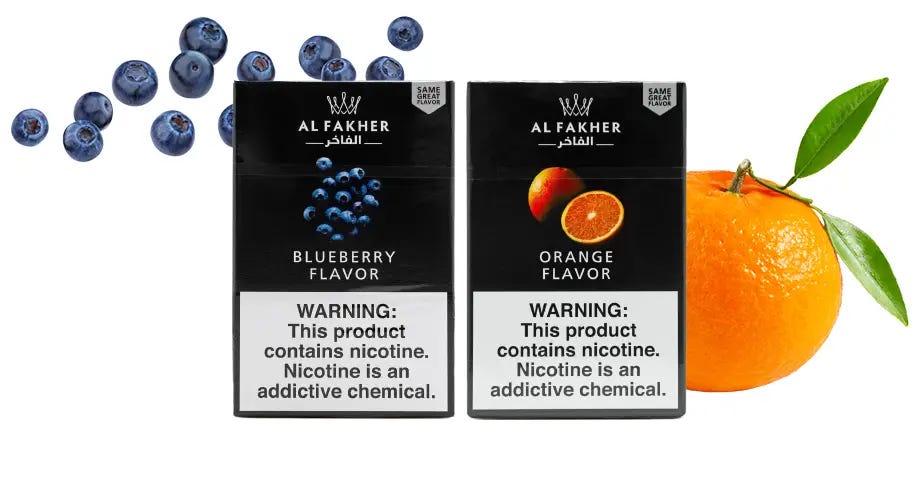 You normally don't come across oranges and blueberries on the same plate unless you're at a continental breakfast or you just like to eat healthy. In the culinary and hookah world these flavors are on polar opposites on the flavor spectrum, which is why we brought them together to see what would happen.

Let's just say good things happen! The bright citrus notes collide with the sweet blueberry aroma to deliver a unique orange-berry taste that we call BLORANGE. We don't mix the shisha together before loading on this mix; it's tastier to have them sit side-by-side or layered on top of each other.
---
#2 - Hookah & Shisha Works (Lemon/Rose/Jasmine)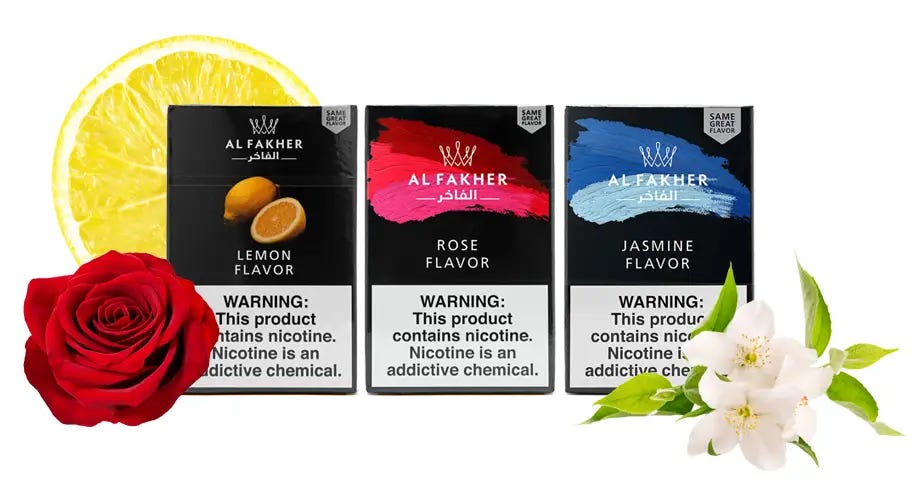 For fans of aromatic scents that may cause wildlife animals to come out and join you in a cheerful song, we present "Hookah & Shisha Works" (insert trademark). Once this mix is smoking, you might have small flashbacks to department store candle sections, as you take a stroll smelling all the citrus and floral notes.

We like to use a larger blended amount of Lemon and Jasmine, while layering the Rose around the bowl in different areas. Rose can over-power the Jasmine so use it wisely, unless you really like ROSE.
---
#3 - Preach Coco (Peach/Coconut/Vanilla)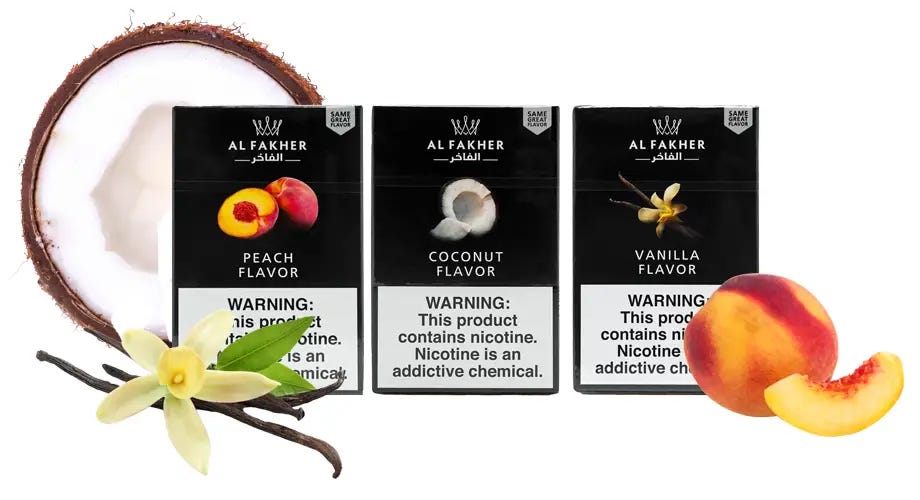 Oooohhh girl! Who put the peach in the coconut? This mix right here is how you keep the party going and have people ask you if you're in fact THE-HOOKAH-MASTER. Al Fakher Peach by itself is a powerful white peach taste that becomes instantly enhanced with a splash of Vanilla.

Those two flavors by themselves would be a pretty basic blend and that's when you bring in the Coconut that causes heads to explode! Well, maybe not explode but they'll be scratching their head wondering why the bowl is so good. You can respond "Preach COCO!" than promptly walk away.
---
#4 - Deep Red (Grenadine/Cherry/Mint)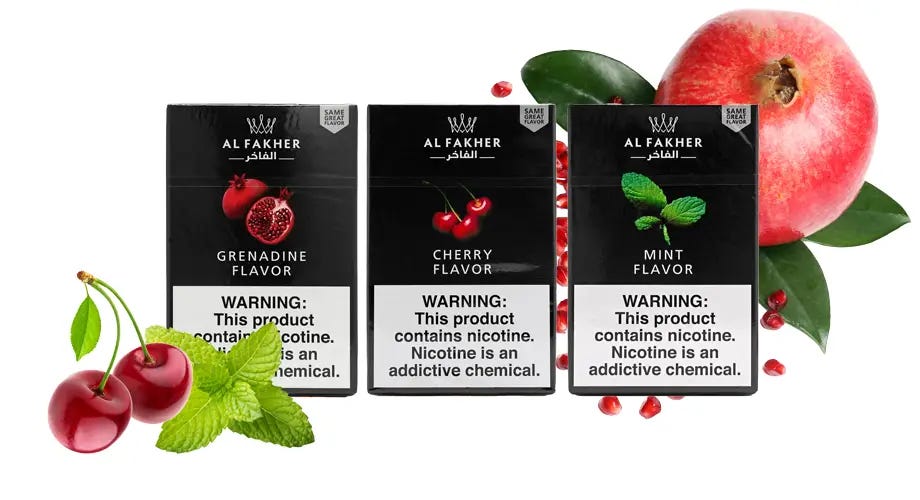 The red berries may not be everyone's favorite but for the cherry fans, myself included, this mix is delicious. When you see the words "grenadine" you might think of the red syrup mixer for alcoholic beverages, Michael Scott, or a fancier way to say grenade. The Al Fakher box for their Grenadine depicts a juicy pomegranate fruit and that's exactly what your taste buds will receive.

In this mix the slightly tart pomegranate can be blended with cherry before you place the tobacco in your bowl, or you can mix it with Mint and leave the Cherry on top. The mint is just for....mint. If you really want a punch of red go ahead and drop the mint from the equation.
---
#5 - Carduava "Car-dwa-va" (Double Apple Mint/Guava/Cardamom)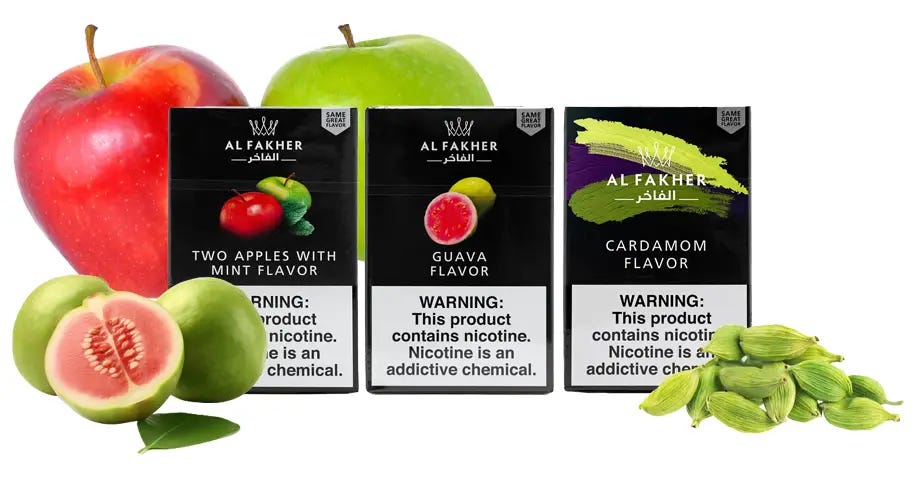 This is going to sound a little crazy for my Al Fakher Double Apple fans out there, but read me out for second. In preparation for Carduava Apple (insert trademark) you will need to mix the Double Apple Mint with Cardamon in a 50/50 portion. Cardamon has a slight cooling by itself but it will get a little lost in a blend like this, so I like to use Double Apple Mint. Feel free to play around with your own mint and the standard Double Apple or no mint at all.

Once you have your 2 part mix complete, start loading it into a bowl while grabbing small amounts of guava to sprinkle in between as you go. You will only need a small amount of Guava and it should be evenly placed within your bowl.
---
#6 - Coca Bowla (Cola/Cherry/Mint Cream)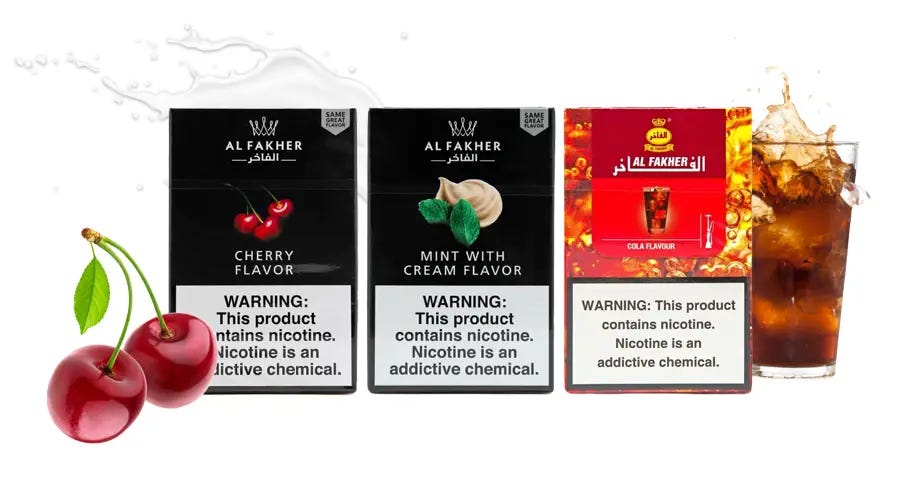 Did you know cola shisha flavors exist in our big world of Hookah? Al Fakher Cola is one of their more unique flavors in the lineup because we're not really sure what makes it cola but it's definitely COLA.

Our goal with this mix is to create a blend of cherry cola mix with a touch of cool cream. The Mint Cream is very sweet by itself, so we don't want to use too much as it might overpower the bowl.

Lay out some of your Cola shisha and sprinkle the Cherry flavor right on top, then blend it together. If you've never had Cola by Al Fakher, try to have more of it in your mix than the Cherry, afterwards you can play around with the portions once you've got a taste for the Cola. Now that we have some Cherry Cola action in our bowl, we'll add Mint Cream in a small pockets around the outer rim or layered between.

Now you've got yourself a bowl of COCA BOWLA (Insert Trademark).
---
#7 - Fuhgetaboutit (Watermelon/Citrus Mint/Kiwi)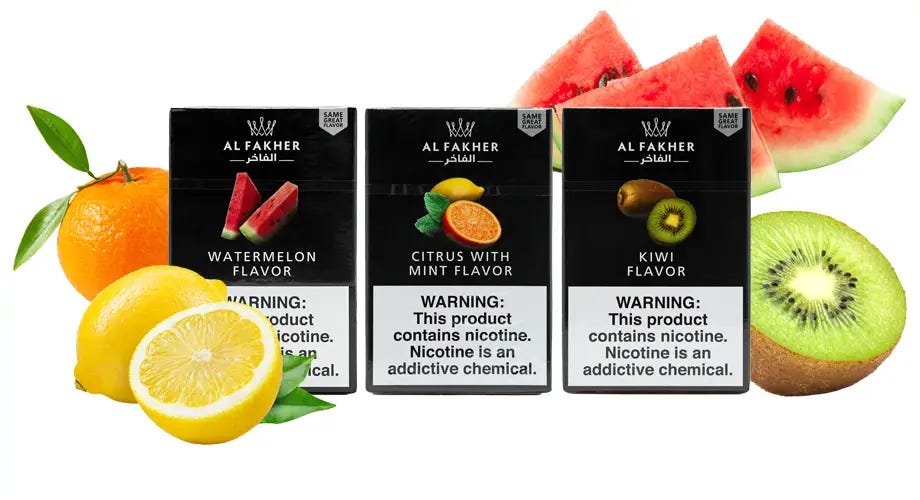 Are you having a fuh-get-ful day? The kind where the last thing you want to think about is the percentages and flavors required to create a great shisha mix? Say no more; we've got you covered with a mix we like to call "Fuhgetaboutit" simply because when it comes to the percentages you simply FUHGETABOUTIT.

Watermelon and Kiwi are great together but the Citrus Mint always comes through with ease to really kick off this mix. As long as you have these three flavors inside of you bowl, you've completed the mix. There's no real preparation that needs explanation for this one, besides don't eat it.
---
#8 - Melle Mojito (Mojito/Melon/Lemon)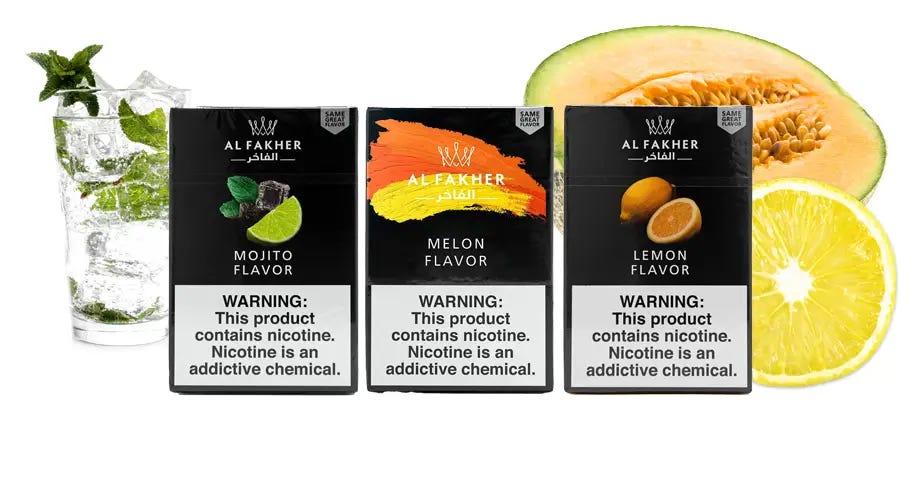 When Al Fakher released Mojito as part of their original lineup of flavors, it took several of us by surprise because it wasn't a traditional single note flavor. If you've ever wondered what an Al Fakher Lime flavor would taste like, it's all inside the Mojito mix with a splash of sweet cooling mint, but mostly lime.

The Melle Mojo is created by mixing Mojito and Lemon together before adding the Melon flavor component. The Melon flavoring keeps the bowl from getting too bitter/warm from the lime & lemon combo, and brings out a delicious flavor that bounces from being at the forefront to the background throughout your session.

If you want more coolness on the inhale, swap out the Lemon for Lemon Mint.
---
#9 - Grapeful Dead & Company (Grapefruit Mint/Pineapple/Orange)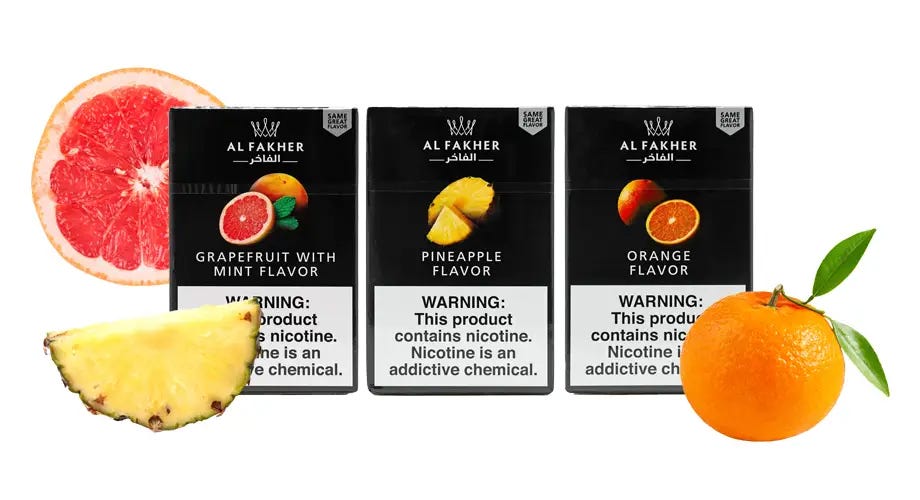 How delicious is Grapefruit Mint from Al Fakher? It's amazing! Sorry, I answered for you but I'm sure you agreed. When you're ready to chill out with some Grapeful Dead & Company, go ahead and grab a good amount Grapefruit because that's the focus of this blend.

You can mix your flavors or prepare them side by side in your bowl. I like to place my Grapefruit as half of the diameter on my bowl with my Pineapple and Orange split equally to fill in the rest.

A great thing about this mix is that you can reverse the portions with either one of the flavors other than grapefruit for some tasty results.
---
#10 - Blueberry Encore (Blueberry Mint/Lemon Mint/Vanilla)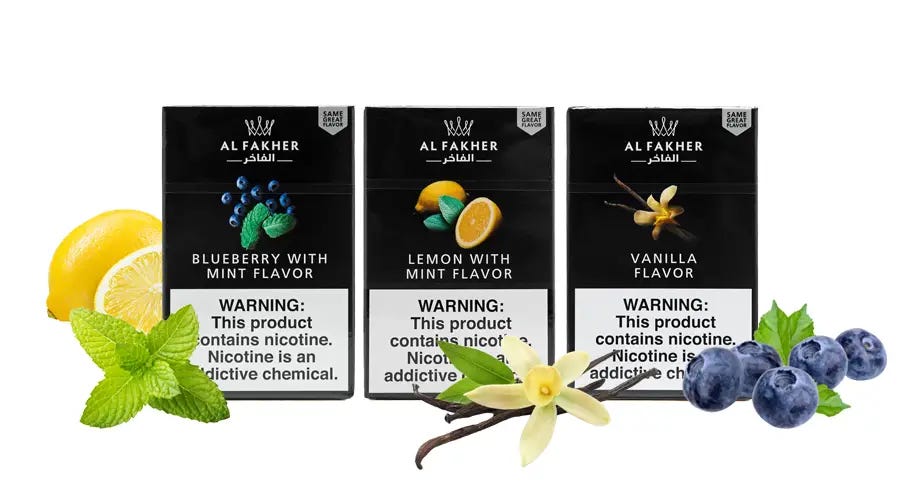 If you thought one mint was enough, after a few crowd chants, a second mint comes out for the encore! We're wrapping up this mix list with a sweet blueberry backed by a tart note to make the berry POP. The Vanilla ties a beautiful bow on the mix and as you exhale it's nice and cool.

When it comes to mixing this last blend, we want you to have fun! Mix the Lemon Mint and Vanilla before adding Blueberry? Sure, go for it, or just mix the Blueberry and Lemon with a sprinkle of Vanilla on top.

As long as you have these three flavors in your bowl it's going to be a tasty session; worthy of an encore.
---
What are Your Favorite AF Mixes? 
Alright ladies and gentlemen, I have given you 10 never before seen (on our site) mixes that I think you'll really enjoy! My questions to you is what's your favorite Al Fakher mix? Does it have a name? Let us know in the comments!

We'll try your mixes here in the warehouse and our favorite ones will make it into our custom shisha category.

YOU ROCK!

Thank for reading.

-SMOKEorPASS
Categories
Month List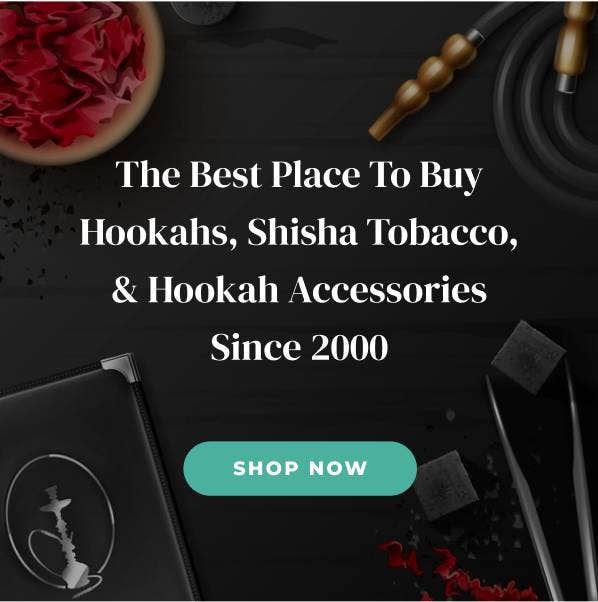 Shop All Hookahs, Shisha Tobacco, Charcoal, Bowls