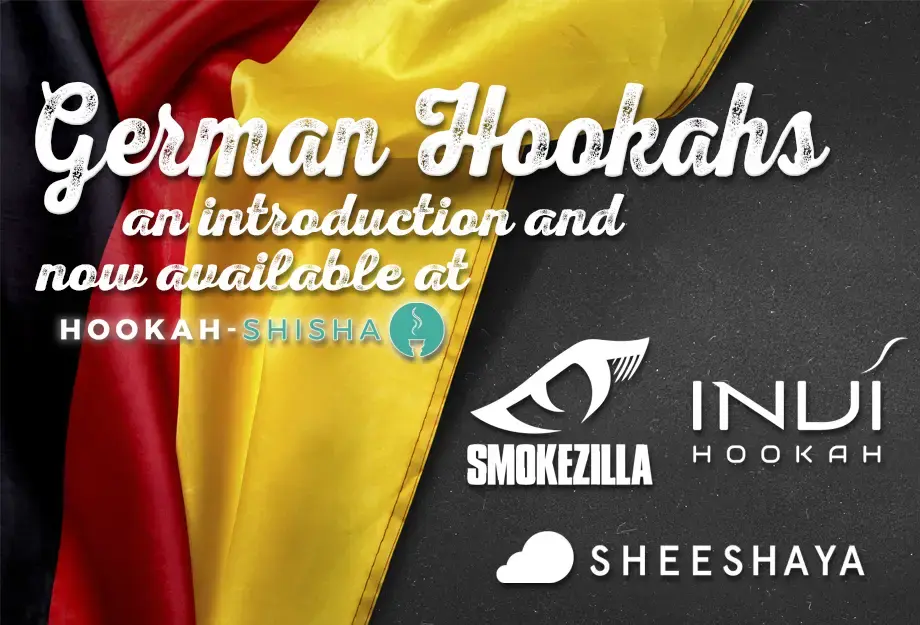 Hookahs from Germany Have Landed at Hookah-Shisha!
By
double allen
/ January 17, 2023
There's no question that hookah is enjoyed globally. Every person interested in hookah has their own unique style and preference when it comes to flavor and aesthetics. Each part of the world has its own take when it comes to shisha tobacco and hookah design as well. We've been requested to pick up many different types of hookahs and shisha tobacco over the years, and we don't carry anything that we don't test and love ourselves. Our most recent collection comes from Germany - and we're continuously impressed!
---
Smokezilla, INVI & Sheeshaya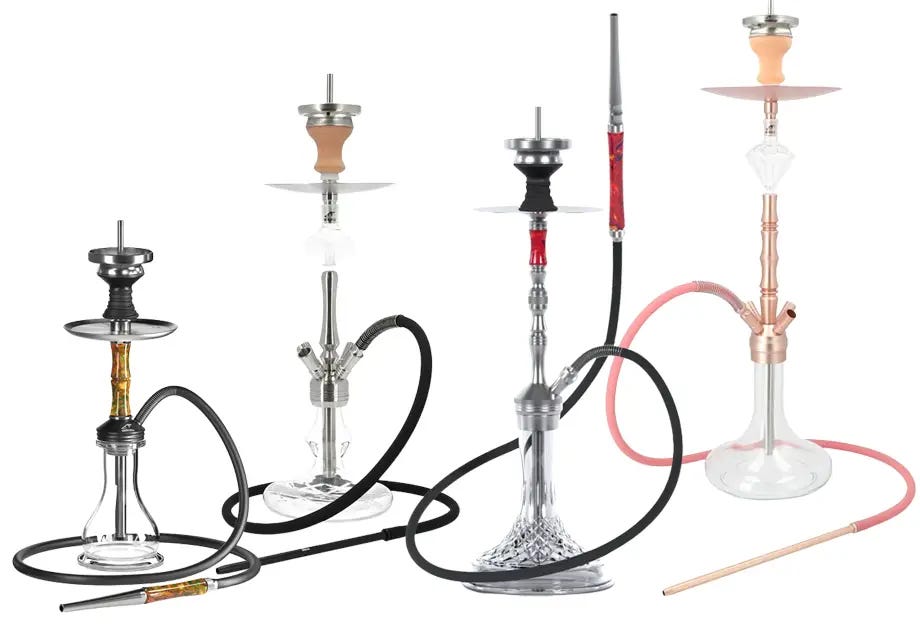 Smokezilla
Definitely the brand out of the bunch which has mainly medium to large hookahs, Smokezilla hookahs are completely modular. The sizes range from just around 18" in height and go up to just under 30". Because models like the Minya and Baragon include optional molasses catchers and the Muto models can be adjusted to different heights by removing pieces of the stem, the range of sizes for Smokezilla hookahs is very customizable.

Smokezilla hookahs are made from high-grade stainless steel, glass and resin accents on some models. These German hookahs also include a bowl with a chimney-style heat management device (HMD). We also have bundle packages available with Smokezilla hookahs to help you get the most cost efficient hookah, shisha and accessory package. Hookahs from Smokezilla have a traditional hookah design feel with all of the modern advantages.
---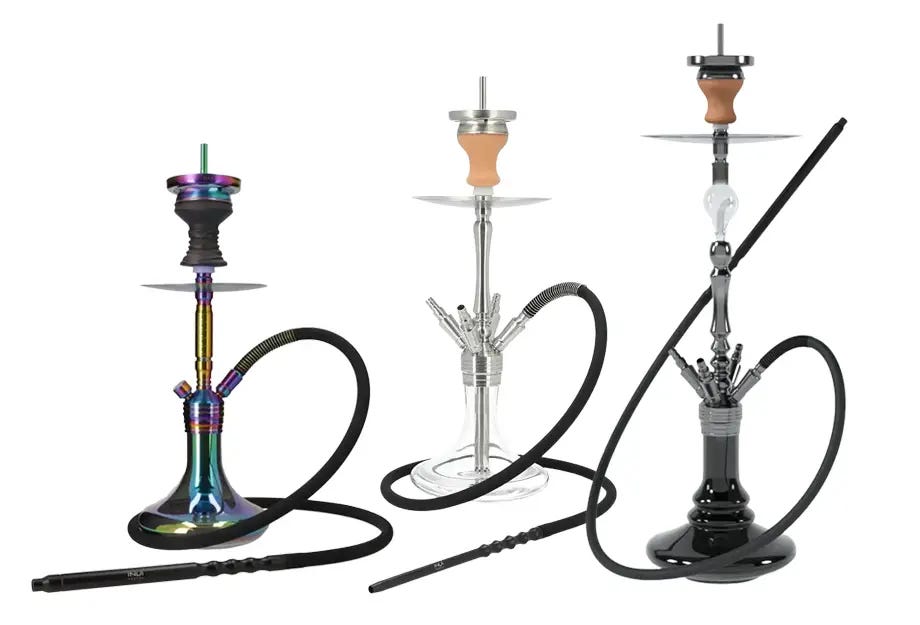 INVI 
The hookahs made from the German brand INVI have a wide variety of sizes available as well. From the 7.5", extremely portable Nano to the 30" INVI Tesseract, you'll definitely be able to find an aesthetically pleasing, high-end, durable option to fit your style. The larger hookah models from INVI include a bowl with a chimney-style HMD and the Tesseract also includes an optional molasses catcher. INVI hookahs are made from high-grade stainless steel with alumninum parts for the hose handle and smaller pieces.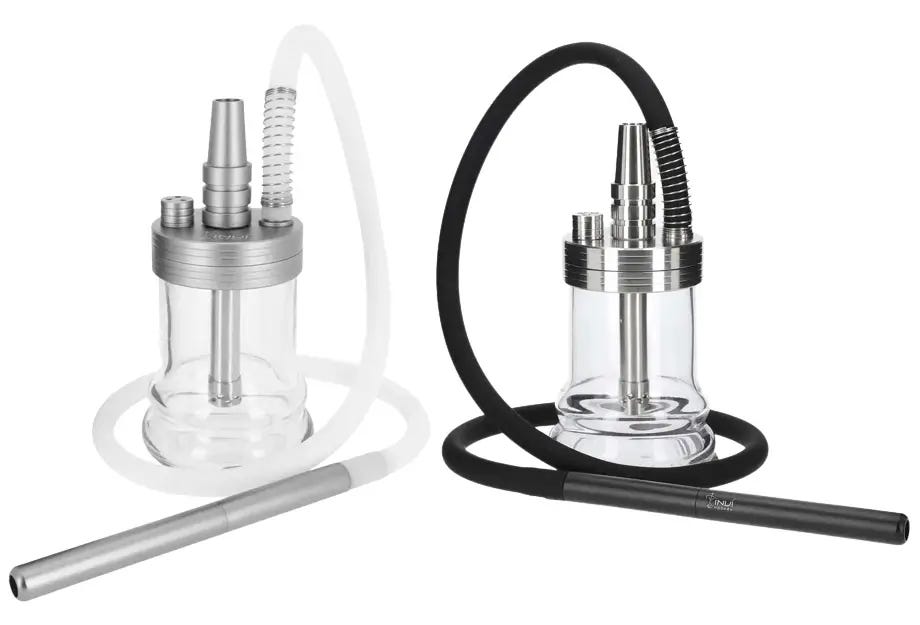 Their smallest hookah is the Nano, and this model is available in both high-grade aluminum as well as in stainless steel. The INVI Nano hookah breaks down entirely to fit inside the included travel bag. This hookah is great for a small desktop option or as a fantastic traveling hookah. Like all of the other INVI hookah models, a washable silicone hose is included.
---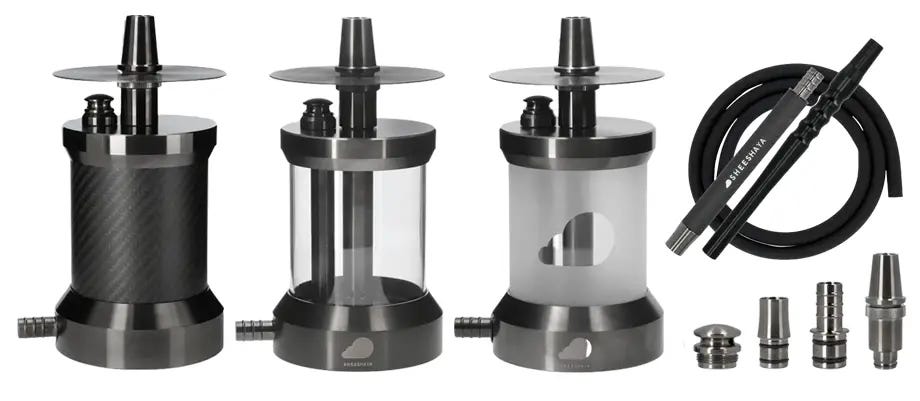 Sheeshaya
Another amazing, portable hookah comes from the makers at Sheeshaya. The Sheeshaya Hazard hookah is a tank! Don't let its 8" stature fool you. Made from stainless steel, in a WIDE variety of color options, the Hazard is very heavy in weight. Not only is its build super durable it performs just like any taller hookah. In addition to the wide variety of color options, you can also select from different styles of base options. A carbon fiber outer sleeve, frosted glass, and clear glass are available. Sheeshaya has also included a travel bag.

*Note: One important assembly step to recognize is that you must fully complete this hookah before adding the water into the base. You do this through the top bowl stem area.*
---
Excellence in the Details

Nothing has been overlooked in these German hookahs! You'll find each model is made from high-grade stainless steel and aluminum components. Other aesthetic details are made from resin or glass. Not only do all of these quality materials add to the beautifully clean designs but they also make each piece highly durable and easy to keep clean.

With the Smokezilla and INVI hookahs, they've included not only a bowl to get started but also a chimney-style heat management device (HMD)! That's not all. Smokezilla also includes an inner mesh screen to help keep your shisha tobacco in your bowl and not in your hookah! See what we're talking about when we say "details"!?

Every German hookah comes with a washable, high-grade silicone hose so no need to upgrade right off the bat! These washable hoses will last a very long time with proper care and will help prevent "flavor-ghosting" when switching between different flavor profile types.
---
What's Up with Those Hose Adapters?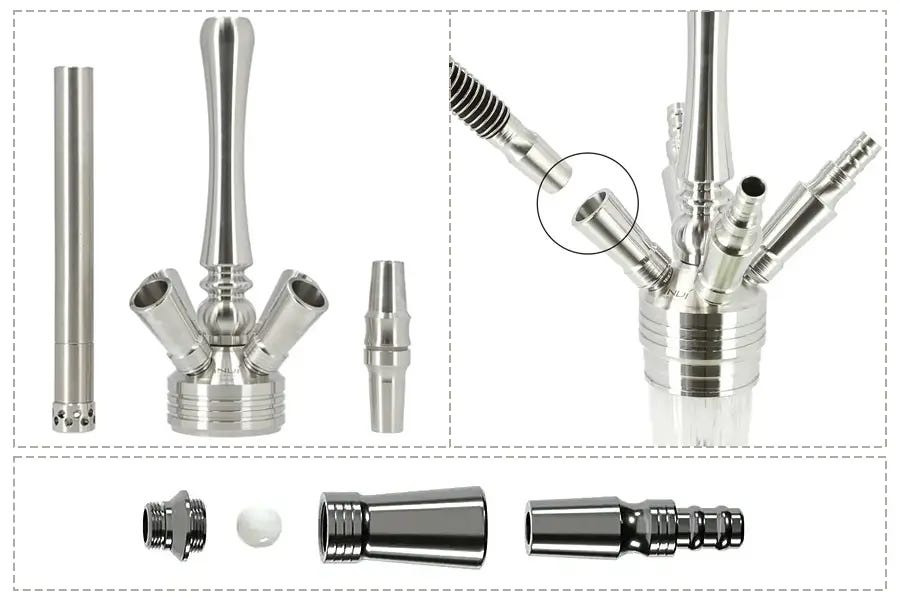 Speaking of hoses, you may notice that both Smokezilla and INVI multi-hose hookah models include hose adapters in addition to the hose port adapters that are already assembled onto the hub of the hookah. Part of the uniqueness with these German models is their ability to have a metal-to-metal connection for your hoses. This is what's known as a "18/8 connection" or "18/8 grind". Much like how hookahs made entirely of glass have glass-to-glass connections, this eliminates the need for traditional rubber grommets to make a solid airtight seal. Plug in one hose or four, each hose port acts as an auto-seal adapter rather than having a traditional-style purge valve.

The hoses that are included with these German hookahs are already adapted for this 18/8 grind connection. These additionally included adapters allow for you to use either a rubber grommet as you normally would for your 2nd, 3rd and 4th hose OR you can adapt hoses you may already own to a metal-to-metal connection. Slip off the heel tip on any silicone tubing hookah hose you have, replace it with one of these included adapters and wallah! Now you have an 18/8 grind connection for each hose you add to your hookah! Goodbye grommets!
---
Other Features & Customization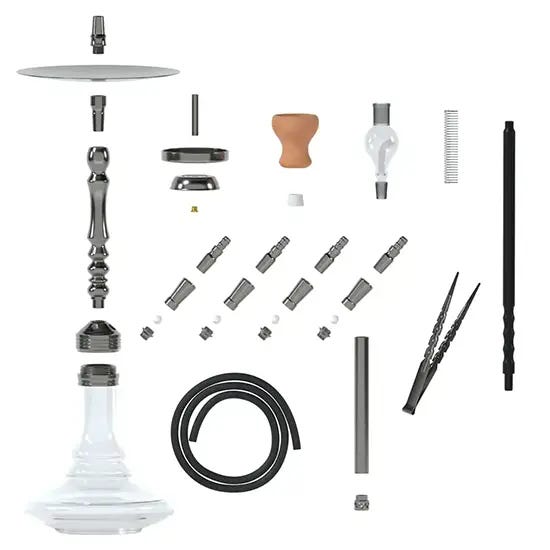 With all of the well thought out design features in the German hookahs from Smokezilla and INVI comes customization. These hookahs are entirely modular, meaning everything comes apart. Not only is this great for cleaning, breaking down your hookah for storage and finding replacement parts, but a completely modular functionality means one hookah set up can be customized to your liking and personal style. For example, the Smokezilla Muto can be adjusted in height by removing pieces of the stem.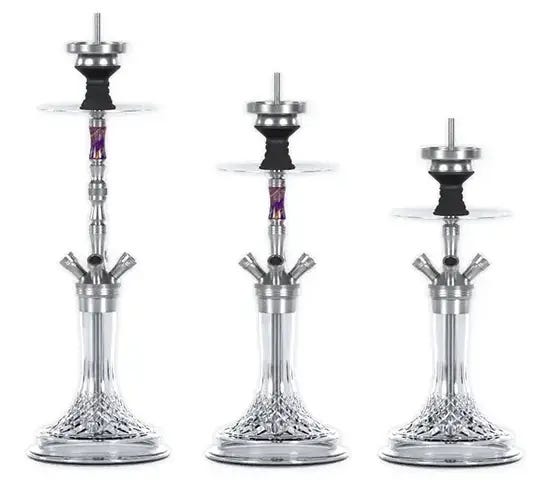 Another example is in the Smokezilla and INVI models that include a molasses catcher. Use it or don't! You may find yourself a molasses catcher aficionado though! Molasses catchers, by the way, help your stem and base stay cleaner. Not only that, but molasses catchers help prevent harsh smoke. How? When smoking, the molasses heats up and can run down into your hookah stem. This is especially true when not using other preventative measures such as using a phunnel style bowl or when smoking shisha that is especially juicy like Fumari or Fantasia.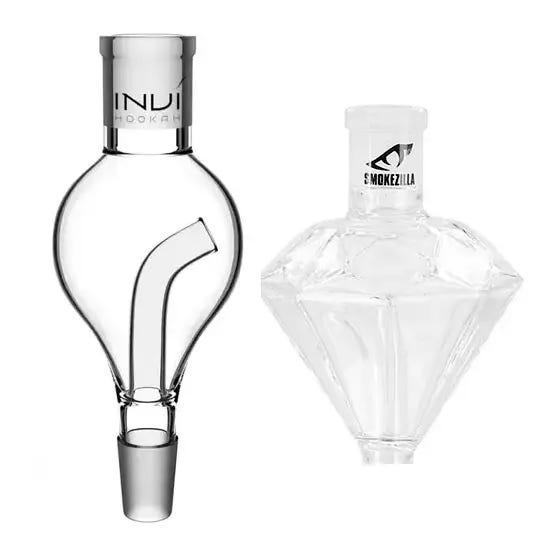 We can keep going, but I'll wrap this up. Again, no details were missed from Smokezilla, INVI and Sheeshaya. Getting down to the nitty gritty, each brand includes built-in diffusers to help quiet down the noise and rumble while smoking during a movie, video gaming or studying. Twist-to-lock connections on the base eliminate the need for rubber base grommets so no more headaches with getting the right fitting sized grommet!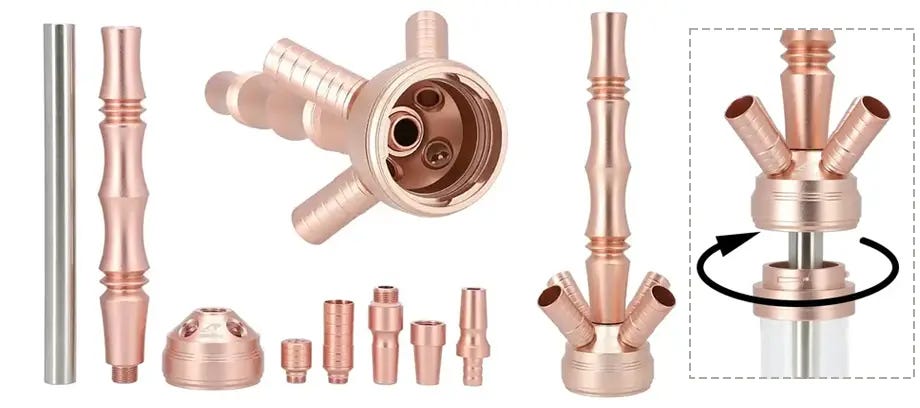 ---
Conclusion? We LOVE these German hookahs! We know you will too. With so many high quality features at an incredible price point, as well as flexibility in set up, you'll definitely want to check out these hookahs from Smokezilla, INVI and Sheeshaya.

An added bonus: there is more to come! We'll be adding more accessories and hookahs from these brands very soon like the a la carte AO Molasses Catcher, AO Bazooka Ice Hose Tip and AO bowls we already have!
Categories
Month List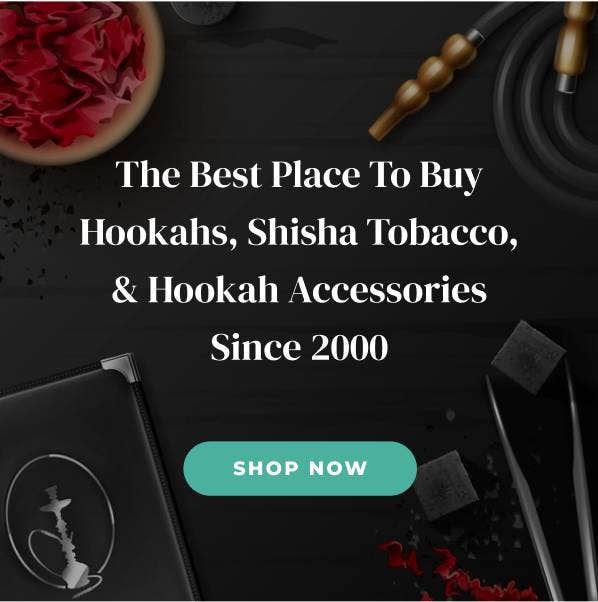 Shop All Hookahs, Shisha Tobacco, Charcoal, Bowls