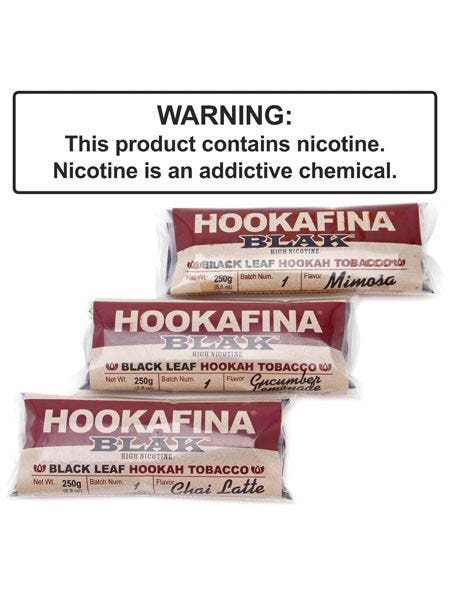 Hookafina BLAK Leaf Shisha Tobacco
By
Katie
/ April 29, 2014
Hookafina Shisha Tobacco is a trusted shisha brand amongst hookah lovers, famous for their unique flavors and a mellow smoke. Looking to enter into the world of bold shisha with a strong tobacco buzz, Hookahfina has introduced a new line of shisha tobacco: Hookafina Blak. This shisha skillfully blends traditional shisha preparation methods with contemporary flavors, producing an intense, robust tobacco with a buzzy kick and comes in 250g pouches similar to that of Tangiers Shisha Tobacco.
What is Hookafina Blak Tobacco?

Hookafina Blak is named after an old-school style of tobacco preparation called "black leaf tobacco" which is tobacco that is hand blended in small batches under pressurized heat while it is mixed with black molasses. Blak (black) Tobacco traditionally has no other ingredients or artificial flavors. This tobacco preparation methodology results in a high-nicotine tobacco with an old-school flavor. Hookafina added a modern twist by adding subtle fruit notes mixed into the molasses, which creates an incredibly intense, earthy and spicy tobacco overtone; ultimately creating a unique combination of fruits, spices, and traditional black leaf flavors. This hookah tobacco should be packed and treated similar to that of Tangiers. It make require acclimation to your climate, and is best when packed tightly in a Phunnel or Vortex bowl.
Hookafina Blak Chai Latte tastes like the classic chai and coffee drink, with spicy aromatics and coffee flavors that blend perfectly with the black molasses and tobacco flavors. Hookafina Blak Cucumber Lemonade is a great shisha for those sweltering summer days. Named after a popular summertime thirst-quencher, Cucumber Lemonade shisha douses you with its light, refreshing fruit flavors. Hookafina Blak Deja Vu blends hearty tobacco flavor with a lip-smacking mix of blueberry and blackberry. Hookafina Blak Double Mint is intense - a cool blast of mint against a backdrop of robust tobacco. Hookafina Blak Hong Kong Pink mixes black leaf shisha and guava for a unique flavor combination. Hookafina Blak Mimosa is a bright, crisp flavor similar to the famous concoction that mixes champagne and orange juice. Hookafina Blak Naranja is the Spanish word for "orange," and this flavor doesn't hold back on it. Expect tart citrus alongside spicy tobacco. Hookafina Blak Pineapple gives you a unique flavor combination - a tropical essence with earthy tobacco tones. Hookafina Blak Pink Grapefruit is another unique flavor - fruity and tart grapefruit blending with the black leaf tobacco for a bold shisha experience. Hookafina Blak Razzleberry is a tasty raspberry adventure for your taste buds. Hookafina Blak Straight Up Blak is for those who want pure, unrestrained tobacco flavor. This is the most intense flavor of the Hookafina Blak line-up, the original shisha and black molasses blend that forms the base for other flavors in the line-up. Hookafina Blak Toasted Coconut takes the black leaf tobacco and pairs it with delicious coconut. The earthiness of the tobacco goes great with the light tropical flavor of the coconut. Hookafina Blak Two Feh Ten expertly crosses bold tobacco with hearty apple and licorice for a tasty shisha you'll want to come back to again and again. Double Apple is a perennial shisha favorite, and Two Feh Ten is Hookafina Blak's take on this classic flavor.
Categories
Recent Post
Month Lists