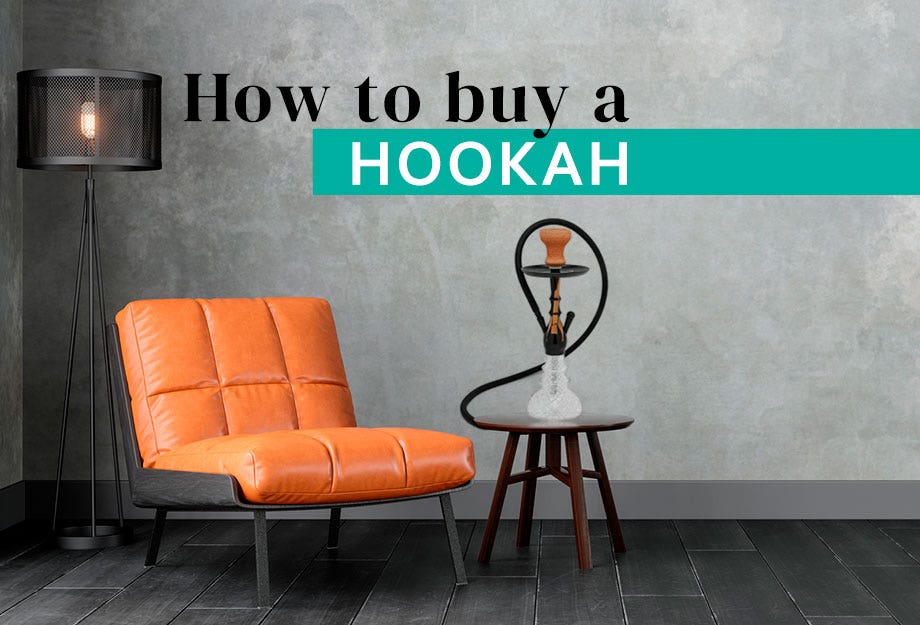 How To Buy a Hookah
By
two puff tony
/ March 24, 2022
Whether you're looking to buy your first hookah after your experience at a hookah bar or you already have an impressive collection of pipes at home, we here at Hookah-Shisha are obsessed with helping you find your perfect setup. With nearly 1,000 unique hookahs available on our shelves, you'll find a variety of designs ranging from traditional to modern, short to tall, plastic to metal, and more. We understand that such a wide selection can be a little overwhelming, so we're here to show you everything you need to know about buying a complete hookah package here at Hookah-Shisha.com!

Unsure what a word or phrase we use means? Check out our Glossary for definitions of the most common terms used to describe hookah and shisha.
---
What to Consider When Buying a Hookah
Hookahs come in all sorts of shapes, sizes, colors, materials, prices, and styles, so there is a lot to think about when exploring the many different options to choose from. In no particular order, you'll find a quick explanation of all the things to look out for when buying a new hookah below.
Style & Size
Traditional vs. Modern Styles
Traditional hookahs are often individually handmade and originate in Egypt and other parts of the Middle East. Their designs are a direct result of hundreds of years of history and tradition, and have become the "standard" when it comes to quality around the world. They most commonly feature a more rustic design with handmade quirks like weld spots around the ports, subtle differences in the finish, and variations in hose and base designs.

Modern hookahs are manufactured by machines to exact CNC specifications and look much cleaner and more precise than traditional hookahs. They often have a variety of features such as threaded bases and adapters, multi-hose capable stems, built-in diffusers, and more. Since they are not made by hand, you will not experience the same handmade imperfections that you may experience with a traditional hookah.

Deciding if you're looking for a hookah that features a more rustic, traditional style or a more precise, modern design is an important step in narrowing down your search.
Size

Contrary to popular belief, there is no "best" height when it comes to hookahs, and larger hookahs are not always better.

The ideal size of hookah is largely based on personal needs and can vary based on a number of factors. If you're planning on traveling with your hookah or using it on a table or desk, a smaller, compact hookah would likely be best. On the flip side, if you only plan to smoke at home and don't wish to take your hookah anywhere, a larger setup is where you might want to look.

When picking out your setup, consider where you'll be smoking, how and where you will store your hookah, if it needs to be travel-friendly, and how its size will affect these things
Material
Hookahs can be made from a wide variety of materials including acrylic, stainless steel, aluminum, wood, glass, resin, and more. Understanding the differences between these materials is important to choosing the right hookah for your home setup.
Stainless Steel

Stainless steel is the single most common material used in hookah construction. It is renowned for its durability and resistance to flavor ghosting. While stainless steel has a low chance of rusting if cleaning and maintenance are neglected, it will have a long lifespan if properly taken care of.
Brass

Brass can be found in some traditional hookahs. It is a heavy metal that has anti-corrosive properties and is commonly dedicated to specific shisha flavors due to its susceptibility to ghosting. They are extremely resistant to rust, bacteria, and corrosion, and will last a long time if properly maintained, however, they can obtain a surface-level tarnish. Because of this, maintenance can be more challenging.
Aluminum

Aluminum is another common metal used when making hookahs and can most commonly be found in modern designs. It offers many of the same benefits as stainless steel, however, it is typically more lightweight.
Acrylic

Acrylic hookahs are made from a hard form of plastic that can be molded into a variety of different shapes. They are typically very durable against physical damage and are impervious to rust, however may have a shorter overall lifespan than more traditional metals like stainless steel.
Wood

Wood when used in hookahs is, typically, a cosmetic addition to the exterior of the pipe. The internal parts of the hookah are usually still metal, however, the wood adds a natural, one-of-a-kind sense of style to a hookah. It is widely considered to be a premium material in hookah making.
Glass

Glass hookahs are constructed from high-quality, hand-blown glass and feature some of the most unique, modern designs on the market. Their glass pieces are impervious to rust and flavor ghosting, providing incredibly clean flavor as well as smooth draws. Glass is fragile, however, so they are extremely susceptible to any kind of physical damage.
Silicone

Silicone hookahs are a relatively newer addition to the modern hookah market. Typically used alongside acrylic or metal, silicone is completely impervious to blunt physical damage (it can still be cut, but don't do that), however, can be more susceptible to getting stained or ghosted with flavor.
Single-Hose vs. Multi-Hose
Certain styles of hookahs are built to only be used with one hose at a time, while others can be made multi-hose, usually through attaching an additional hose adapter. Thinking about whether you plan to smoke by yourself or use your hookah with a group of people will help you choose the right setup from the get-go.
Price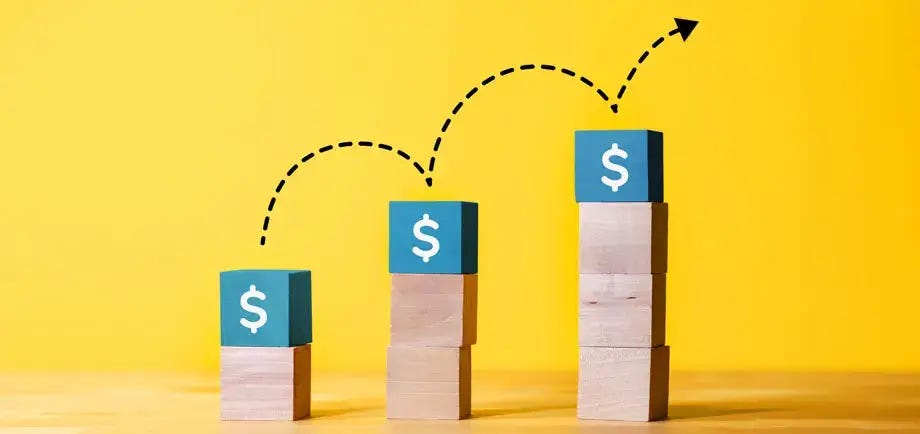 And of course, the one thing no one really wants to think about when buying a hookah: price. We all love to fantasize about our money-is-no-object car, house, and yes, even hookah setup, but what we can afford is one of the largest factors to consider when browsing.

We carry a range of hookahs in all different price points from budget-friendly models under $50 to ultra-premium that cost more than $300, and everything in-between, so you'll have no trouble finding a setup that easily fits your budget.
---
New Ways to Shop Hookahs
With our latest site makeover, you'll find entirely new ways to find the exact hookah you're looking for. Already know which brand of hookah you're interested in? You'll feel right at home in our Shop By Brand category.

Maybe you're looking for a specific style of hookah or one made from a certain type of material? Our Shop By Material and Shop By Style categories make it easy to find the best design for your hookah.

Or is price a factor above all others? Explore every hookah within your budget with our Shop By Price category and find your perfect setup without breaking the bank.
What Comes with a Hookah?
Every complete hookah package comes with four main pieces of equipment:
Generally speaking, a hookah cannot be considered complete or functional without these key items. The majority of hookahs will also come included with a charcoal tray and rubber grommets, however, there are some rare exceptions to this. Each model we sell will come with all of these required items, so you will be guaranteed to receive a fully functional, ready to be smoked hookah.

But that's not all!
Free Gifts Included with Every Hookah
We at Hookah-Shisha.com want you to be able to smoke your new setup as soon as you receive your order in the mail, so we include a number of items with every complete hookah package at no extra charge! You will receive:
Essentially, everything you need to have your first couple of smoke sessions, and clean up afterward as well!
---
Step-by-Step: Buying a Hookah Online at Hookah-Shisha
After finding your perfect hookah using our categories or filters, you will be presented with a number of options to select before adding the pipe to your cart.


Step 1: Select Your Color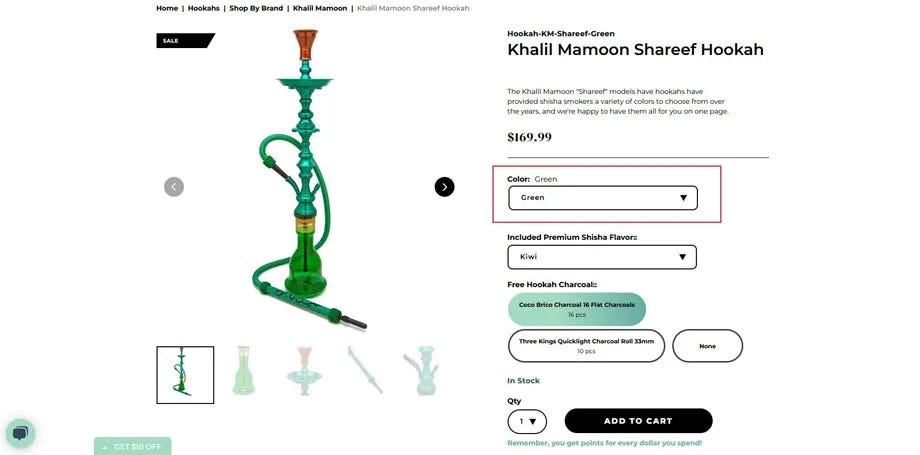 Choose the color of your hookah from the drop-down menu. Depending on the model, only one color may be available.


Step 2: Pick The Perfect Shisha Flavor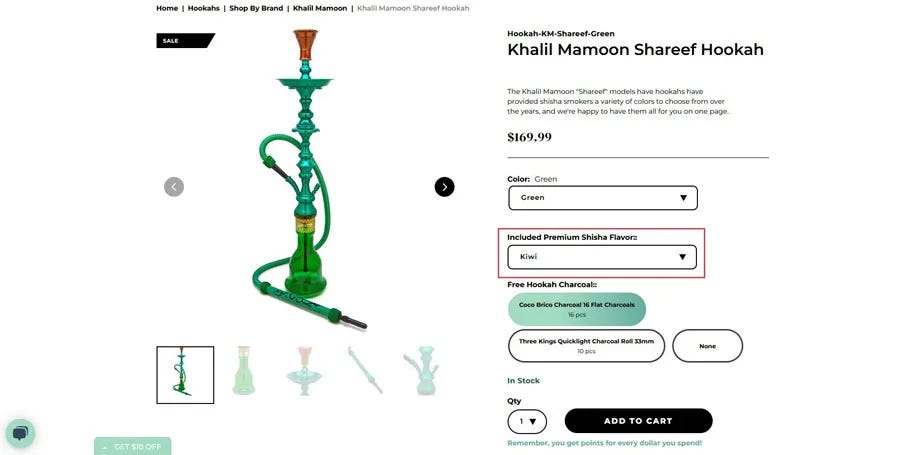 From the second drop-down menu, take your pick of different shisha flavors (including a tobacco-free option) that come included with your hookah. Don't want or need the included shisha? Just select "None" in the menu and it won't be included in your order.


Step 3: Choose Your Charcoal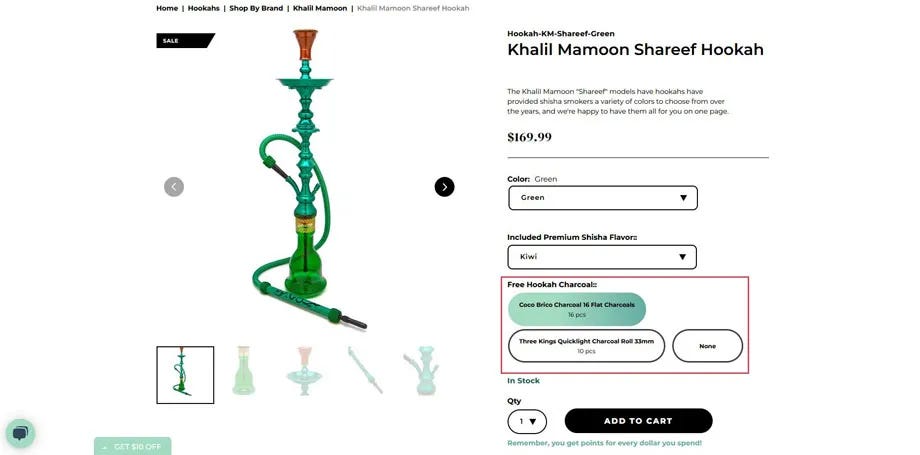 The third option listed allows you to choose between whether quick-light charcoal or natural coconut charcoal is included with your hookah. To learn more about the difference between the two types, check out our blog here. And much like the shisha, if you do not want the included charcoal, just select "None" and we'll take care of the rest.


Step 4: Pick a Number Between 1 and 99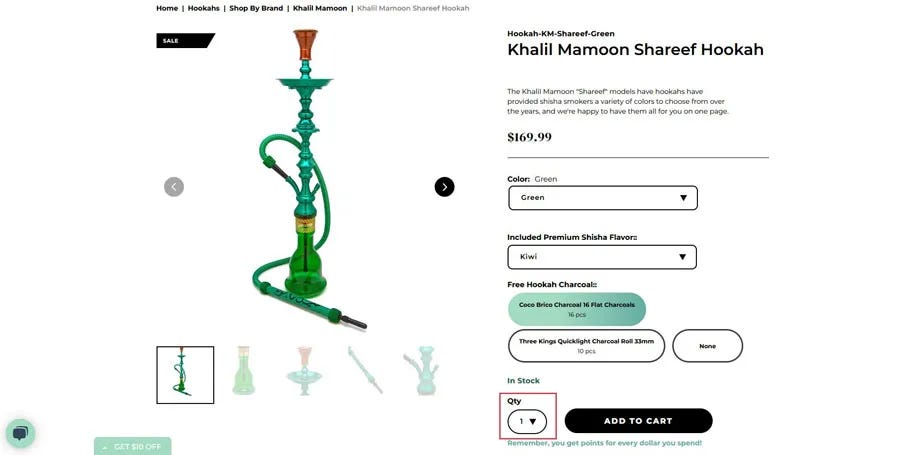 After selecting your charcoal, select the number of hookah packages you wish to purchase from the "Qty" drop down. The default selection is set to 1, but you can order all the way up to 99 if you desire.


Step 5: Add to Cart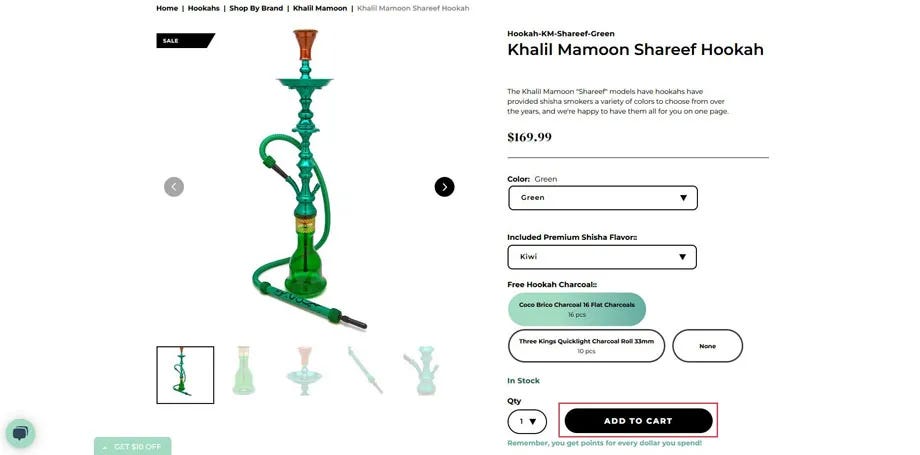 Lastly, but most importantly, you'll need to click the "Add to Cart" button. You'll receive confirmation that your hookah was successfully added to your shopping cart, and it will be ready for purchase whenever you are!
After You Order
Once you have placed your order, we'll take the necessary steps to process and ship your order as quickly as possible. Keep an eye on your email inbox for order confirmations, updates, and more.

After you have received your order, take out all the items and make sure everything is correct and in good condition. If we accidentally sent you the incorrect item, an item in your order was damaged, or you just have questions throughout the packing and shipping process, contact our friendly Customer Service Team. We're open 7 days a week and are standing by to help you in any way we can. For more information on how we handle replacements and returns, please visit our Ordering Information page.
---
This was a long one, so if you made it all the way to the end, thanks for sticking with me! You should now have a solid understanding of everything you could consider when buying your first (or 100th) hookah. If you think anything is missing, an item is damaged, or you have any additional feedback, contact us directly and we'll be right there to help out with anything you need.

Thanks for reading!

<3 Tony and Everyone Here at Hookah-Shisha.com
Categories
Month List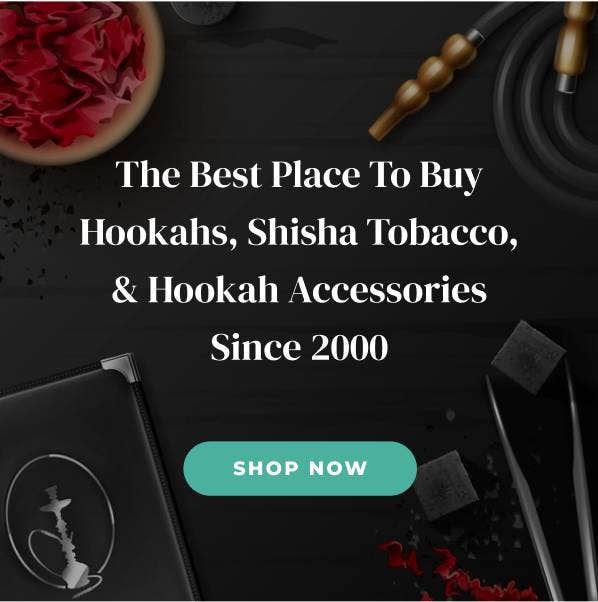 Shop All Hookahs, Shisha Tobacco, Charcoal, Bowls