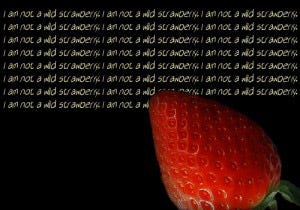 Shisha Review: Al Tawareg Shisha Tobacco - Wild Strawberry
No matter if you slap a new label on it and rename it "wild", this is simply an already-gorgeous strawberry with a brand new red dress.
Al Tawareg
Wild Strawberry shisha tobacco has somehow perfected the art of taking an amazing hookah product comparable in taste with Romman, and slapped a confusingly low price tag on it (not that we're complaining). Its fresh, seedy-but-sweet strawberry flavor makes Al Tawareg Wild Strawberry a great choice if you and your friends are out at your local hookah lounge. But may I recommend mixing Al Tawareg Wild Strawberry with Al Tawareg Tropical Pineapple or with your favorite vanilla and/or mint shisha blends. If you like Romman Strawberry, you're going to love Al Tawareg Wild Strawberry and love its price tag even more! To the President of Al Tawareg: Smart, very smart! Keep up the good work! Try Al Tawareg Wild Strawberry shisha tobacco out for yourself and tell the hookah world what you think about it by posting on our
Facebook page
. We love hearing from you, the hookah enthusiasts around the world. Happy Smoking friends!
Categories
Recent Post
Month Lists