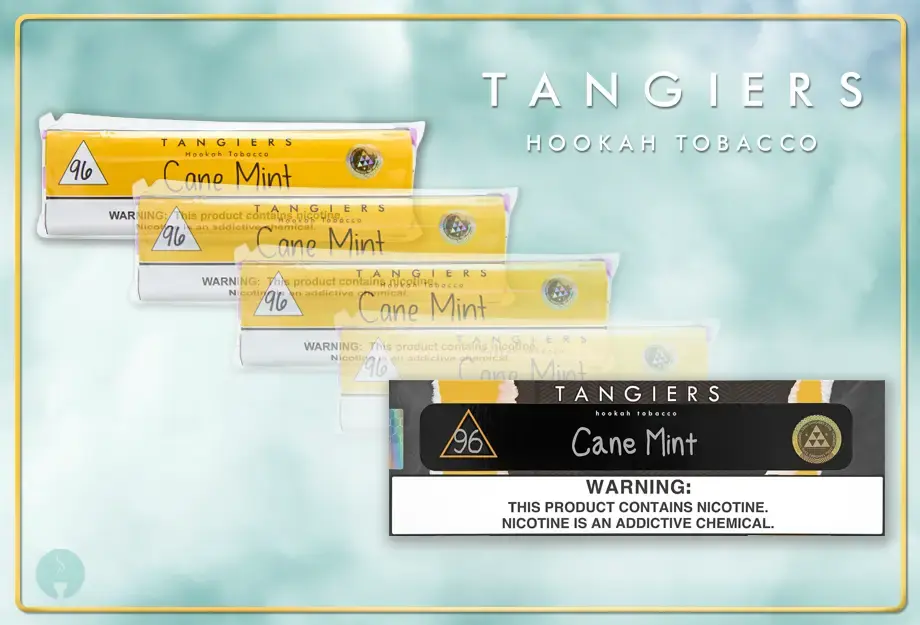 Tangiers Shisha: A New Look
By
double allen
/ August 15, 2023
It doesn't matter if you're a long time hookah enthusiast or just starting out on your hookah journey, you've probably heard the name Tangiers. It's a household name for anyone involved with hookah. They've been the leaders in dark leaf tobacco since 2000 and for good reason!

Tangiers has been well known to stand out with its iconic bag packaging for decades that has always included a symbol of authenticity, distributor markings, directions, and even their direct phone number inside each pouch.

Recently, Tangiers has unveiled a new look and some new flavors! All of their favorites like Cane Mint, Foreplay on the Peach, and their Kashmir flavors are definitely still available although now in a stylish new exterior box (with a very cool surprise which we'll get into).

If you're new to Tangiers we'll outline the basics here. Let's also take a closer look at their new packaging!
---
What is Tangiers Shisha?

Originally produced in California, and now Arizona, Tangiers is a dark leaf shisha tobacco enjoyed mostly by experienced hookah smokers. Dark leaf shisha is created by using an unwashed, darker strain of tobacco leaf. It is typically flavored with molasses which produces that deep, dark color. Due to the type of tobacco leaf used when making dark leaf shisha, and how it is handled during production, you can expect a higher nicotine content and thus a bigger buzz while smoking. You'll also notice a more robust, earthy tobacco undertone to any of your favorite dark leaf shisha flavors.

Tangiers was the pioneer of dark leaf shisha and still holds the reins today. Their in-house team ensures that each pouch delivers their top level, consistent quality in every package .Tangiers shisha has big flavor and a big buzz. It's also available in an expansive list of flavors!
Tangiers' New Look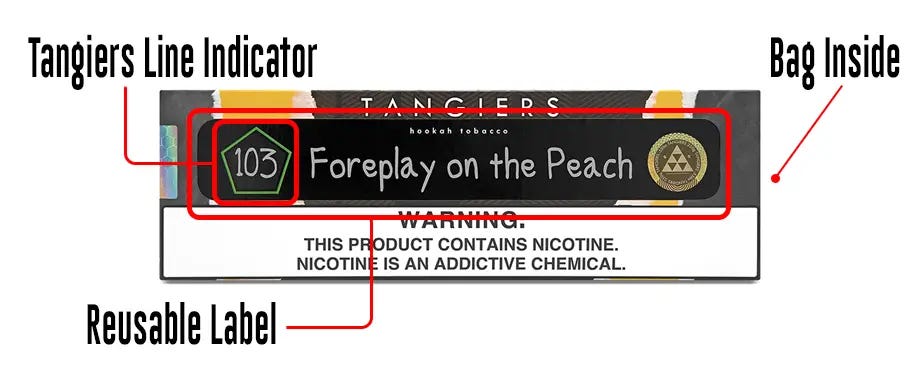 The most obvious detail right off the bat with the new Tangiers packaging is the box. Each flavor will still come in a vacuum sealed pouch inside. The other awesome news that came packaged [heh] with this roll out was a few new flavors!
Tangiers Erics Mango

Tangiers Lemongrass
Tangiers Mexican Mocha

Tangiers Refreshing Melon Berry
There are four different, distinct lines from Tangiers. Before, they were distinguished by the interior paper label in four different colors: Yellow, Green, Purple, and Magenta. Nothing has changed there. The difference now is that each box will be labeled according to the Tangiers' line with a symbol in the same color scheme.
Tangiers Noir
The Tangiers Noir line is the original lineup and it was the first dark leaf shisha ever produced. You can say that the Noir line is the "base" of the other versions from Tangiers. It will have higher nicotine than blonde leaf shisha tobacco, and Tangiers offers nearly all of their flavors in Noir.
Tangiers Birquq
For those dipping their toes into the world of dark leaf shisha, or want to start trying Tangiers, Birquq is a great starting point. It will contain a lower amount of nicotine than the Noir line, but Birquq will still have the characteristics you would expect from a dark leaf tobacco. Deep, rich flavor, and it still uses the same method of packing and heat management with your charcoal.
Tangiers Burley
This line from Tangiers is going to have the highest amount of nicotine. Because of the tobacco leaves used in the Burley blends, you can guarantee that you'll be smoking full-bodied, robust flavors with a more pronounced earthy tobacco undertone.
Tangiers F-Line
The Tangiers F-Line is for the dedicated, experienced heavy hookah hitters! This line from Tangiers will contain the same high amount of nicotine as the Burley line however it is also infused with caffeine. Phew. I'm getting a buzz just thinking about the last time I smoked an F-Line flavor! If you want the biggest possible buzz, this is for you.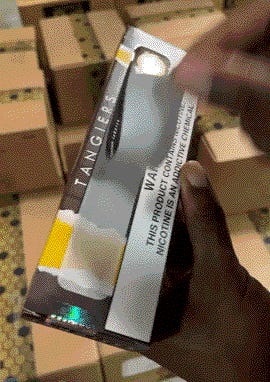 New Removable & Reusable Flavor Label
Ok, now for the magic of the new Tangiers packaging! The label! If you've been smoking Tangiers shisha for a while you can understand keeping track of which flavor is what can be a thing. Some Tangiers enthusiasts have cut the label from the old packaging to then tape onto their storage containers. Others have used label makers to accomplish the same task of flavor organization. No longer!

The new Tangiers packaging has a removable flavor label that can be used to organize your Tangiers collection! It peels off easily, and we here at Hookah-Shisha find that the labels work great with our plastic shisha storage containers. We haven't been this excited about packaging in a while.
How to Smoke Tangiers
While dark leaf shisha tobacco is known for its full-bodied, robust flavor and a big buzz, it also takes a slightly different packing method than blonde leaf shisha. It also reacts to heat differently.

To smoke Tangiers shisha there are a couple of things to take note of when preparing and while smoking a bowl of your favorite flavor.


Packing Tangiers into a Bowl

Tangiers shisha performs best when used in a phunnel style hookah bowl. Today, there are a lot of different options in this category! Good news for you and your Tangiers fellow smoker! Some of our favorite bowls to use while smoking Tangiers are those from HookahJohn and Alpaca, like the HookahJohn Alien Bowl and the Alpaca Lipache. Depending on whether you choose to use an HMD or foil will determine what phunnel style bowl you'll go with.

To prepare Tangiers in the hookah bowl of your choice you'll want to use what's called a "dense pack". After stirring up your Tangiers shisha, begin to loosely fill your bowl. Once your bowl is full, or slightly over-full, pack down the shisha until it's dense and rests below the upper lip. You want the shisha to be almost as tightly packed as it was in the package when you first received it.

It's important to not underpack your bowl so keep adding shisha until you reach that perfect point of a dense pack and your shisha is still below the upper lip of your bowl.


Heat Management for Tangiers

Dark leaf shisha is fairly sensitive to heat. This is the case with Tangiers shisha. My best advice here is to have patience! Depending on the size of your hookah bowl, and whether you have chosen to use foil or a heat management device, how many pieces of charcoal you use will vary. In most cases, you may find yourself using less charcoal than you normally would.

It's best to light 2-3 pieces of quick-lighting or natural charcoal for most bowls. Start with low heat on your bowl however. Begin with two pieces of charcoal, allow the shisha to heat up, and give it a test pull after 3-5 minutes. If you begin to get smoke, but it's wispy, allow a few more minutes to pass. If your hookah is almost smoking as you would expect, but just quite not yet, go ahead and add your third piece of charcoal.

There are other factors here to consider like the type of charcoal you're using and the size of the pieces. Quick-light charcoals, like Three Kings, generally give off less heat compared to natural hookah charcoal. Natural coals come in a variety of sizes from flat pieces, to mini cubes, to full cubes to extra large cubes. For obvious reasons, flat style natural coals like those from CocoBrico are a good choice when smoking Tangiers. They won't give off as much heat as large cubes, and you'll have more control with your heat management.
Buying Tangiers at Hookah-Shisha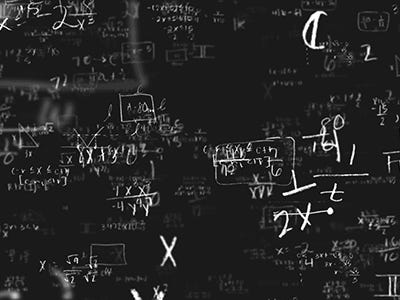 All of the Tangiers Tobacco lines are available in 250g as individuals or in Super Packs with coal as well as Mix & Match Kilo packs. We receive regular shipments from Tangiers, and the new packaging has just begun to roll out. Please keep this in mind when ordering as you may still receive some of the older packaging.

Another key point to take note of is that some popular flavors from Tangiers, like Cane Mint, may be limited on the available quantity you can purchase at a time. We know that we have some die-hard Tangiers fans, but if we allowed everyone to order as much as they'd like, we wouldn't have enough for everyone.

If you have any questions about ordering Tangiers, please don't hesitate to reach out to our Customer Service Team!
---
Categories
Month List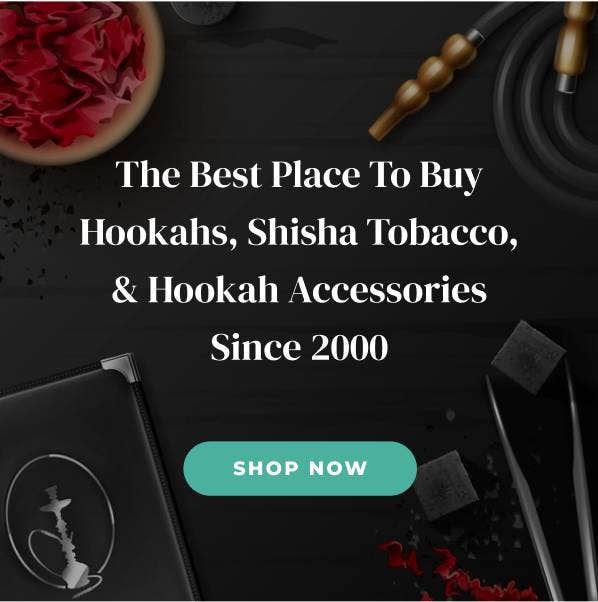 Shop All Hookahs, Shisha Tobacco, Charcoal, Bowls