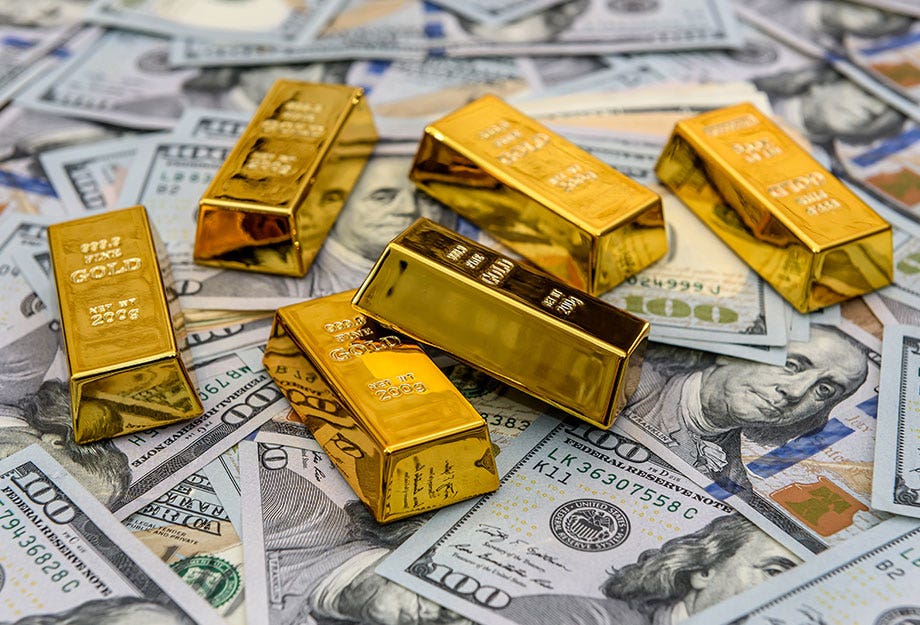 The Most Expensive Hookahs
By
katie
/ November 20, 2014
Who Needs A Luxury Hookah When You Can Fake It?
Up for a little window shopping? We've sought out the most expensive hookahs in the world to whet your appetite. We don't mean to imply that you don't have an extra million laying around to spend on an elaborate shisha pipe, but in case these exquisite hookahs are slightly out of reach, we've suggested a few, more affordable options!
Aurentum Switzerland Hookah - Price: $1,000,000
Aurentum Switzerland has teamed up with two Swiss artists to make and design one of the most astounding hookahs available. This hookah is plated with silver and adorned with 24 carat gold. There are 8 hand made scarabs on the hookah that are made of platinum and diamonds that toal .36ct. The base itself is made of 18 carat gold, and it comes with a wind cover that is silver plated with 24 carat gold. The 'pot' is Murano glass, covered with silver and accented with a piece made of 24 carat gold. The connecting tubes are covered with Venetian velvet and the mouthpiece is made of silver. Whoa.
Not ready to pick up a hookah that a king can afford? Then how about a hookah that is still fit for a king?! This Super Nova Rotating 4-hose Hookah has a very similar design as the Aurentum, but there's no need to lock it in a safe at night. No matter who you are, the Khalil Mamoon Oxidized India Hookah has a beautiful look and a smokes so wonderfully that it is worth it's weight in gold.
The Porsche Hookah - $2,000
This bad boy is a little more affordable than a cool million, but still pretty out there. Obviously, with a name like 'Porsche' we expect nothing less than the best. Crafted with stainless steel and frosted glass exteriors, the inner stem and the hose are made with the same aluminum they use under the hood in Porsche machinery.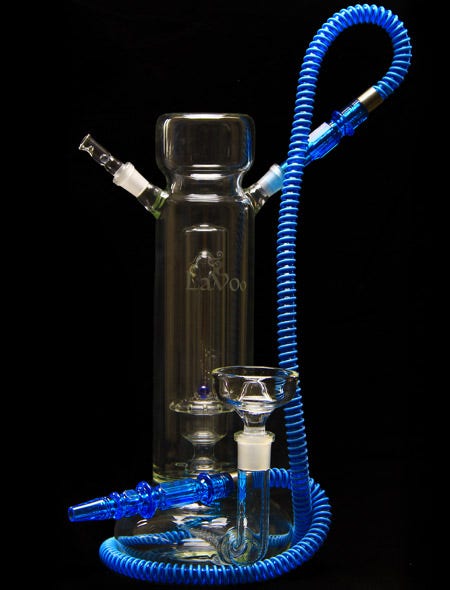 We can't all own a Porsche - be it a car or a hookah - a Lavoo MP3, on the other hand, is totally doable. Standing at 14.5 inches tall, and boasting ingenius design attributes like a horizontal downstem and a floating glass ball bearing that ascends within the double filtration chamber, it's arguably cooler than that old Porsche garbage!
Kaloud Lotus Gold Kouture - $70,000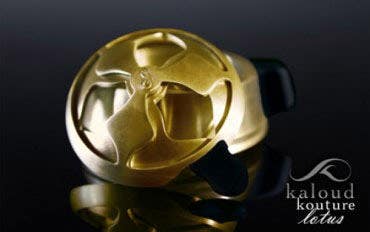 | | |
| --- | --- |
| This one is an eyebrow raiser. I mean, sure the Kaloud Lotus is a priceless hookah accessory...but even 70k is too pricey for this priceless item. Housed in a carbon fiber carrying case that comes engraved with the name of the buyer, we aren't sure if this even really exists. Maybe, just to be safe, go with the standard (affordable) Kaloud Lotus! | |
Desvall Hookahs: $40,000 - $100,000
Sweden refuses to be outdone when it comes to design. Combining hand made artisanal craftsmanship, pioneering leather working techniques, and state-of-the-art engineering, these hookahs are gorgeous and serious. With dozens of designs that have 24 carat gold, Swarovski crystals, chrome finishing, and multiple other fancy options, there's sure to be a Desvall hookah that's right for you. There is even one model that was specifically commissioned by Bugati that costs a easy $100,000. Check out this awesome video detailing how these hookahs are made:
As impressive as the Desvalls might be, it might be hard to acquire one if you plan on ever paying another bill. So how about a Round Glass Libery Hookah instead? Standing at 23 inches tall, this all glass hookah fits perfectly together without the aid of rubber grommets. Complete with a washable rubber hose, and uniquely designed mouth piece, this gorgeous piece will rival any Desvall out there!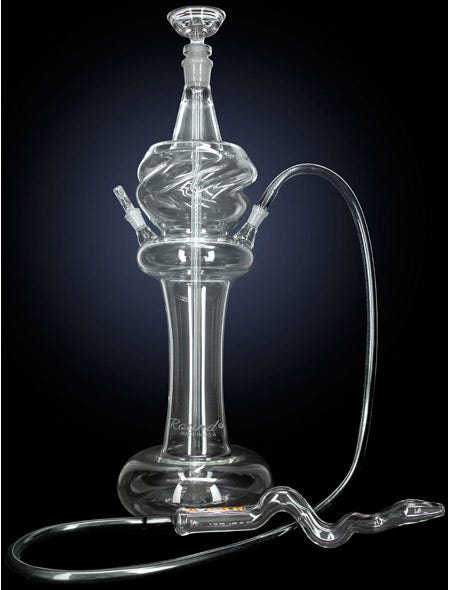 Zahrah Glass Hookahs: $90 - $1,500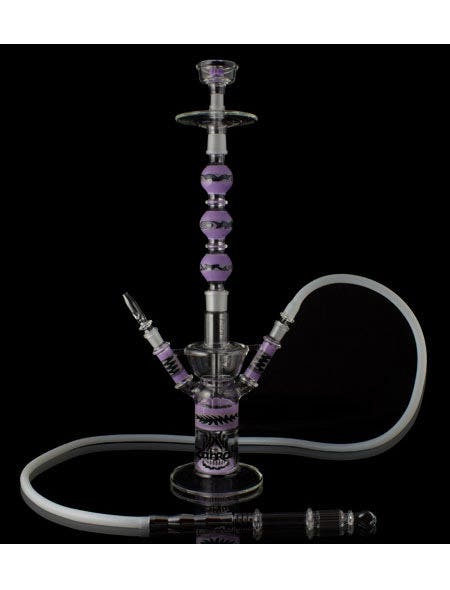 We have to admit, we got a little jealous of all the fancy hookahs running around, and we didn't want to be left out. We're pleased to announce that we will now be carrying the Zahrah Hookah line. Some of the smaller versions of Zahrah hookahs, like the Zahrah Wave Hookah, are completely attainable, especially given their unique design. Some of the more elaborate glass designs, like the Zahrah Z7 Hookah (shown above) is creeping into the luxury hookah category. We assure you, however, that it is worth it. This hookah, and all others in the Zahrah hookah line, are true pieces of art that are made in the USA, and will up your fancy factor for sure!
Categories
Month List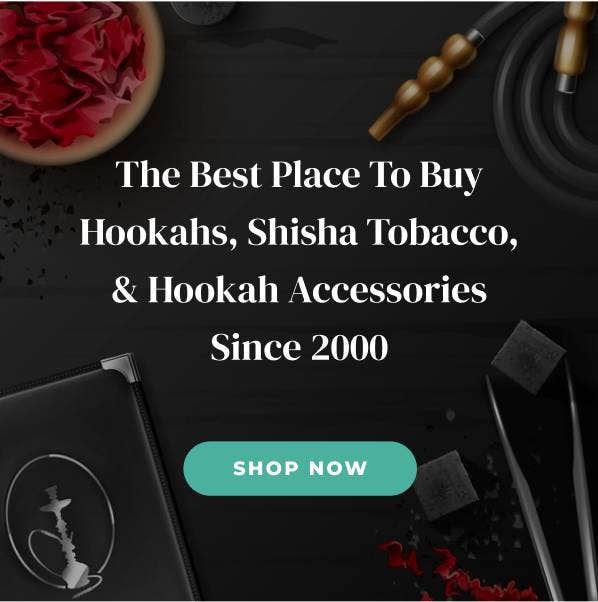 Shop All Hookahs, Shisha Tobacco, Charcoal, Bowls