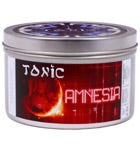 Tonic Hookah Tobacco - New 2012 Flavors
By
Grabertrain
/ February 24, 2012
The master shisha chefs at
Tonic Shisha Tobacco
have been hard at work coming up with awesome hookah tobacco flavors, and as a result Tonic is quickly becoming a go-to brand for new and seasoned hookah smokers alike. Originally produced in Jordan, Tonic Shisha has since moved their operations to California and has been producing some of the most unique and tasty hookah tobacco flavors such as
Kama Sutra
,
Bada Bing
, and
Hit Man.
We're happy to anounce that their new 2012 flavors have arrived in our store! Load up your hookah bowl with one (or more) of these 10 out-of-this-world flavors:
Amnesia - A strawberry and unique fruit mix that will make you forget about the lesser hookah tobacco flavors you've smoked in the past.

Andromeda

-

No need to travel the 2.6 million light years to our nearest galactic neighbor to enjoy this extremely sweet fruit mixture.

Euphoria

-

This mix of four types of melon will give you a mouthgasm!

Europa

-

Little known fact: Galileo discovered the moons of Jupiter while smoking this mixture of sweet apricot and fruit cocktail in his hookah.

Freesia - This flavor based on the tropical flower of the same name is fragrantly sweet.

Galaxy

-

A tangerine cocktail blend that contains

billions and billions

of flavor molecules.

Papaya Mango

-

The sweetness of papaya and the tartness of mango makes this flavor a must-try.

Peach Tea

-

A white peach and fresh tea blend that's perfect for the coming summer days.

Raspberry Plum

-

Two delicious fruit flavors in one bowl!

Romulan

-

A plasma torpedo of intense flavor makes this special melon and kiwi mixture the best in the Federation.
These new flavors of Tonic Hookah Tobacco are available in both the 100g size and the 250g size. Enjoy, and Happy Smoking!
Categories
Recent Post
Month Lists