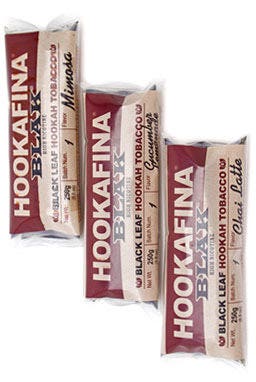 The Best Hookafina Blak Shisha Flavors in 2022
By
Katie
/ September 4, 2014
Hookafina Blak shisha tobacco is developed using old school shisha making methodology, which applies a dark molasses made from black tea leaves that is combined with pure sugar cane. Since this shisha is so tediously made, it is only produced in small batches with the maximum amount of flavor possible. Hookafina Blak is the perfect middle ground between modern and traditional shisha tobacco!
Here are our top 5 Hookafina Blak flavor picks:
Hookahfina Black Cucumber Lemonade – Perfect for those hot summer nights, Cucumber Lemonade lives up to its name by offering the freshest of the fresh summer fruits and vegetables; cucumber and lemon, respectively. This blend is sure to impress!

Hookahfina Black Pineapple – This is a truly unique tropical fruit flavor, with a traditional middle-eastern spin. The pineapple smell and flavor comes through promptly upon opening the can. Upon smoking, however, you will notice the deep and earthy tobacco taste coming through upon exhaling.

Hookahfina Black Chai Latte – A delicious, sweet blend of Chai and coffee that will captivate your nostrils as soon as you open it up. The flavor does not disappoint either, as the sweet Chai and coffee flavor is enhanced by the black molasses.

Hookahfina Black Double Mint – Much like the Hookafina Blak Pineapple, the Double Mint flavor is a solid mint flavor which is not overwhelming. The interesting part of this mint blend is that it is complemented by the robust, earthy tobacco flavor that is the trademark of Hookafina Blak.

Hookahfina Black Toasted Coconut – if you love coconut, you will love Hookafina Toasted Coconut. The smoky flavor of the toasted coconut is enhanced by the aromatics of the black leaf tobacco. This is a must-try for all fans of coconut!
Have you tried any of the other Hookafina Black flavors? Drop us a line and leave your flavor review in the comments below!
Categories
Recent Post
Month Lists