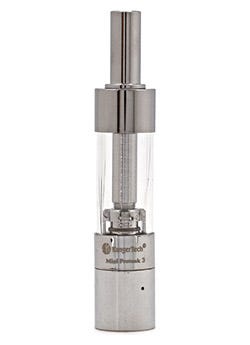 How Do I Replace The Clearomizer for My Mech Mod or E-Cig?
By
Gordon
/ January 15, 2015
Getting started vaping couldn't be easier: just buy a starter kit, charge it, and fill it with your favorite liquid. But as we all know, there is often trouble in paradise. When things aren't working correctly (or not at all) there are many possible culprits, but for now we are going to concentrate on your clearomizer or cartomizer, which is the part of your e-cig that actually turns your e juice into vapor.
Even if your clearo or carto isn't busted, you may want to upgrade so you can have a better quality vape or bigger clouds. Following is a guide which will teach you how to choose the correct replacement hardware
There are two basic thread types:
eGo and 510. Clearomizers with eGo threading have a larger diameter opening and the threads are on the inside. Clearomizers with a 510 thread attach to the battery with a smaller diameter spire with the threads on the outside.
| | |
| --- | --- |
| Kanger ProTank Mini 3 (eGo) | |
The most important thing to understand is which thread your mech mod or battery has. Every mechanical mod and e-cig battery we sell will accomodate a 510 thread, and many will also accept an eGo thread.
Mechanical Mod and Ecig Battery Threads
| | | |
| --- | --- | --- |
| | | |
Kamry K100 Starter Kit: The steel drip tip (mouth tip) on this mech mod is also 510 sized and is easily removed, which is how you will fill the cartomizer below. (It can also be replaced with any of our drip tips). The exterior sleeve (the smaller cyllinder above the mod) threads onto the K100's eGo threads. The cartomizer inside the sleave has a 510 thread. To replace either, just unscrew both of these items and then attach the clearo of your choice.
Turtleship Clone Mechanical Mod: This is just an attractive battery tube with a firing button on the bottom. You will need batteries (use high drain), a charger, and a clearomizer with a 510 thread to get up and vaping with this one. If you want really huge clouds (sub-Ohm vaping), choose the Aspire Atlantis shown above. For a "tamer" vape, especially if you like higher nicotine level in your juice, the Kanger AeroTank is a great choice.
eGo VV 900mAh Batery: This variable voltage battery has an LED display which makes selecting your voltage level easy. The eGo VV will accept either eGo or 510 type threads. For bigger clouds, dial up the voltage or switch to a coil head with a lower Ohm rating. (It is not recommended to go lower than a 1.5 Ohm rating with this battery).
Categories
Recent Post
Month Lists