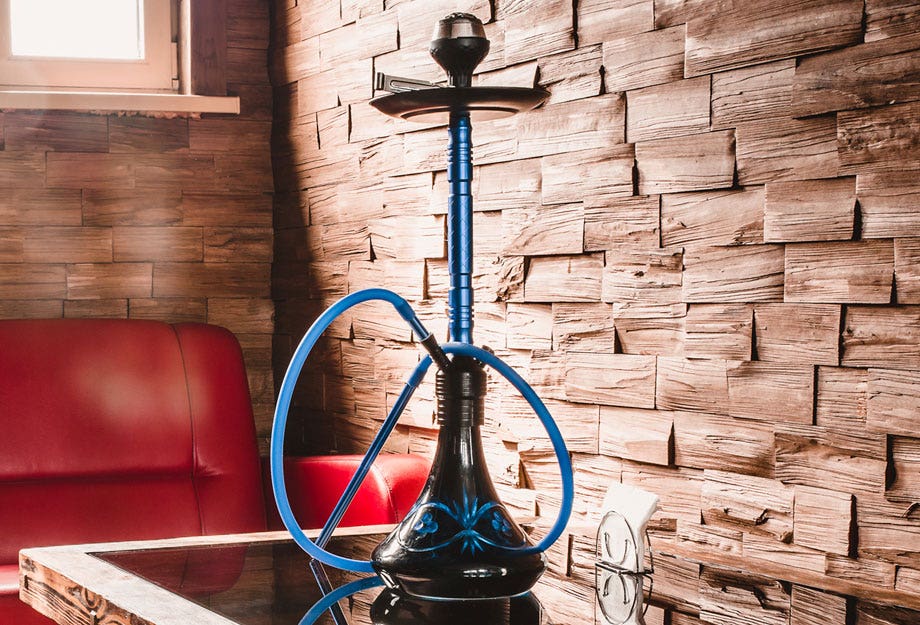 What Hookah Pipes Do Hookah Lounges Use?
By
two puff tony
/ June 23, 2021
So you finally convinced yourself to purchase your very own hookah pipe! I mean why not? You enjoy going to your local hookah lounge, so you might as well pick up your own personal pipe, right?
You hop on Google and start searching around before quickly realizing there are A LOT of options, styles, and designs for hookahs, many of which look COMPLETELY different than what your local lounge uses, which can be overwhelming.
Your main experience with hookah has likely been your local lounge, so it would make sense that you're wanting a hookah similar to what they would use. So you start to ask yourself: "what hookahs do they use in a hookah lounge?"
It's a question we get ALL the time, and to be honest, it's not a question we'll have a 100 percent definitive answer to. There are tens of thousands of hookah lounges just in the USA alone (if not more) and the exact hookah pipes they use will vary greatly from lounge to lounge.
But we didn't show up to work today to NOT answer that question! In this blog, we'll be discussing the most common types of hookahs found in lounges, as well as some possible brands that you might find in your local shisha tobacco cafe, in order to give you the best starting point in researching potential hookahs to pick up for your home lounge experience.
Traditional Hookahs
The best place to start is with traditional hookahs! By and large, traditional hookah pipes are the most common pipes found in hookah lounges so it is very likely that you have seen something of this style in one, or several, of the hookah lounges in your area.
To clarify, when we say "traditional", we are referring to hookahs that are handmade over in the Middle East region of the world and typically sport a more "old school" type of design. Nowadays, the large majority of traditional hookah pipes are made in Egypt, however in the past there were also Syrian variants and styles (though these are unfortunately no longer being made as of the writing of this blog).

Traditional hookahs are typically characterized by their stainless steel, or sometimes brass, stem exteriors, as well as an overall more rustic appearance. Since they are made by hand, these types of hookahs may have some slight imperfections such as weld marks, small scuffs, or other aesthetic differences.

The "stem" or "shaft" is securely welded together to create a pipe that is one solid piece rather than being a stem with "threaded" parts that can be removed. They are also usually a "1 hose" or "single hose" stem, meaning that only one hose can be attached to the hookah (though this may vary).
They will also offer a slightly more restricted smoking experience by design, along with a more robust "rumble" from the base when smoking, though this can be toned down by using a hookah diffuser. Despite offering a slightly more restricted draw, the wide-gauge ports that can typically be found on traditional hookahs allow you to put out some thick clouds of shisha smoke with ease.
Traditional Egyptian style hookahs are known for their exceptional build quality and durability, easily enduring session after session, making them a fantastic choice for use in hookah lounges. Lounge hookahs see thousands of bowls smoked through them in their lifetime, so picking something durable and well-made is a MUST.
They're not just for lounges either! The high quality and durable nature of traditional hookahs makes them a fantastic, long-lasting choice for personal shisha smokers as well. Think about it, if they'll last a hookah lounge thousands and thousands of bowls, imagine how long one will last you when only being used for your personal smoke sessions!
With proper cleaning and maintenance, a traditional hookah can last you a lifetime providing excellent smoke sessions throughout its life.
Traditional Hookah Brands
There are several hookah brands on the market that fit this description, but our personal favorites and the ones we recommend are going to be the Khalil Mamoon (KM) hookahs and the Shika hookahs.
Both of these brands are handmade by Egyptian artisans and imported directly from Egypt, offering a variety of different sizes and styles to fit every aesthetic.
Modern Hookahs
Let's step away from the "old school" traditional hookahs and delve into the "new school." While traditional hookahs are definitely the most common styles of hookahs found in hookah lounges, we have seen our fair share of modern hookahs in lounges as well!
Just like most traditional hookahs are characterized by their handmade construction, most modern hookahs can be characterized by their machine made design.
The amount of variety that machines have brought into the hookah world has created an almost limitless supply of hookah concepts that range across differing price points, aesthetic designs, material quality, and longevity, and this gives hookah lounges a wide berth of potential hookah options to choose from.
Handmade hookahs are not always preferable to machine made ones, and vice versa, however there are some benefits to using a machine made hookah. For one, since they are typically created through a process called CNC machining, each and every hookah of the chosen model will look pretty much the same (as opposed to handmade hookahs that may have normal imperfections from pipe to pipe).
Additionally, because each piece is made by machine, all the parts of your chosen hookah will fit together perfectly without too much hassle, and many modern hookah brands actually allow you to completely disassemble the entire stem for ease of cleaning and storage.
CNC machining also allows a variety of different materials to be used in the process of hookah manufacturing with the two most common materials used for the main "hardware" on a hookah being aluminum or stainless steel; each offering their own benefits.
Aluminum made hookahs tend to be more lightweight than their stainless steel counterparts, however this may vary depending on the specific brand/model, and stainless steel models tend to be more resistant to tarnishing than aluminum models.
Each type of material has its benefits, however there is not one type of material that is definitively better than the other. The most important factor to consider will be the grade of material being used.
Some modern hookahs may use a cheaper stainless steel alloy, while others might use a higher quality, aerospace grade aluminum (or vice versa). A hookah that uses a higher quality material, whether it be aluminum or stainless steel, will almost always be better than a hookah that uses a lower-grade material, at least in terms of durability and longevity.
Lastly, modern hookahs will also tend to have more "bells and whistles" than most of their traditional counterparts. For example, many (but not all) modern shisha pipes will have a variety of features such as a built in diffuser, the ability to become a 2, 3, or 4 hose hookah, adjustable legs, light up bases, and more.
Modern Hookah Brands
There has certainly been an explosion of modern hookah brands in the last several years, as 1) hookah manufacturers have gotten more innovative with their designs and 2) the cost of the machining process has gone down and become more accessible. This means that there will be a wide range of modern hookah pipes that can be found in hookah bars and lounges.
One of the most common modern hookahs that we have experienced in a hookah lounge setting are the MYA Saray hookahs, oftentimes shortened to just "MYA" hookahs. MYA has been a key player in the hookah market for quite a long time now, and have consistently offered a wide selection of modern, machine made hookah pipes in all different sizes and price points.
The hookah lounges that we have seen using MYA hookahs typically focus on the more budget-friendly, smaller hookahs such as the MYA QT, the MYA Petite, the MYA Chikita, and the MYA Bambino hookahs. These models are usually inexpensive, relatively well made hookahs that offer a more compact smoking experience.
Some more up-scale and luxurious lounges may use some of the more premium modern hookahs, such as the Starbuzz hookahs, Regal hookahs, Wookah hookahs, Oduman hookahs, and Kaloud Krysalis Eltheria hookahs, though these are typically less common in lounges due to their initial investment cost being higher.
When In Doubt, Just Ask!
While we do have extensive personal experience visiting hookah lounges all over the country, we're not going to act like we're the end all, be all authority on each and every hookah bar or lounge in the world.
It is entirely possible that your local lounge doesn't use any of the hookahs we talked about today, and that's okay! The purpose of this blog was to provide you with a starting point in your personal shisha adventure and how to smoke hookah at home.
If you don't recognize any of the brands or types of hookahs we covered in this blog, and are still searching for the hookahs that your favorite hookah bar uses, then have no fear! We're still happy to help!
You'd likely be able to reach out to your lounge and simply ask them what brands of hookahs they use, or if that doesn't work, reach out to our friendly customer service team with a photo of the hookahs your favorite lounge uses and we'll be happy to identify the brand (if we're able to) and point you in the right direction!
And, as always, happy smoking folks!
Categories
Month List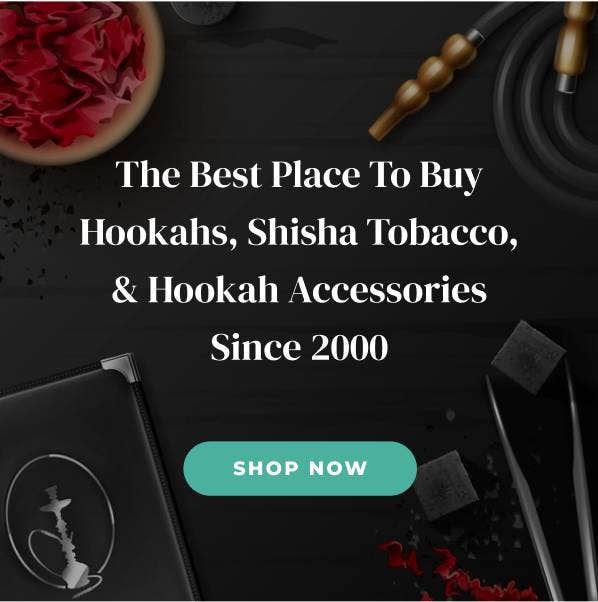 Shop All Hookahs, Shisha Tobacco, Charcoal, Bowls