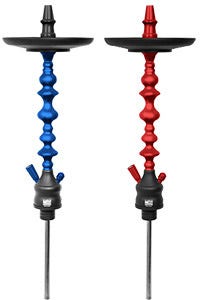 Starbuzz Challenger Shaft Review
By
Danny
/ April 29, 2014
Starbuzz has just released their new line of Made In The USA hookah stems including the impressive Starbuzz Challenger stem. With their new American made hookah stems, Starbuzz has truly moved the hookah into the 21st century. The Starbuzz Challenger hookah stem features a shaft which is made of space-grade aluminum so you know that it is strong, and durable. The downstem itself is made from surgical-grade stainless steel which does not hold on to any odors or residues and prevents mold and mineral deposits from forming in your stem even if you leave it partially submerged in water.
Starbuzz Challenger Hookah Stem Details

You may be asking yourself, why should I care what materials my hookah stem are made from? The answer is twofold. First off, each Starbuzz American-Made hookah stem is going to last you a long time. Because of it's use of stainless steel and space-grade aluminum, you do not need to worry about rust, or corrosion damaging your stem. You don't have to worry about your stem having sloppy welds, leaning one way or the other, or leaking air. Secondly, Starbuzz has figured out how to remove shisha flavor ghosting through the use of surgical grade steel in the construction of the hookah downstem.
Completely Eliminate Hookah Flavor Ghosting

The build quality of your new Starbuzz Challenger hookah stem will be the first thing you notice when it arrives, but once you are done admiring it's beauty and figuring out which base and hose you want to pair it with, we suggest you run a few bowls of your favorite shisha flavors through the American-made Challenger stem you will see the true beauty of it's precise design - no more ghosted shisha flavors. I know, we were hesitant to believe it too, but after smoking a few strong flavors in a row (with a quick clean in between) you will be amazed at the flavor clarity. The surgical steel downstem is completely impervious to scents and residues and so once it has been cleaned, it is a brand new stem again. I know it sounds crazy, but it's true. Your hose may still hang on to some strong flavors, so as always, we recommend having dedicated hoses for your extra strong flavors.
The Starbuzz Challenger American Made Hookah Stem is available for $199.99. This is the price for just the hookah stem and the hose, base, and bowl are not included and will need to be purchased separately.
Categories
Recent Post
Month Lists