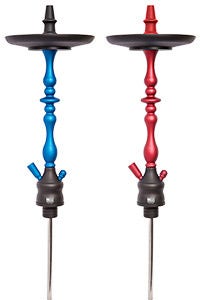 Starbuzz Enterprise Shaft Review
By
Danny
/ April 29, 2014
Starbuzz has been hard at work in the hookah lab for the past few years working on a special project which is now available to all hookah smokers. The brand new Starbuzz American-Made Hookah Stem line is the result of all of that hard work, and we think that these beautiful hookah shafts from Starbuzz are worth the wait. There are several hookah stems available from Starbuzz, but in this post we will focus on the Starbuzz Enterprise Made In The USA hookah stem. The Enterprise stem is 28 inches tall and is made of two high tech materials - space-grade aluminum for the shaft, and surgical-grade stainless steel for the downstem. These high end materials were used to ensure that your new Starbuzz American-Made stem is both ultra durable, as well as resistant to all odors, residues, mold, and mineral deposits. Why does this matter? We'll explain.
All About The Starbuzz Enterprise Hookah Stem

In order to provide you with the best hookah smoke of your life, Starbuzz took a look at the common problems which plague most hookahs and solved them. Some of the biggest problems hookah stems encounter are due to structural damage, ghosted shisha flavors in the stem itself, and mineral deposits or mold which build up in the stem due to it's constant interaction with water. To ensure that your new Starbuzz Enterprise stem lasts longer than any other you've ever owned, Starbuzz used space-grade aluminum on the shaft itself. To ensure the best taste for each and every bowl you smoke, Starbuzz uses surgical-grade stainless steel in the downstem. This high quality material does not hold onto odors, and it is not possible for mold or mineral deposits to grow/attach themselves to it. This is huge for people who like to smoke many different shisha flavors, but want each bowl to taste just as great as the first time you used your hookah.
Eliminate Shisha Flavor Ghosting Forever

A durable hookah stem is fantastic, but to us, the surgical-grade stainless steel downstem of the Starbuzz Enterprise hookah stem is the real jewel here. Anyone who has tried to smoke a bowl of peach immediately after smoking a bowl of mint, knows a thing or two about flavor ghosting. With the new Starbuzz Made In The USA stems, these problems are a thing of the past. Just give your stem a quick cleaning between bowls (shaft brush and hot water should do the trick) and you will never deal with a ghosted bowl again. Just remember to use a dedicated hose for your stronger flavors and you should be enjoying robust, flavorful shisha bowls at your leisure.
The Starbuzz Enterprise Made In The USA Hookah Stem is currently available in a number of color combos for just $199.99. This price is for the stem and tray only. You will need to purchase a base, hose, and bowl separately.
Categories
Recent Post
Month Lists