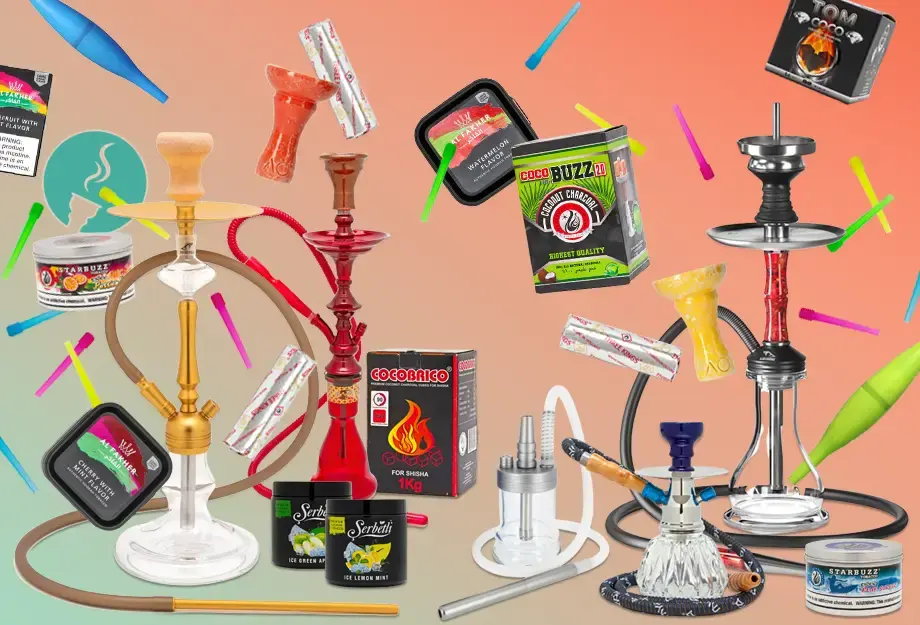 Get What You Need with a Hookah-Shisha Bundle
By
double allen
/ October 17, 2023
When you're buying a hookah for the first time or the third time, you may just be looking for the pipe itself. More often than not first-time hookah buyers may be needing to gear-up on everything right up front to get going. We see you and we got ya covered!

Even for those really random times where you're just looking to expand your hookah collection but you also need to restock your shisha stash, or need another bowl, a coal burner, or maybe coals, our bundles can help you out.

Let's take a look at what's included in our exclusive bundles and how they can benefit your shopping when you're looking at picking up a new hookah.
---
What are Hookah-Shisha Bundles?
Our hookah bundles are a mixed bag of sorts since each bundle is unique. They all start with a hookah…in most cases, and you'll see this later down in our list. You'll have options from traditional style hookahs to modern style hookahs in all sizes.

What's a hookah without shisha to smoke? A nice decorative piece for your living room and that's about it! Each hookah bundle will also include some type of shisha in various sizes or brands.

What about charcoal? Some of our hookah bundles will include some form of coal as well! Depending on the specific bundle, you will receive some quick-lighting charcoal or a box of natural hookah charcoal. Keep in mind, not all bundles are created equal so be sure to pay attention to what is specifically included.

And then, there comes the accessories! A selection of our bundles also include an accessory or two. Some bundles may have an extra bowl upgrade, some may come with a charcoal heater, and others may have something like a cleaning brush or an Ice Hose Tip. You may even find a bundle that includes all of the above!
Why buy a Hookah Bundle?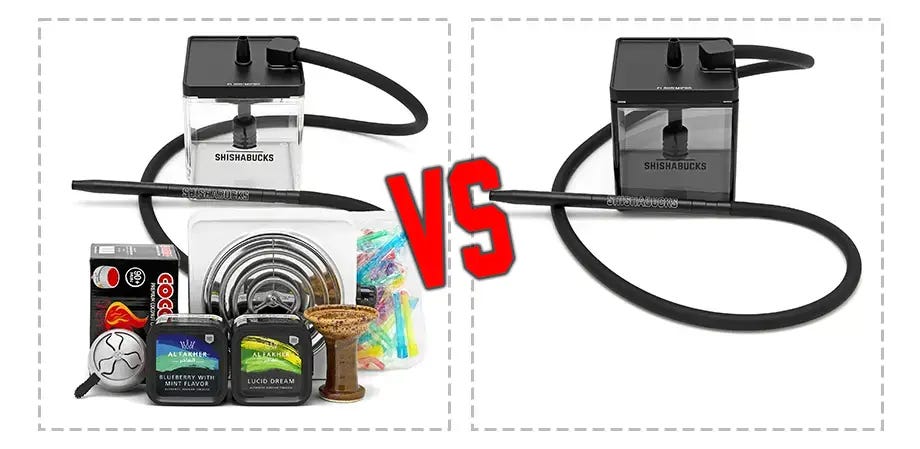 Simply put, you're in the market for a hookah and we provide you savings! You've worked hard for your money so get the most out of it when you're buying a hookah. Buying a hookah bundle at Hookah-Shisha saves you money when compared to shopping for the included items on their own!

You know what's also great about our bundles? They make awesome gifts for the hookah enthusiast in your life! It's one thing to receive a hookah as a gift, it's a better thing to receive that hookah with some shisha and extra gear!
Small but Mighty Bundles
Small hookahs smoke just as well as their bigger brothers. Let's get that out of the way. Small hookahs make great gifts, great desktop hookahs, great travel hookahs, and they're easy to clean in your sink and store them away.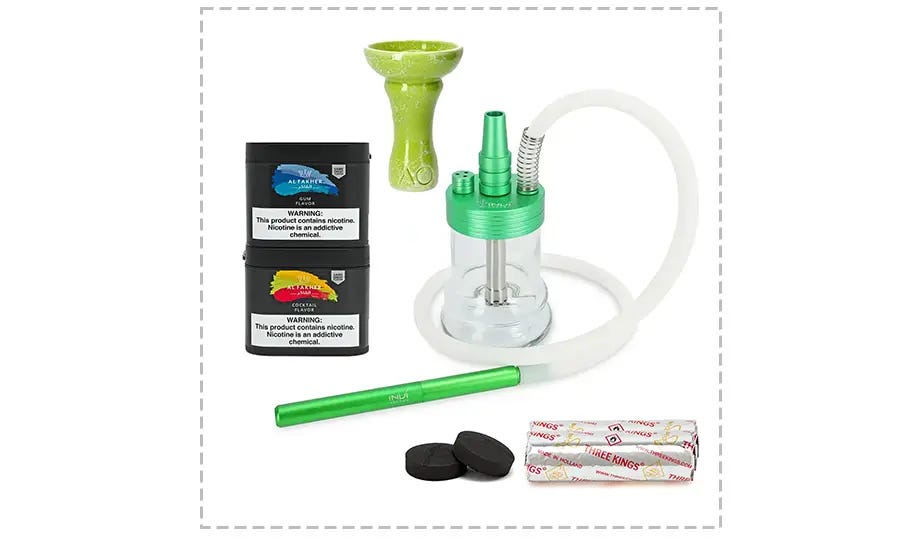 Many of us here started with a smaller hookah just the same as many other hookah owners. For maximum portability and minimal storage, the INVI Nano has quickly become one of the most popular "micro sized" hookahs out there. Guess what…it's in a bundle baby!

At 7.5" in height our INVI Nano Bundle is perfect for travel. There are two versions of the Nano and in this bundle it's the aluminum version (the other is stainless steel) which is light-weight but still super durable. It also comes with shisha AND charcoal so you're pretty much ready-to-go after your order is delivered.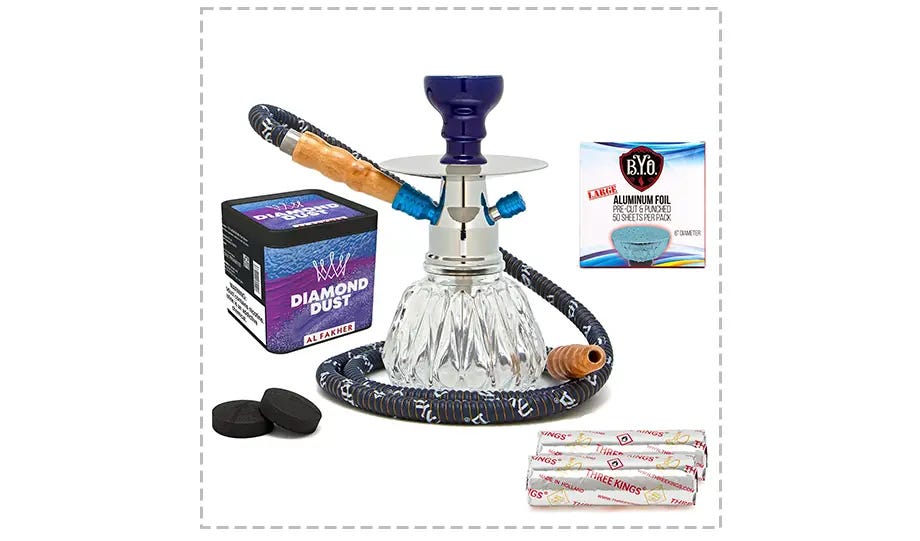 Another favorite tabletop hookah is the MYA Heera. MYA Saray, its formal brand name, makes near-perfect hookahs when you're looking in the "small" category so of course, it's a bundle! The Heera model may become our next MYA favorite after the long-time winner that is the QT…

With the solid, thicc, and beautifully designed base that is expected from MYA, the Heera Bundle continues on their legendary build quality. This 9" hookah is the ideal tabletop hookah size. Alongside, in our bundle, comes one Al Fakher Trinity flavor, foil, and quick-lighting charcoal.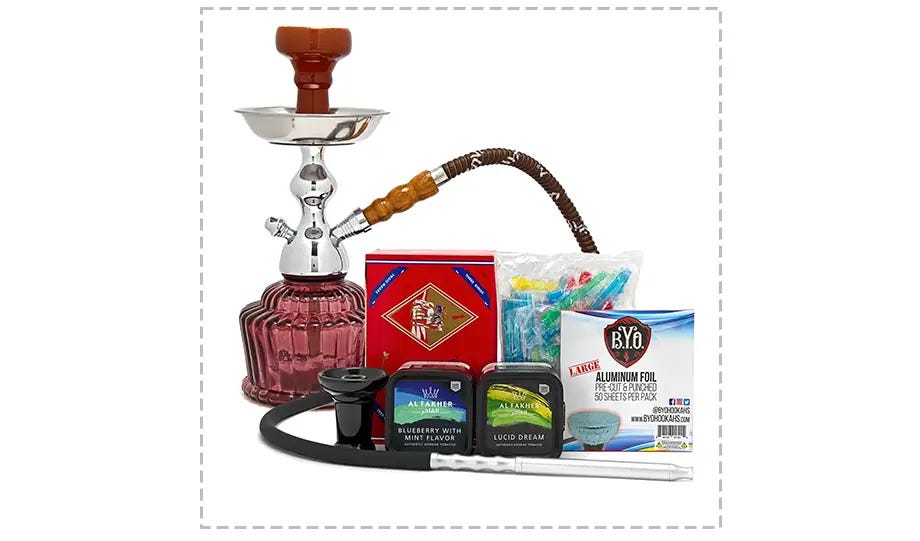 We can't mention the MYA QT without talking about it…or putting it into a bundle! I, and many of us here at Hookah-Shisha, started with a MYA QT. One of my coworkers even had a QT fall off of his desk and it survived with no injuries…on a concrete floor [Experience may vary, but these are built TOUGH].

If you want a compact, easy-to-store, high-level, small hookah, your go-to is the MYA QT hands down. Put a bundle on it!

Nearing the suggested, recommended height for a table top hookah, at 14" it still fits at that very comfortable size for any hookah smoker. This bundle comes with everything…even mouth tips for sharing the smoke! And, what's that? An extra bowl? Yes please!
Tradtional and Classic Hits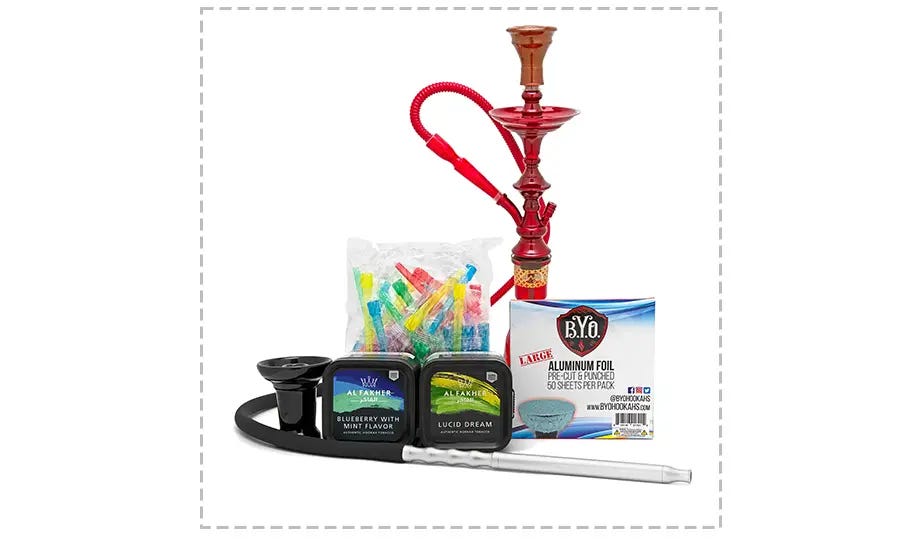 We love our Khalil Mamoon hookahs and so does most of the hookah smoking world. After KM began offering electroplated color coatings on their models the hookah smokers out there exploded with enthusiasm.

While KM has many, many…many popular larger hookah models out there one of the smaller ones - the KM Mini Classic - seemed to hit "just right" with a huge audience. It stands at 17" tall, and in this bundle you'll receive everything except the charcoal. Downer? No. You get to choose the coals you prefer.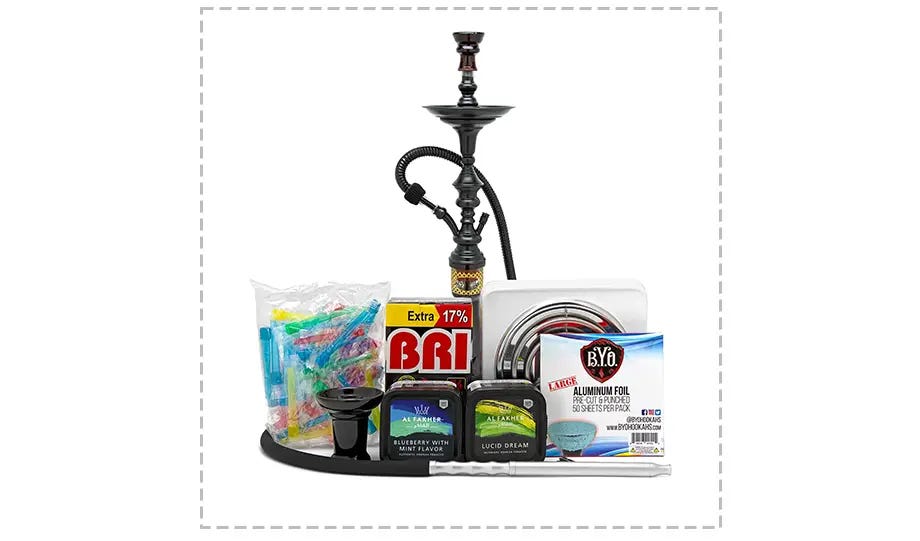 I mentioned taller Khalil Mamoon hookahs…well this is one of their most popular models now available with their electroplated color options. I've owned one of the KM Shareef hookahs for nearly seven years now and it's never let me down. To me, the 28-32" size for a hookah is the hot-spot. The hookah in this KM bundle is 33" in height so it caught my eye. Once again, this bundle gets you everything you need to smoke right out of the box!
Modern and Sleek
Alright, now we enter the modernized hookah realm that features unique design, features, and styles without compromising the traditional feel of a hookah. We've got bundles for that too [Insert 3am TV product host pointing at you pic here].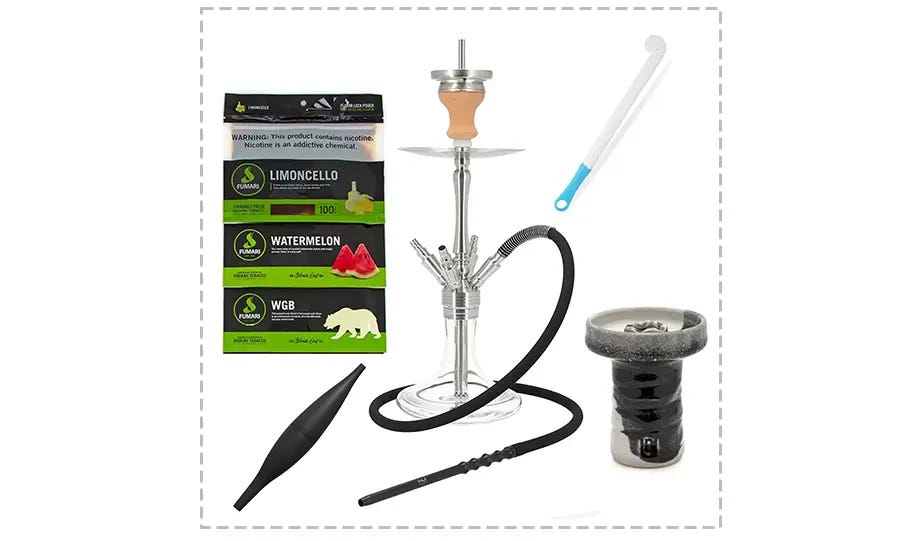 We received German-made hookahs not that long ago but they still blow our mind on quality, features, options, and style. The INVI Reflection hookah has all the features: Multiple hose options, a washable hose, a threaded base connection, and "18/8 grind" connections. It's a medium sized hookah at 17" and you get what you pay for in quality.

Our bundle with this hookah comes with the popular Fumari shisha and an extra bowl. This bundle also comes with an AO Flexible Base Brush and AO Ice Hose Tip as well.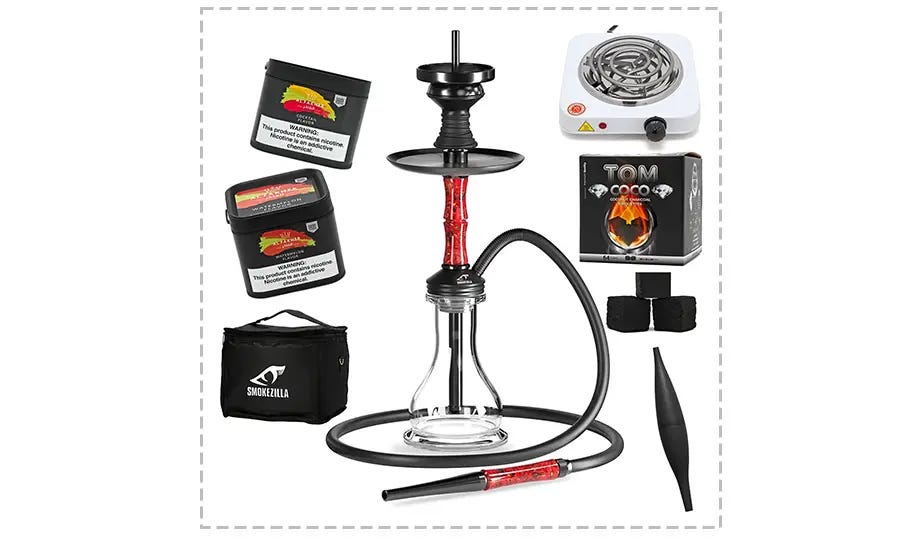 Our next featured hookah bundle showcases the Smokezilla Soran. Another one of our favorite hookahs, this 15" (without the bowl) is another perfectly sized hookah. With high-quality designed resin accents on the stem and hose handle you can expect superior quality throughout its stainless steel components in this hookah bundle.
Shisha A-La-Carte…in Bulk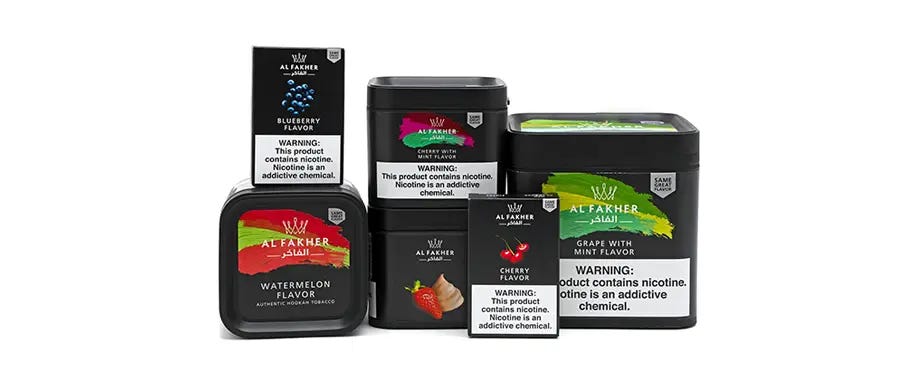 "Do you have any bundles that don't include a hookah?". Yes we do! You can grab the Al Fakher Party Bundle to quickly snatch up some shisha from one of the most popular, long-standing shisha brands out there!

Al Fakher is one of the most recognized brands in the hookah market. They offer a huge list of flavors from single-note flavors to pre-mixed blends like Magic Love. In our Al Fakher Party Bundle you can select two 50g flavors, three 250g tubs, and 1 kilo flavor of your choice.
Start Shopping for a Hookah Bundle!
This list is not the entirety of what's available in bundles from us at Hookah-Shisha! Whether you're looking for your first hookah or adding to your collection and can benefit from some extra cost-savings on accessories and supplies, start browsing our bundles to get the best deal.

Our list of available bundles is ever-changing so what you see now may be different later on down the road when you're ready to purchase a new hookah; so check in with us from time to time and that one hookah pipe you've been eyeing for a while might show up in our bundles! Bonus points!
---
We're hookah smokers too obviously, so if you've narrowed your options down to a couple different bundles and need a little nudge or just plain insight, reach out to us! We're always happy to help.

Have you shopped our bundles before? What made it easier or more convenient for you? Let us know in the comments!
Categories
Month List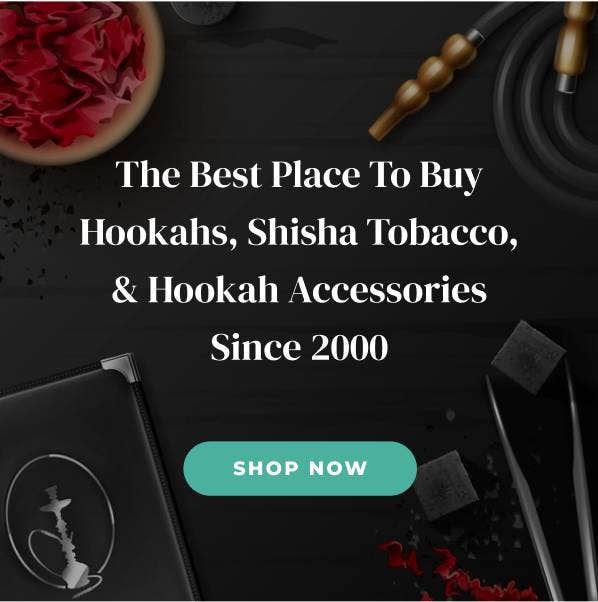 Shop All Hookahs, Shisha Tobacco, Charcoal, Bowls