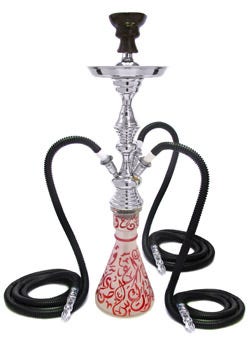 Why Choose a 3-Hose Hookah?
By
Terance
/ January 13, 2015
Sure, a single-hose hookah is great. Portable, easy to use, perfect for one person. A two-hose hookah? Fantastic. Now you can easily add another person (or people) to your hookah session without having to pass around a single hose. But a three-hose hookah? Why on Earth would you need so many hoses? And what happens if you want to smoke it by yourself? Ah, take a seat, young grasshopper. We're here to teach you the ways of the majestic three-hose hookah - the what, the why, and the how that make this type of hookah pipe an excellent choice.
What is the Best Three-Hose Hookah?
| | |
| --- | --- |
| | My personal go-to for triple-hose needs is the almighty Sphinx 3-Hose Hookah. This Egyptian-made pipe includes autoseal adapters for easy transition between single and multiple smokers, is incredibly easy to use right out of the box, and is endlessly customizable.The three-hose Sphinx hookah will accommodate tons of different hose styles, including Cobras, Nammors, and washable plastic hoses (great for those "smoke 'n' eats sessions," by the way). A whopping eleven base options means you can find the perfect match for you; a one-of-a-kind setup that says "hey, I'm an individual and I'm super cool. |
Why A Three-Hose Hookah Is So Darn Awesome
| | |
| --- | --- |
| | Having a three-hose option is great for those times you'll be sharing your hookah with a group of people, like a party, or your famous "smoke 'n' eats sesh" where you invite all of your friends and set out hors d'oeuvres. You do that too, right? When sharing a hookah with your friends, more hoses definitely make things easier. People can get their turn at the hose faster, and you won't have the hassle of changing out mouthtips every single time someone wants a puff. At the end of the day, a three-hose hookah means versatility, which is always a good thing. |
How to Use a Three-Hose Hookah
| | |
| --- | --- |
| Using a three-hose hookah couldn't be more simple. Each hose will connect to one of the three ports on the hookah. Make sure you always have the correct hose and grommet to fit the hose adapter and ensure a flawless smoking session. What if you want to enjoy your three-hose setup by yourself? Well, that's no problem. With most hookahs, it's possible to get auto seal hose adapters that allow you to use a single hose at a time, without restricted draw from open and unused hose ports (just make sure you're getting the right adapter for the hookah). Many multi-hose hookahs already come with autoseal adapters, which have a tiny BB inside that keeps an unused port sealed shut when another one is being used. | |
A three-hose hookah could be just what you need to send your hookah experience to the next level. Customization, ease of use, and the ability to have more hassle-free hookah parties all make a three-hose hookah just what the doctor ordered. The hookah doctor. Trust us, there's definitely a hookah doctor.
Categories
Recent Post
Month Lists