The Best New Hookah Products
By
danny
/ February 2, 2022
---
Al Fakher Magic Love & Eternal Smoke Milkin' Cookies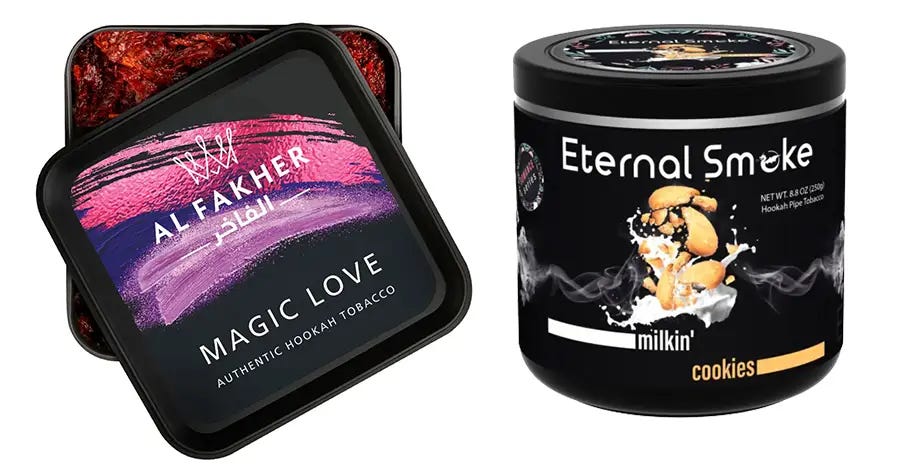 This year Al Fakher released five new flavors and once they landed in our doors we were immediately excited to try them out. We were not disappointed! Al Fakher Magic Love was one of our favorites and one of yours as well! It is a blend of passion fruit and melon with a special spice blend topped with the slightest amount of mint for a pleasant cooling exhale. Another brand that we eagerly awaited was Eternal Smoke. One of their most popular flavors is Milkin' Cookies and we can understand why! It's what you would expect from the name but oh so much more. A creamy smoke with a cookie sweetness is what this flavor is all about from this premium, blonde leaf tobacco.
Shishabucks Cloud Micro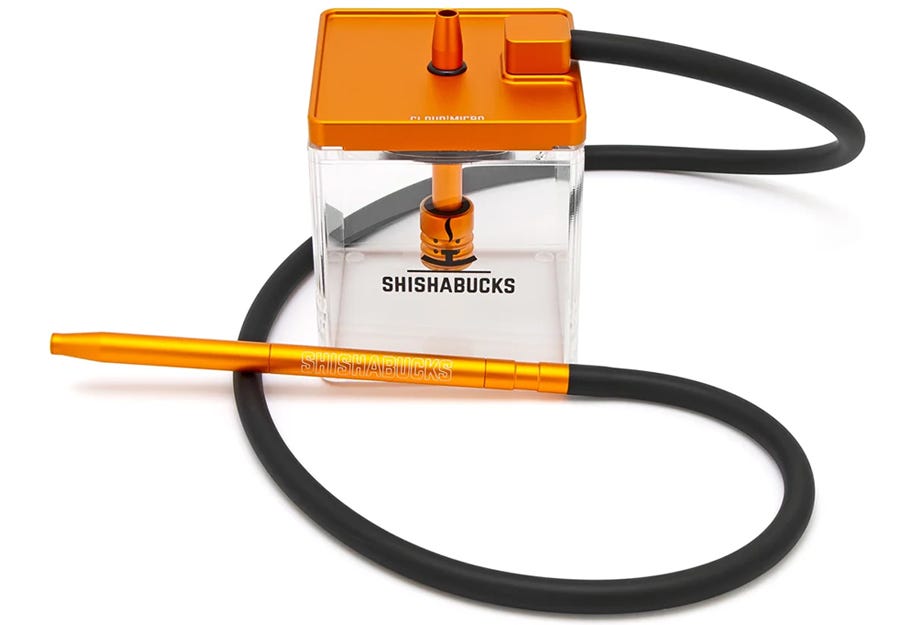 New hookahs are always being idealized and designed however Shishabucks definitely shook up the hookah world with their Cloud Tank, Cloud Stick and the Cloud Micro. Sometimes simple design is the most efficient. Shishabucks kept the lines clean with their three new hookahs, but they also implemented some new hookah tech with their patent-pending purge systems. The Cloud Micro is made from CNC machined, anodized aluminum with stainless steel bolts. The base is made from acrylic with the top being completely removable to allow for all parts to be stored inside! The purge on the Cloud Micro is hidden in the four corners to keep the aesthetics clean.
HookahJohn Knurl Hose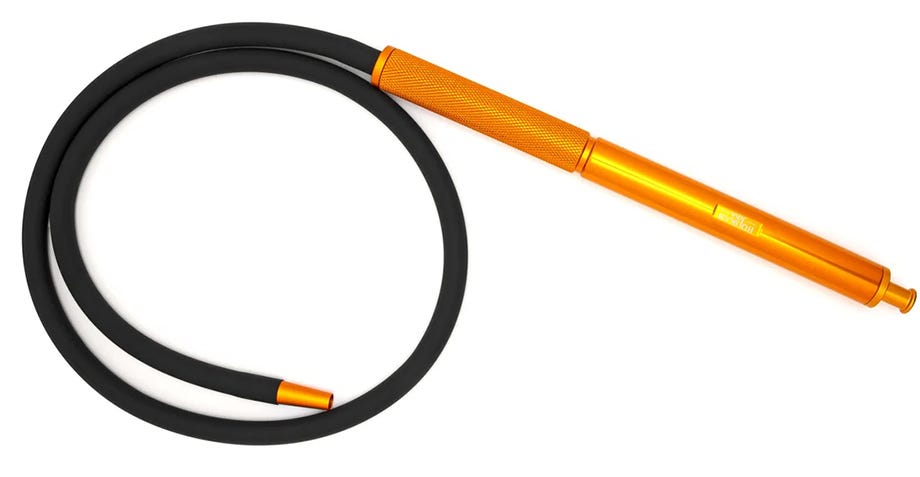 There are a lot of hose options out there today Silicone tubing is pretty standard for hookah hoses now, which honestly may have been a change for the better. This means most hoses you can find for your hookah are going to be washable and will last you a lot longer than the old-school hookah hoses that had a metal coil structure inside. The HookahJohn Knurl hose was designed to be the last hose you'll ever need. The quality of the heavy duty, aero-space grade aluminum handle is superb and includes a knurling texture for a fantastic grip. The handle of the Knurl hose can also be broken down into several pieces for a thorough cleaning. Completely assembled with the silicone tubing the hose length is 75" and is compatible to use with any hookah..
Tom Coco Charcoal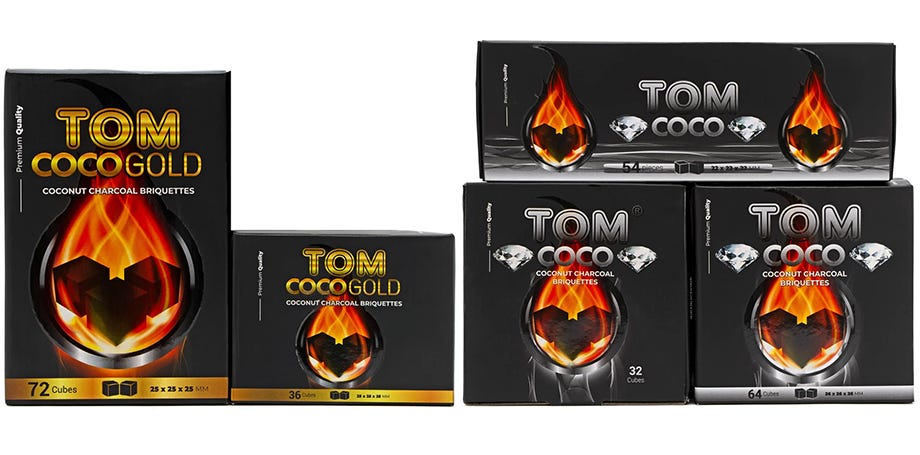 Available in three different sizes, Tom Coco Cube Charcoals produce an evenly clean burn with low ash. Made from the leftover coconut shells from the production of other coconut products makes Tom Coco coals all-natural. The Tom Coco Gold Cubes are your standard hookah charcoal cube shape we've come to know over the years. Tom Coco Diamond coals are their premium charcoal option that come in both a big cube option as well as a mini cube.
Kaloud Lotus III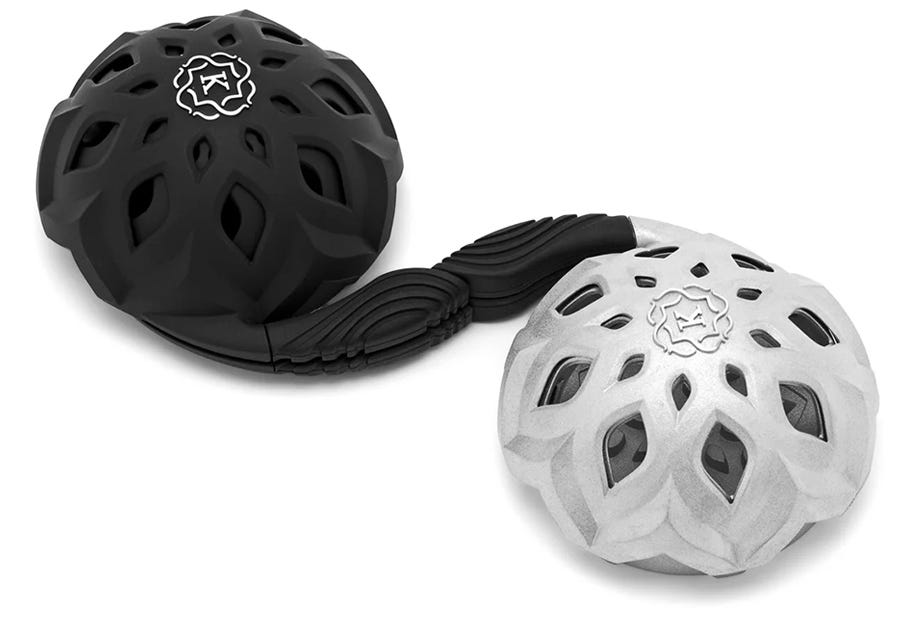 As the newest addition to their line of heat management devices, the Kaloud Lotus III has undergone a facelift! You may be familiar with its predecessors, the Lotus+ and the Lotus II, as the top of the line HMD in the hookah world and the Lotus III carries that torch onward. Made from high aluminum, this new Lotus will heat up quickly and is very lightweight. The top piece, or lid, has an attached handle to make rotating the vents open or closed easy for you to control your heat. The bottom piece has an attached handle as well for removing the Lotus III from your bowl. Although designed to be used with the Kaloud Samsaris bowls, the Lotus III and its companions can be used on most lipped hookah bowls.
Starbuzz Tri Cut & Quad Cut Charcoal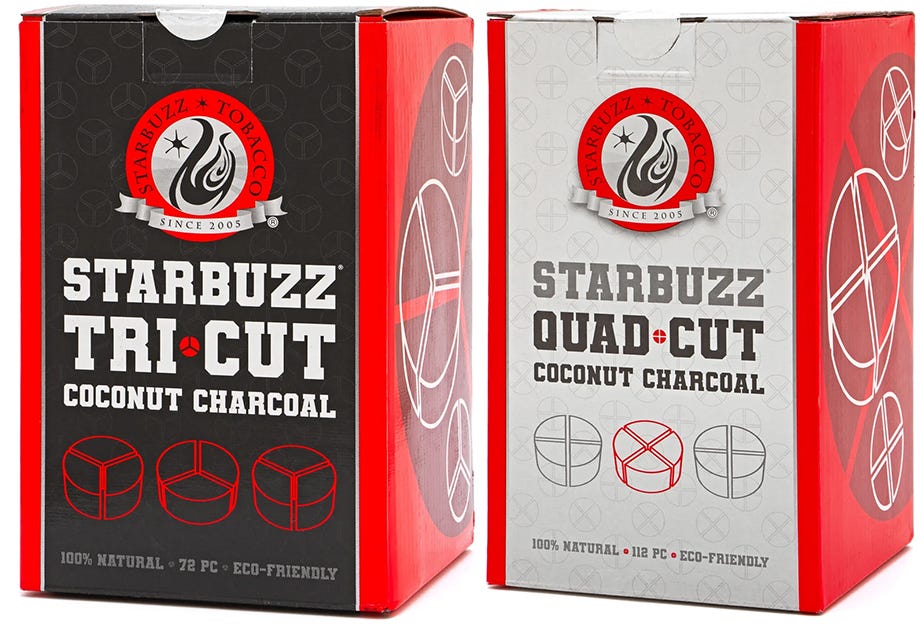 These two styles of hookah charcoal from Starbuzz create perfect circles making them fit neatly inside heat management devices. The Starbuzz Tri Cut Charcoal, or "Y cut, form a circle when using three pieces while the Starbuzz Quad Cut Charcoal, or "X" cut, form a circle with four pieces. Depending on your personal preference on how much heat you like, and how much control you like to have over your heat output, you have two great choices! Both styles are made from all-natural, compressed coconut shells for a clean, tasteless burn.
MYA Bacci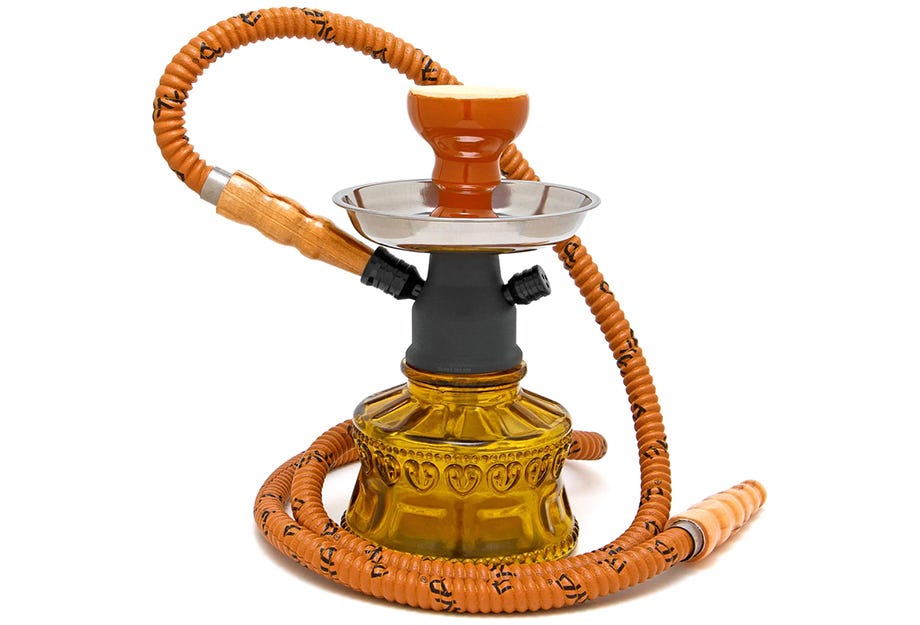 For decades now we've admired the craftsmanship from MYA when it comes to hookahs. They've done it yet again with their MYA Bacci model! At a proud 9" height the Bacci has all the same quality components you see on their other popular hookah models like the MYA QT and Bambino. The stem on the Bacci is a stylish, flat black with simple lines. For the base, this hookah has a solid footprint to help prevent tipping or rocking from your rumbling hits.
Categories
Month List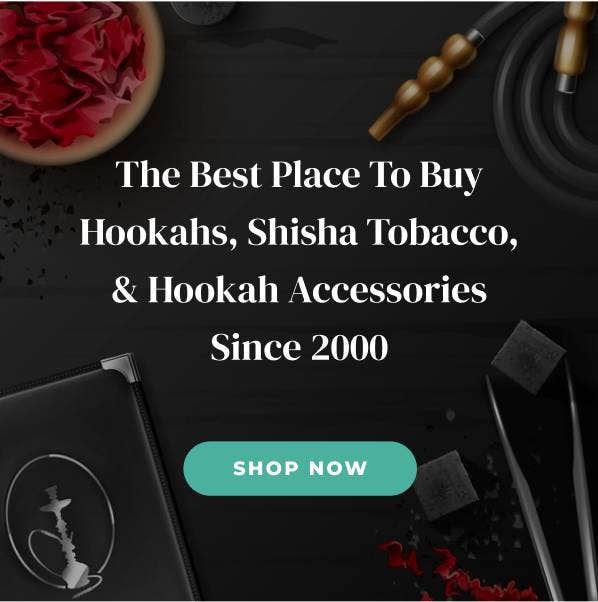 Shop All Hookahs, Shisha Tobacco, Charcoal, Bowls