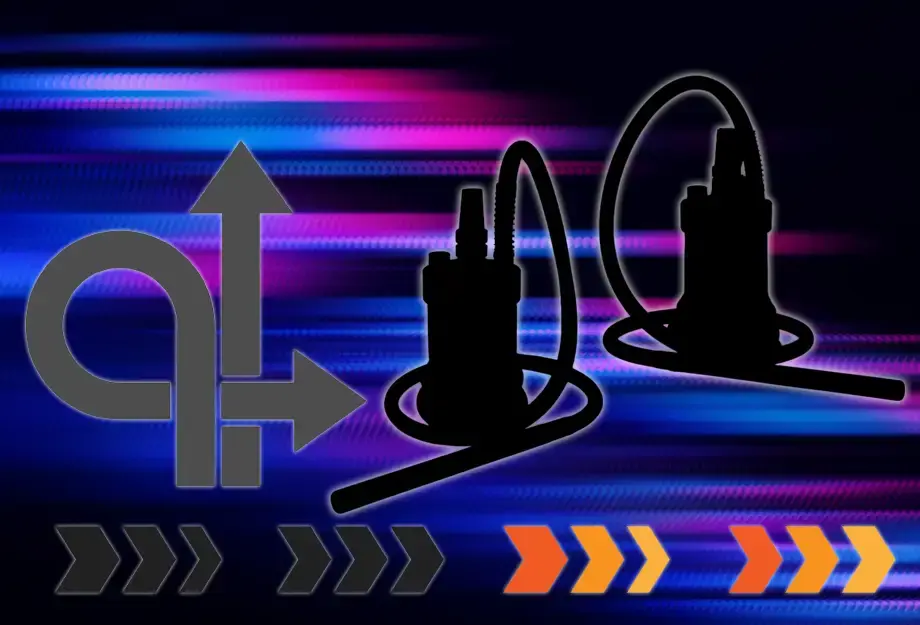 Portable Hookahs: Take the Smoke With You
By
double allen
/ June 16, 2023
Small hookah. Large hookah. It doesn't matter. Smoking shisha is the same across the board. Size doesn't matter.

Traditionally hookahs are commonly found in the sizes between 28" and 36" in height and are intended to sit on the floor. With the popularity growth over the decades the concept of 'a hookah' has changed. There are still the traditional style hookahs of course but modern, compact, and uniquely stylized hookahs have gained popularity. You can find tabletop sized hookahs from 6" to 12" to 24" and every size in between.

Culturally, hookahs are a social pastime shared among a group [don't ask for the hose]. When choosing a hookah it's important to take note of this fact. Are you going to be primarily smoking solo or are you going to be having hookah be a social event for you?

Portable hookahs are one of the most common styles for many hookah smokers because of their easy storage and easy transport to bring to a friend's place or on a trip. There are many options for more portable-friendly hookahs. Several of us here at Hookah-Shisha started out with a MYA QT or MYA Bambino not only because they are an incredible value but also because 12" to 14" inches is a great size for a first hookah.

We've put together a list of some of the best portable hookahs that are easy to travel with, easy to set up and break down, and smoke just as well as their larger counterparts.
---
INVO Nano Aluminum & Stainless Steel Versions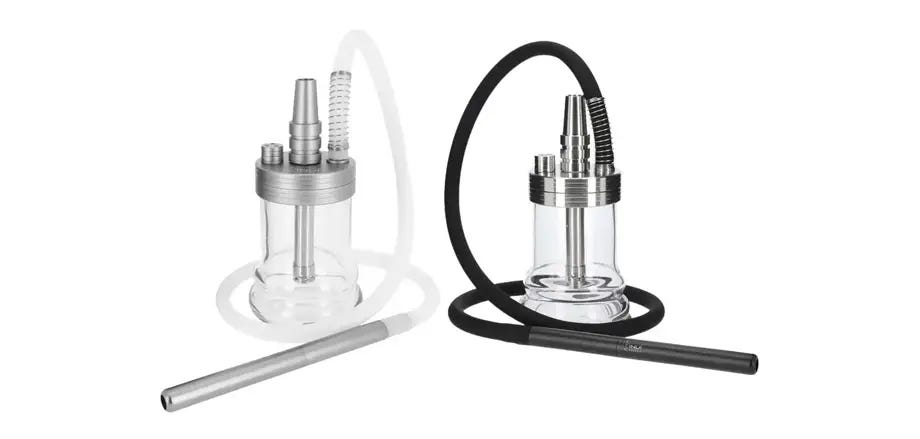 The INVI Nano hookah model is German made and is a solid travel hookah or a perfect desktop hookah. Both versions come with a padded travel bag and include a washable silicone hose. What's awesome about the INVI Nano is that each part can be completely broken down making this even more compact when disassembled.

The less expensive Aluminum Nano is a little lighter in weight but still made from high quality materials. For a little more of a heavier duty feel, the Stainless Steel Nano has some weight to it!
MYA Saray QT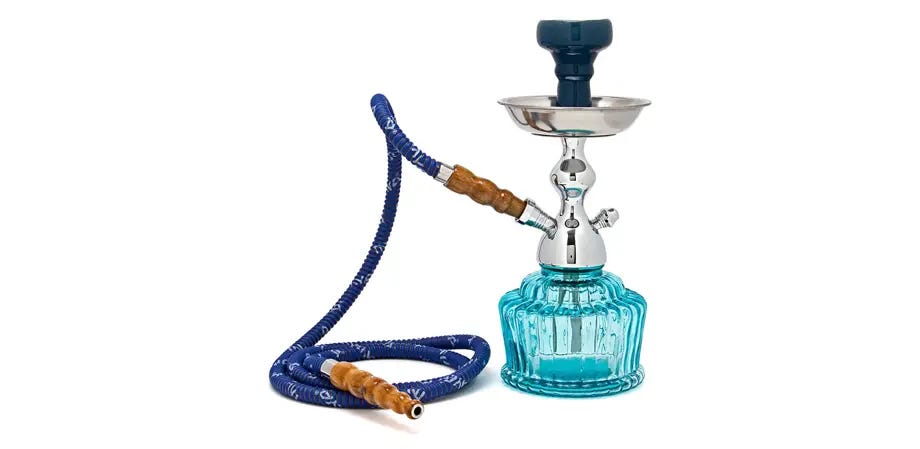 This is one of our ultimate favorite compact hookahs! Most of us here at Hookah-Shisha own one for a reason. The MYA QT comes in a ton of different color choices in both the silver stem or the gold stem options. It stands right around 14" and is made from high quality materials throughout, and you'll notice the glass used for the base is thick!

The QT comes with a unique wire basket for taking it with you when disassembled and makes for a great overall compact hookah for a wide variety of different smoking situations. Please note the hose that comes with the MYA QT is not washable, but you can use any other hookah hose with the standard hose port that's included.
MYA Saray Bambino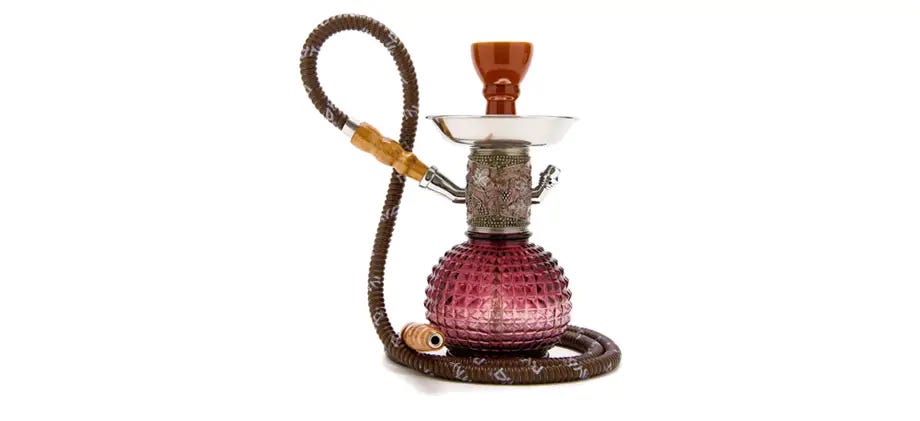 Just like its QT sibling, the MYA Bambino hookah has been a long-time favorite compact hookah for us and many hookah enthusiasts. Also like QT, the Bambino is offered in either a silver or gold stem and with a wide range of color options for the base. It's just slightly shorter than the QT however at 12" in height.

The Bambino comes with a small lightweight box case for easy storage or travel, and includes a standard hookah bowl and non-washable hose.
Sheeshaya Hazard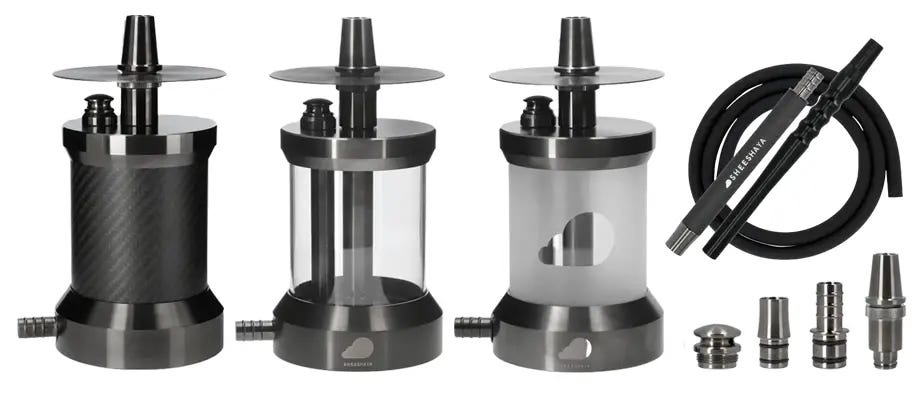 Made from heavy duty stainless steel, the Hazard hookah is a tank! This combined with its sturdy footprint helps prevent tipping. At 8" in height the Sheeshaya Hazard makes for a great tabletop hookah for gaming, studying, or smoke sessions where space is limited. Not only that, but it packs away in the included travel bag for tight storage or for an easy hookah to take with you on trips. You'll also get a washable silicone hose as well.

The Hazard comes in a TON of a variety of color options as well! Three different styles of bases come in clear glass, frosted glass, or with a carbon fiber outer sleeve. Please note a hookah bowl is not included with the Hazard but any hookah bowl will work with its standard bowl stem.
VIP Acrylic 
Talk about portable. What could be better than an acrylic base? That's what comes on this VIP hookah. With a pretty simple design it still smokes just like any other larger hookah. At 9.5" in height and with minimal moving parts, the VIP hookah is made by the same makers who manufacture the BYO/Amira hookahs so you know the quality is there! The VIP also comes with a completely washable hose and a standard ceramic bowl.
Sparta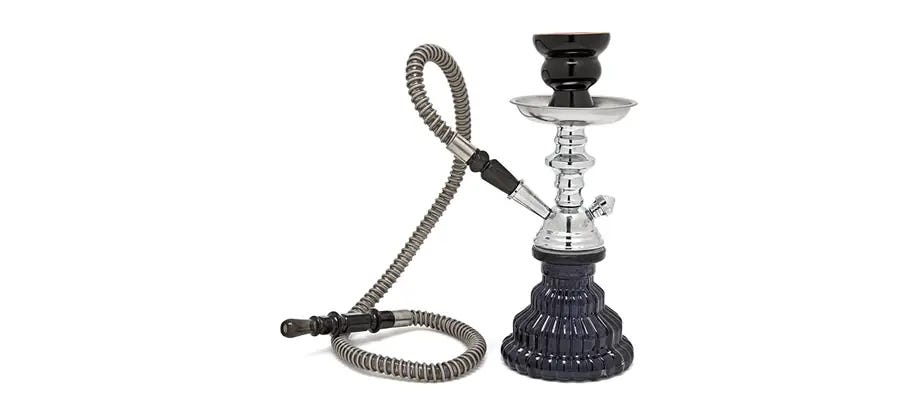 The Sparta hookah is one of the most compact traditional style hookahs out there. You get the classic glass base with a grommet connection and traditional inspired stem. Also included is a completely washable hose and a mod style hookah bowl. It's available in several colors and at its low price point the Sparta makes for a great travel hookah.
---
Hookah Accessories

Using quick-lighting hookah charcoals on the go is a breeze. You can light them up with any type of open flame like a handheld lighter. The most popular ones are from Three Kings, Starbuzz, and Holland. Having some quick-lighting hookah charcoals with you means you don't need to bring a hookah burner with you or need a way to light them at your destination.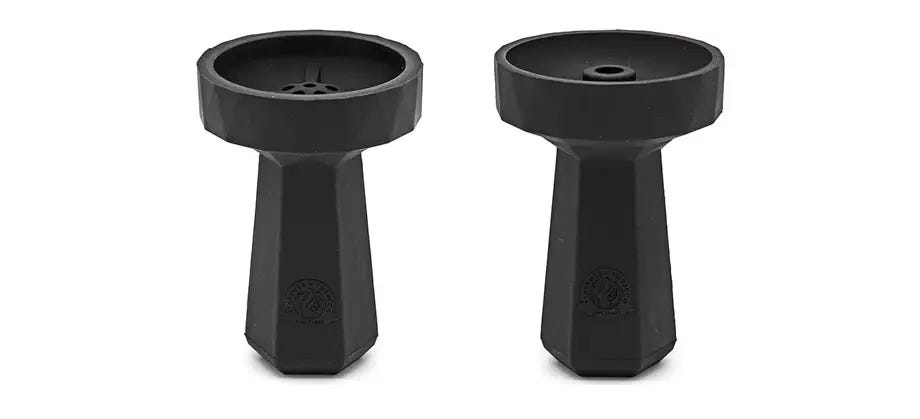 Having smaller bowls will travel better and have less chance of breakage. Even better is picking up a silicone bowl like the Starbuzz Paradigm or Starbuzz Phunnel. You don't need a grommet for them (forgotten small pieces) and you can't break them.

Making shisha more portable friendly is easier with plastic storage containers. If you're taking shisha with you from brands like Fumari, Azure, or Othmani which come in pouches that's one thing, but if you're taking several different kinds of shisha on your portable journey using storage containers can make your travels easier.
What are you putting all of these things in? One of the best hookah carrying bags that has come out is the one from Fumari. The Gallivant bag has several individual compartments, is padded well, and can hold most hookahs of any size. Its backpack style design also makes it easier to keep everything in one place while making carrying your hookah setup simple.

Too many times have I found myself bringing my entire hookah setup and have forgotten foil - making gas station trips when your bowl is loaded and ready to go is annoying. Foil takes up little space, but if you want to avoid this commonly forgotten accessory you may want to have an HMD on hand. The Kaloud Lotus is an easy choice, and the Apple On Top Provost is very versatile.

Little things like mouth tips and foil pokers are also something to consider keeping in your portable hookah set up. You can make due with a toothpick or thumbtack but when you show up with a dedicated hookah foil poker you get more hookah street cred! Also, having mouth tips on hand for smoking with friends is a well appreciated gesture.
Categories
Month List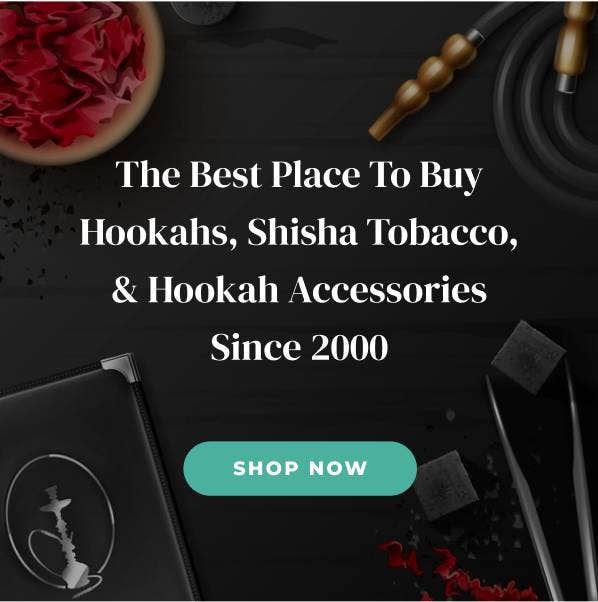 Shop All Hookahs, Shisha Tobacco, Charcoal, Bowls