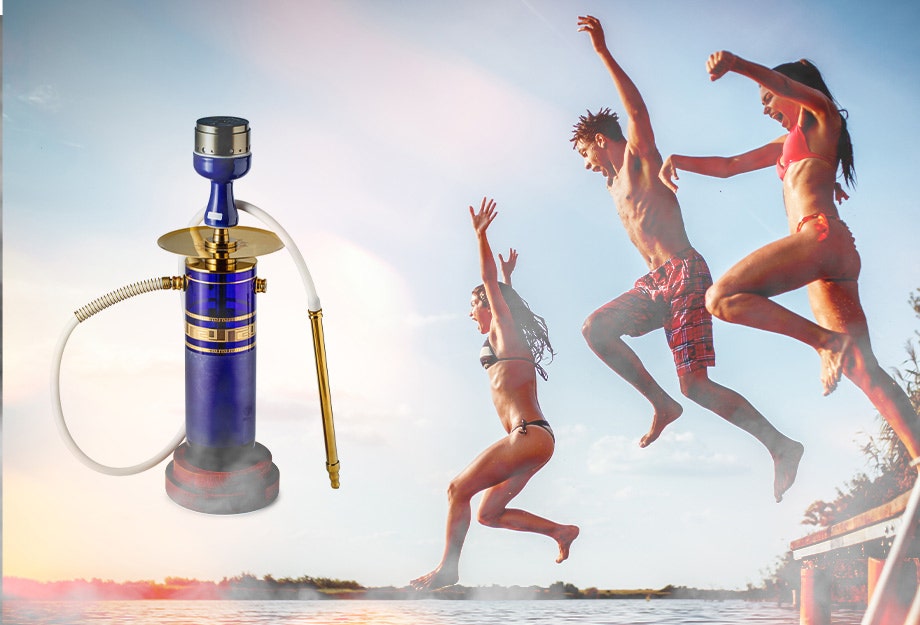 Portable Hookahs
By
katie
/ April 11, 2013
Here's a little known fact: the hookah used to be considered a woman's device since it was a non-portable item that stayed in the home and was perfect for entertaining. Men were more likely to smoke cigarettes because they were more frequently 'on-the-go' doing manly things like...bank heists and strongman competitions. I don't know what they did, but the point is that in today's society everyone is busy, and we don't always have time to sit around the kitchen table enjoying a relaxing bowl of shisha. Never fear! The modern man/woman can now travel equipped with modern hookah technology.
Cup Holder (kind of) Hookah - The Mya Helix
Some genius in the past few years combined the concept of the hookah and the Big Gulp and created this little beauty: The Leila Portable Hookah. HOWEVER it sadly got discontinued when the manufacturer stopped producing hookahs. Never fear, because Mya has come out with their own (high class) version: the Mya Saray Helix Hookah. With a built-in tray, snug-fitting bowl, and hand-held design, you can take this pretty baby with you anywhere.
You Make a Good Case
Not every hookah can fit in your cup holder, but some are easier to transport than others. The best way to ensure a happily traveling hookah, is to order one that comes with its own specialty case. These are some of our top selling hookahs that also come with their own carrying case:
See a close up video of the Mya Bambino Hookah!
Mya sells cases separately, as well. Get a replacement for your Mya, or see if your hookah will work in one of these hard, sturdy hookah cases.
Super Bowl
| | |
| --- | --- |
| | Regardless of how you transport your hookah, setting it up in an unstable environment can get a little nerve-racking. Making sure you have a sturdy bowl can help reduce some stress. The Ultimate Combo Hookah Bowl is a great travel accessory. The built-in wind cover and hookah bowl screen take away the need for foil, and help prevent falling coals from ruining a perfectly good session! |
(Is that a) Pocket Hookah (Or are you just happy to see me?)
| | |
| --- | --- |
| Our most recently added product line is possibly the best option for all of your portable hookah needs. They go by many names: E-cigarette, portable hookah pen, portable electronic hookah, or pocket hookah - but we just prefer E-Hookah. These little gems come in a multitude of brands that have a variety of designs, including: disposable, refillable, wickless, button activated, with or without nicotine, and they come in all of your favorite shisha flavors! Our eCig selection is every growing, make sure to check out all of the latest models and options. | |
Categories
Recent Post
Month Lists