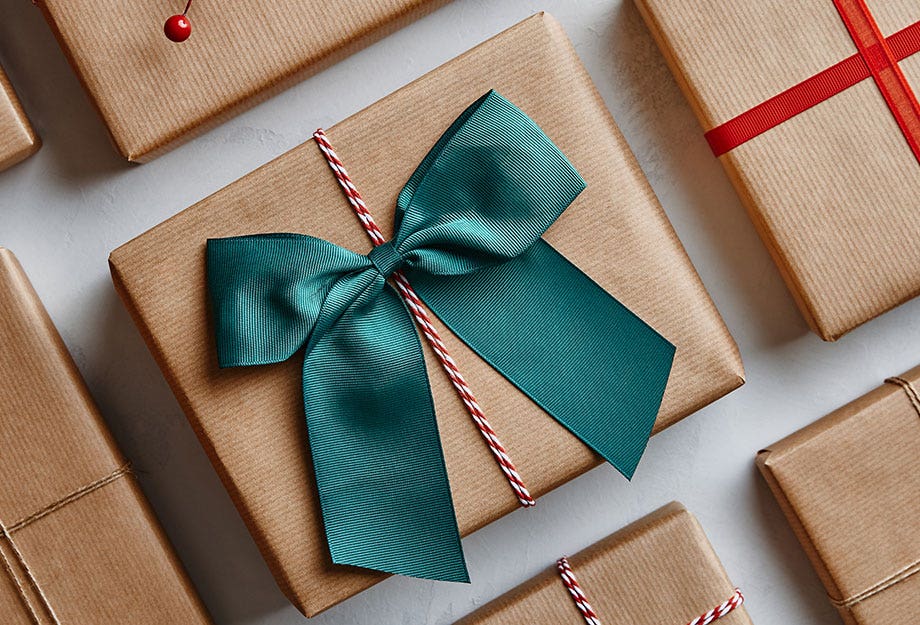 The 2021 Ultimate Hookah-Shisha Gift Guide
By
two puff tony
/ November 24, 2021
Happy holidays hookah fans! 2021 is (somehow) coming to a close and that means we're turning a corner into one of the most joyful, and stressful, times of the year - holiday shopping season! Whether you're shopping for the hookah smoker in your life, treating yourself to something nice, or wanting to introduce this smoky hobby to a friend, we recognize the amount of variety in the hookah market can be overwhelming.
That's why we, as the hookah experts at Hookah-Shisha.com, have compiled our ultimate gift buying guide to help you choose the best hookahs, shisha, charcoal, and accessories for any occasion! From budget friendly hookah upgrades to premium hookah gift packages, you'll find options that fit any size budget and experience level, making it easier than ever to find the right gift for the hookah smoker in your life.
Hookah Packages
Khalil Mamoon Hookahs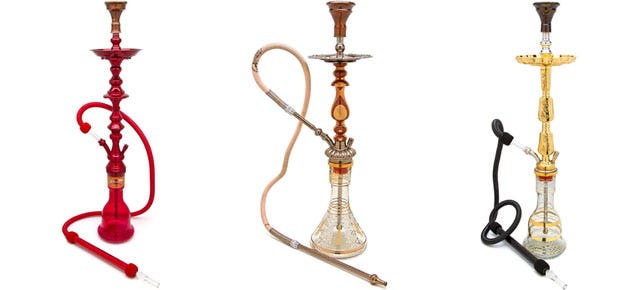 With an ever increasing collection of handmade shisha pipes, including a new wooden model, our selection of world famous Khalil Mamoon (KM) Egyptian hookahs provide a myriad of fantastic gift options for the shisha smoker in your life! Perfect for beginners and hookah enthusiasts alike, Khalil Mamoon offers you hookahs with a wide variety of sizes, colors, and designs that can fit almost any budget, making it easier than ever to pick out a quality, durable hookah pipe this holiday season.

Shishabucks Hookahs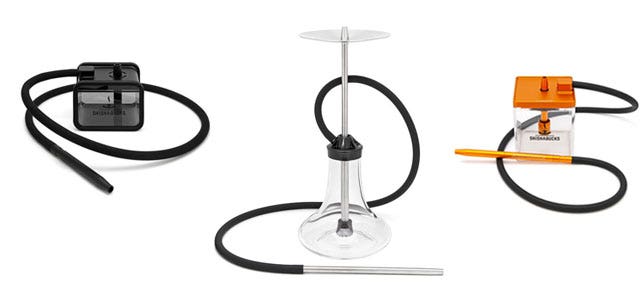 Designed in Canada and manufactured using precise CNC machining, Shishabucks's Cloud line of modern hookahs and accessories hit our shelves in 2021 and instantly became a hit. With models ranging from a traditional style stem and base combo to those that offer extremely portable, "Tank" style designs, the Shishabucks collection offers premium quality at a reasonable price point that won't break the bank. Whether you're upgrading your favorite person's setup or simply adding to their extensive hookah collection, unwrapping a Cloud hookah will be sure to delight any shisha smoker!

Regal Hookahs
Crafted in the USA using natural wood and some of the highest quality stainless steel you can find, Regal Hookahs have earned their place as one of the most well loved, well known premium hookahs in the world! Pioneers of the ultra wide-gauge down stem, every pull from a Regal will be smooth and full of flavorful clouds of shisha smoke, and with the natural grain of the wood stem, you'll also be gifting a true work of art!

B2 Hookahs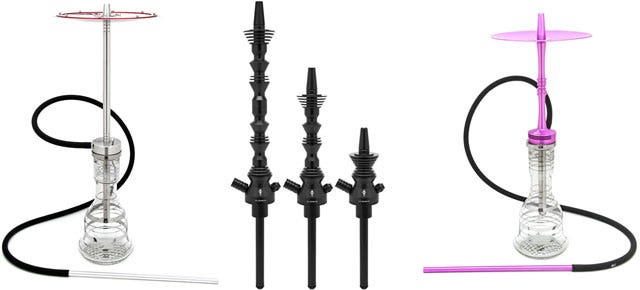 The Ferrari of the hookah world, B2 Hookahs scream nothing but modern opulence. CNC machined in the USA using aerospace grade materials, B2s are more than just a nice looking pipe. With features such as removable diffusers, threaded parts that allow you to assemble the stem into multiple size options, silicone hoses, and perfectly precise coal trays that help keep your charcoal from going out, each model of B2 offers shisha smokers unique designs and exceptional smoke sessions each and every time. With B2, you too can give a gift that will stun and delight even the most experienced hookah smoker in your life.

Shisha Tobacco
Al Fakher Tobacco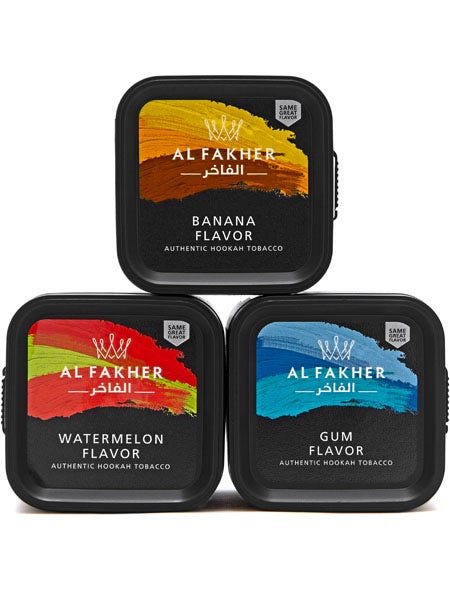 There's one name that is undeniably known throughout the world when it comes to flavored shisha tobacco: Al Fakher! With a design refresh happening in 2021, Al Fakher now boasts sleek black packaging and modern graphics across all of their collection while maintaining the same great flavor formulas that shisha smokers know and love. We've even heard rumors of a couple new blends coming to the US market, so keep your eyes peeled for something new! Offering a variety of sizes such as 50g boxes, 250g jars, and 1000g tubs, this budget friendly, easy to use line of tobacco makes it an ideal gift for both beginners and hookah veterans.
Adalya Tobacco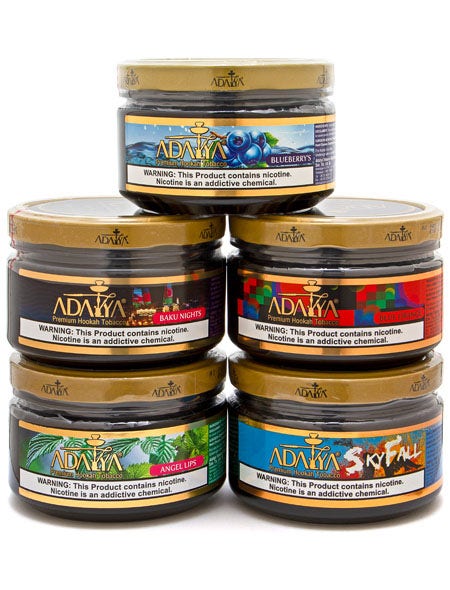 Adalya Tobacco has officially landed on our shelves just in time for the 2021 holiday season! Originating in Turkey, Adalya's great tasting range of flavors such as Lady Killer, Exeagelado, and the world famous Love 66 shisha provide hookah smokers with a whole new collection of shisha to explore. Adalya's bold tastes and stellar performance makes it a great gift choice for those just starting out in hookah as well as long time veterans of the hobby.

Fumari Tobacco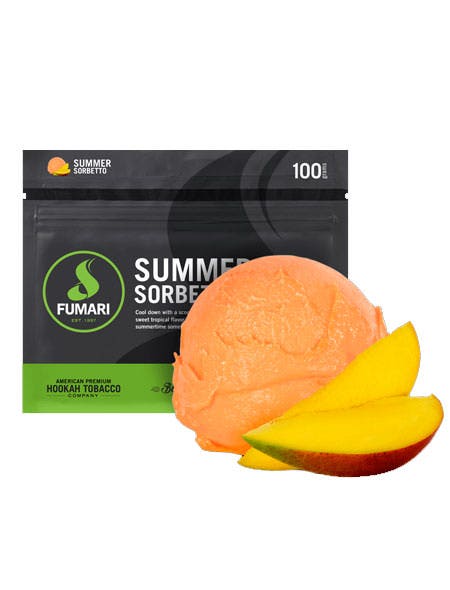 One of the ideal shisha tobacco brands for beginner hookah smokers, Fumari shisha opens up a world of unique flavor blends ranging from sweet gummi bears, breakfast muffins, robust coffee, and everything inbetween. Known as a "blonde leaf" tobacco, Fumari's bold flavors are low in nicotine and easy to smoke, allowing new hookah fans to easily enjoy this extensive collection without an overwhelming head buzz. And for a shisha option that is under $10 USD, we think the 100g pouches make great stocking stuffers!

Shisha Super Packs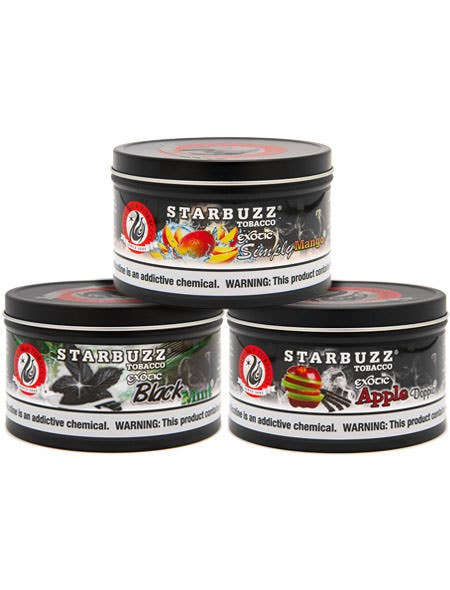 For the dedicated shisha smoker in your life, consider giving the gift of our custom built shisha super packs! Available from every shisha brand we carry, these value bundles allow anyone to stock up on their favorite hookah flavors at a discount, making it easier (and cheaper) to refill your shisha cabinet. No matter which brand of shisha you, or the smoker in your life, enjoy, you'll be able to give the gift that every hookah smoker needs: shisha!

Hookah Charcoal
Coco Brico Coals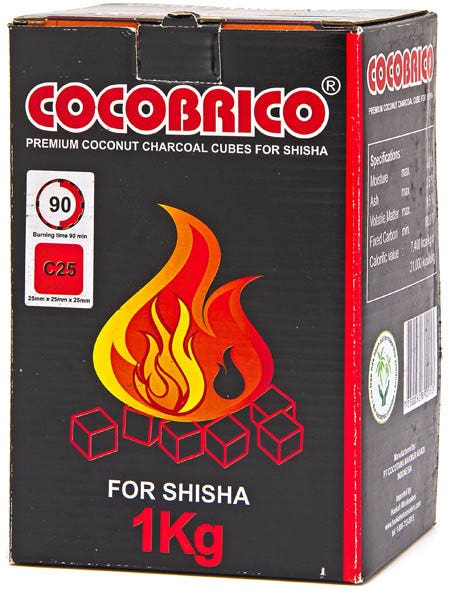 Hookah smokers might be the ONLY people in the world who would be excited to see lumps of coal in their stocking, so whether or not the shisha smoker in your life has been naughty or nice, you may as well make sure its a quality one! Coco Brico natural charcoal is unequivocally our go-to pick for hookah coals when it comes to our personal smoke sessions, and for good reason. Free of added chemicals and accelerants, Coco Brico coals burn evenly and allow for clean flavor during each and every hookah session making them an ideal gift option for any shisha connoisseur.

Tom Coco Coals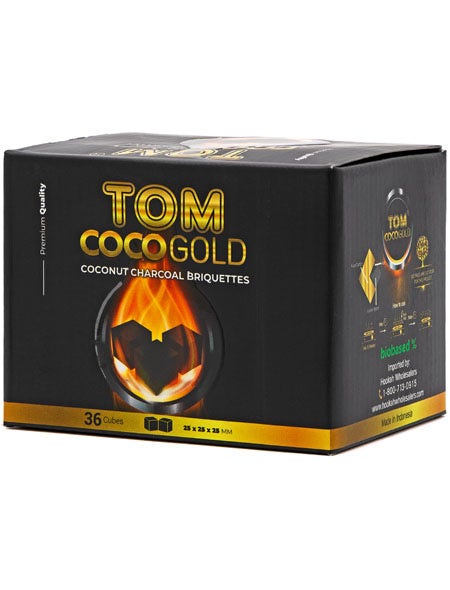 One of the leading charcoal brands out of Europe, Tom Coco coals are now officially available in the US! Offering multiple coal formulas, shape varieties, and box sizes, Tom Coco delivers top-notch quality that can fit any budget. Whether you're looking for small boxes to serve as stocking stuffers or a full lounge case to wrap under the tree, Tom Coco will help provide smooth smoke to all experience levels of shisha smokers: beginner, intermediate, and expert.

Ring Quicklight Coals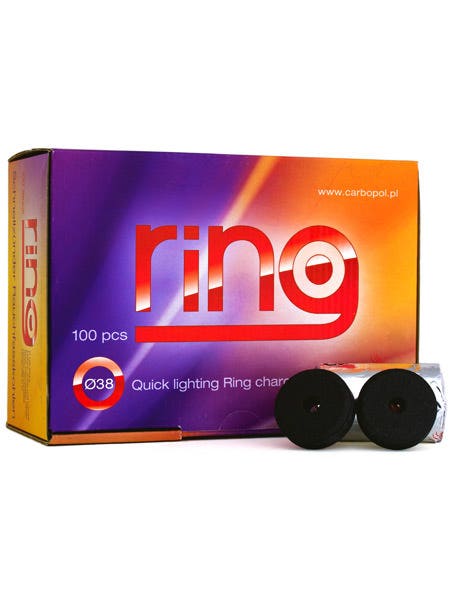 For the hookah smoker who values both convenience and quality, Ring quicklight coals are the answer! Coated in a fast lighting chemical accelerant, these coals can easily be lit with just the use of a standard flame lighter and are the ultimate solution for those who don't have or don't want to mess around with a coal burner. The circular "donut" design provides improved airflow when smoking and helps to keep every side of the coal lit. If you're going to give the gift of quicklight coals this holiday season, make it these!

Charcoal Heaters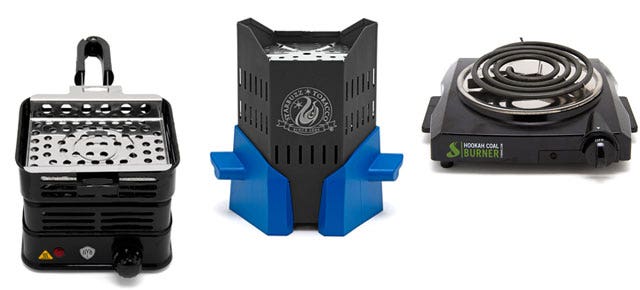 Okay okay, so a charcoal burner isn't technically charcoal, but we think it still fits! Necessary in order to light natural hookah coals, and makes lighting quicklight coals even easier, coal burners are one of the single most utility focused accessories on the hookah market. Whether the hookah smoker in your life is looking to step up their sessions with natural coals, replace a burner that broke, or just upgrade their current burner to something nicer and quicker, our selection of coal burners make no frills, easy gift options that any shisha smoker can appreciate.

Hookah Accessories
HookahJohn Bowls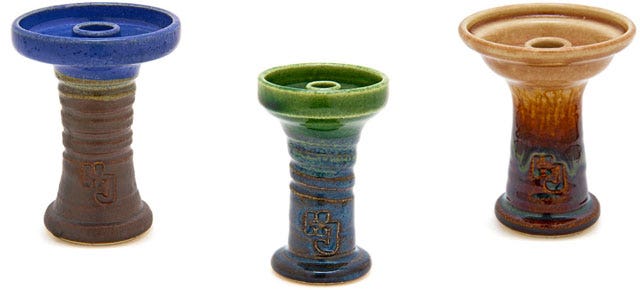 The HookahJohn name has long since been a mainstay in the hookah community and his line of hookah bowls have been providing spectacular smoke sessions for years and years. Made in the USA using HookahJohn's proprietary blend of high quality clay, you'll have the option of multiple tried and tested designs such as the classic Retro Harmony bowl or the heat management device (HMD) compatible Ferris bowl. And with a variety of gorgeous glaze colors available for each of these premium hookah accessories, you'll have no trouble finding the perfect present for any festivities.

Shishabucks Accessories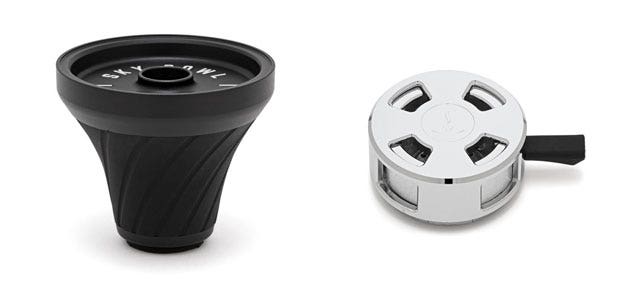 In addition to the introduction of Shishabucks's line of premium Cloud hookahs to our shelves, we also picked up a couple of fantastic Shishabucks accessories: the die-cast aluminum Sky Bowl and Stratus Heat Management Device (HMD)! Using each accessory on its own will be sure to elevate any hookah session, however both of them COMBINED will take it to a whole new level.
The shallow phunnel style design of the Sky Bowl helps preserve flavor and conserve shisha while the Stratus HMD simplifies managing your charcoal and provides a cleaner flavor from your shisha as compared to traditional aluminum foil. Whether you're shopping for a hookah beginner looking for an upgrade or a seasoned shisha veteran who needs some exceptional accessories, the Shishabucks Sky Bowl and Stratus HMD will find a home in any hookah collection.

The Galaxy Silicone Hose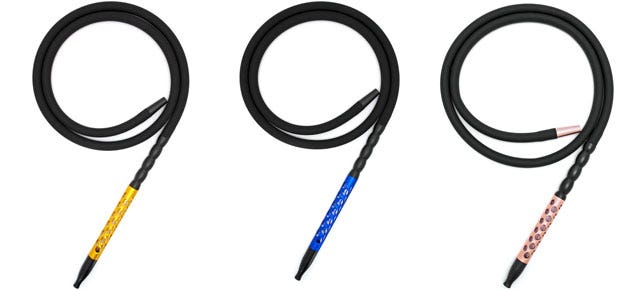 Easily one of our favorite accessories to make this list, the washable Galaxy silicone hose provides some of the greatest value when it comes to hookah accessories. We cannot stress how important having a washable hose is when it comes to experiencing great tasting smoke sessions, and with a price tag under $20, you'd be hard pressed to find a better, more cost effective option. Featuring a comfortable aluminum handle, pliable soft-touch silicone hose tubing, and a variety of color options to choose from, the Galaxy hose makes an exceptional, versatile gift for anyone who smokes hookah.

The Swift Hookah Bowl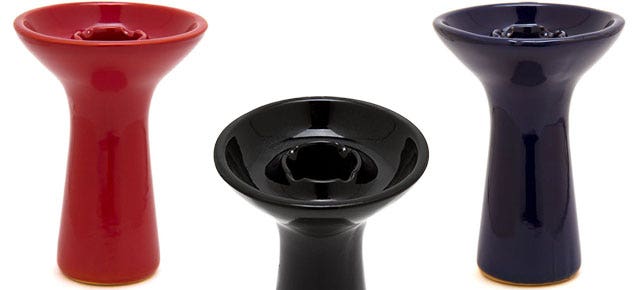 When you're just getting started with a hookah setup of your own, one of the simplest, and most budget friendly, ways to elevate your hookah sessions is through the use of an upgraded bowl, specifically a phunnel style bowl! The sheer amount of bowl options and price points on the market can certainly cause someone to feel overwhelmed, but that's where the Swift hookah bowl comes in!
Serving as a fantastic introduction to the world of phunnel bowls, the simplistic ceramic design is compatible with every hookah we carry while the phunnel style spire (with added airflow channels) helps trap the liquid flavoring from shisha, ultimately resulting in a more flavorful, longer lasting session as compared to most stock hookah bowls. And to top it all off, the Swift bowl comes in under $15 USD making it one of the best budget upgrades for a hookah beginner to receive!

Categories
Month List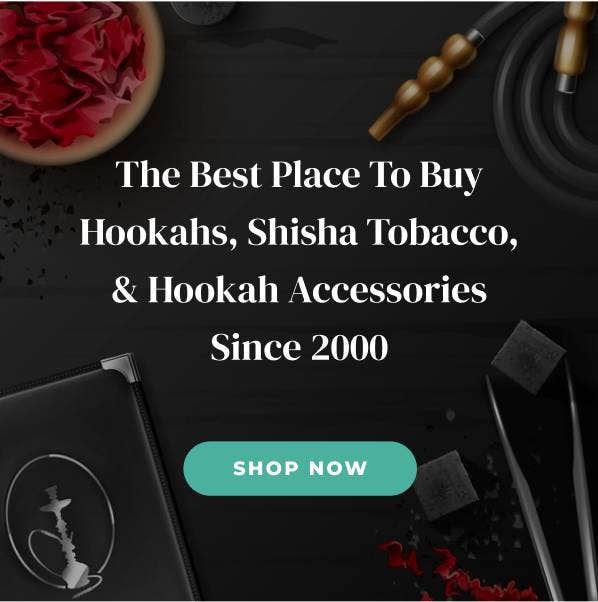 Shop All Hookahs, Shisha Tobacco, Charcoal, Bowls