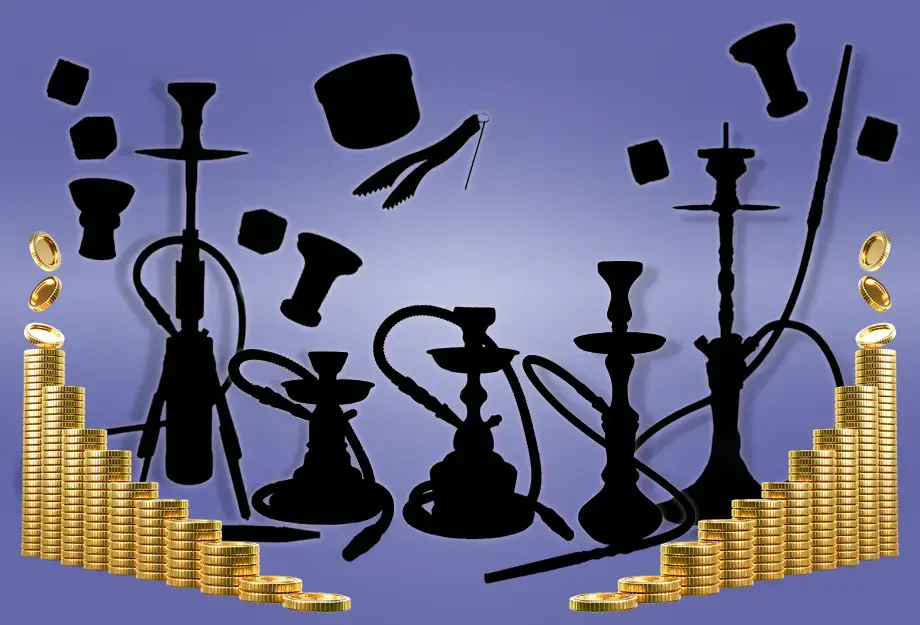 How Much Does Having a Hookah Cost?
By
double allen
/ October 10, 2023
Where did you first try a hookah? For most, there are a few popular situations. Perhaps you went to a lounge, smoked a hookah while on vacation or at a party, or maybe you've just seen hookah around you as it's gained popularity over the years.

When the time comes when you want a hookah of your own, you may wonder "How much am I going to have to spend to get into this?". There are a few basic factors on choosing a hookah but there are other questions you may have on investing into your new hobby.

I've gone ahead and broken down some common questions we receive from first-time hookah buyers as well as some other things to concern when you're ready to spend your hard-earned coins into the world of hookah.
---
How Much Does Hookah Cost?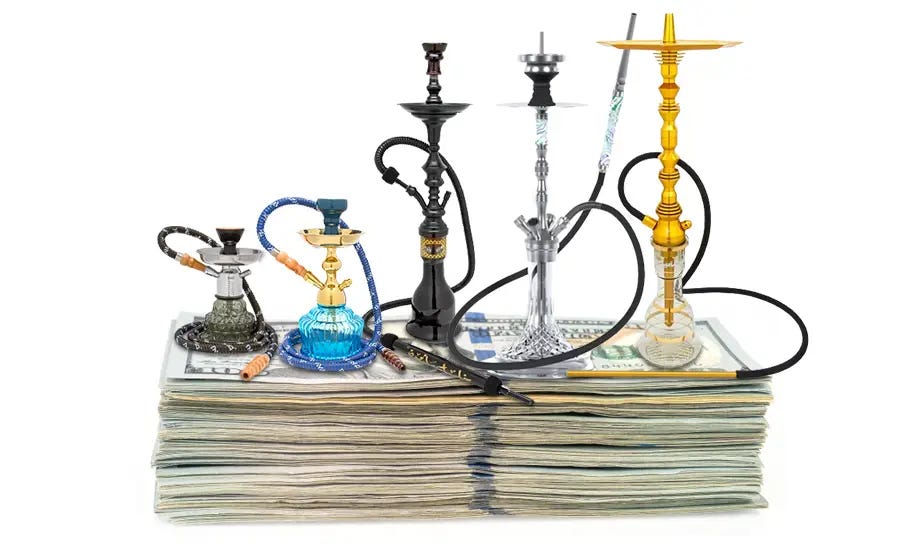 This is a loaded question to be frank but it can be broken down pretty easily. The very first thing to consider is what type of hookah you're looking for - traditional or modern - and what certain aesthetic qualities you're seeking to find when it comes to color, shape, and customization.

Hookah pipes can range anywhere from as low as $15 to upwards of $500. That's a whole lot of options right? When you're selecting a hookah for the first time consider your price point and how often you see yourself using it. Will this be a hookah that you'll smoke on the weekends, maybe a couple times a week, or are you a hookah smoker that loads up your favorite shisha multiple days a week?

Based on these first few factors, and your budget, you can also ask yourself if you're going into hookah just to see what it's like to become a hookah owner or if you are wanting to go all-in up front with a more expensive first investment that will last you a long time.
Spending at a Lounge vs Smoking Hookah at Home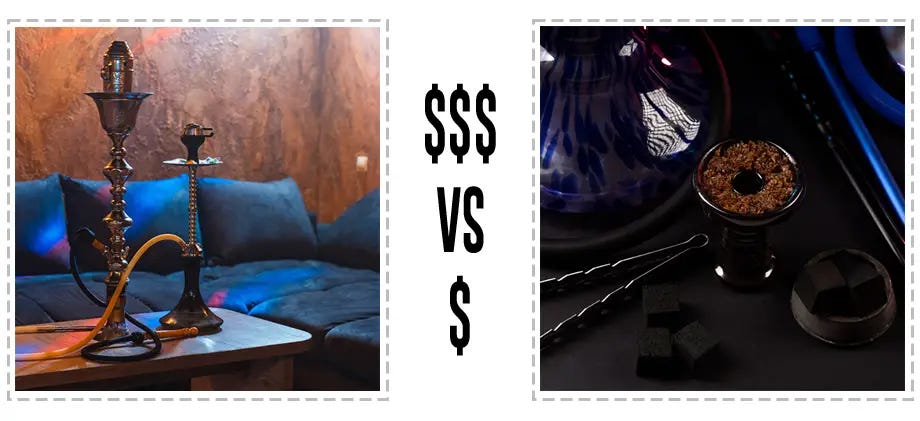 I started smoking hookah while in college in between classes or while studying, and I would go to a lounge quite a few days of the week to get my fix of double apple (Al Fakher Two Apples all the way!). This soon became costly which led me to buying my first hookah…from Hookah-Shisha might I add!

How often are you visiting a hookah bar or lounge? Consider how much this costs you each time. Back in the day, hookahs used to cost me $10-12 per lounge visit. Today, the cost of smoking hookah in a lounge typically ranges from $16-25 and even higher. Let's do some math shall we?

If you're frequently visiting a hookah lounge to smoke one bowl of shisha, going once a week isn't all so bad. However, if you're going to a lounge 2-3 times per week, you've already bought yourself a pretty nice beginner hookah; not to mention any snacks or drinks you may get during your visit, that's shisha money right there.

This is where smoking at home becomes more cost effective.
What are Your Hookah Wants & Needs?
As I mentioned, how often will you be smoking your new hookah? If you're wanting hookah to be something you mostly share with friends, that's something to also keep in mind.
"I'll only be smoking on the weekends" - You might not want to spend a lot right away if this is the case. You may want to find a hookah that's small and easy to store away. There are many great Under $50 Hookahs that fit this category. Easily one of our first recommendations here is any hookah from the brand MYA Saray. They make superior quality, small tabletop hookahs like the MYA Heera, Bacci, and Chico; all of which are 13" and break down for easy cleaning and storage.

Other brands like Golden Desert and Pharaohs also have great options at this price point as well. The Pharoahs Pyramid and Saghir are two other very popular tabletop hookahs.

Pro-Tip: The MYA hookahs and Pharaohs hookahs can be converted to a two-hose option with the use of their respected hose adapters (MYA Hose Adapters & Pharaohs Hose Adapters), which brings us to our next point.



"I'll be smoking with friends once a week" - As I just mentioned, MYA and Pharaohs hookahs do have the ability to be converted to two-hose options. When smoking with multiple people you may want to spend a little more to have a hookah with Multiple Hose ports. Keep in mind only one person can smoke a hookah at a time, but having multiple hoses cuts out the hose-passing and allows everyone to have their own hose that can be disinfected after your session.

The German brand INVI has some of the best options in this category when it comes to top notch quality at a value. Their Reflection model will come with four available hose ports, and they include additional hose heels that allow you to use hose grommets or convert your hookah hoses to a metal-to-metal connection. On the Tesseract you get the same available four hose port option, but the hookah is a little taller and includes an optional molasses catcher (which is an upgrade by the way).



"I might be smoking multiple days during the week" - This is where you may want to invest a little more since your hookah will be seeing lots of use. Some of the smaller, less expensive hookahs will do the job just fine, but spending a little more on a higher end hookah will give that "feels expensive" vibe. A hookah will last as long as the quality of care that it receives. The ball is really in your court here as your choices will be based on your budget and personal preferences.

If you're looking for a more traditional style hookah we recommend any of the Khalil Mamoon hookahs from their Shareef Short to their Single Pear. For more modern options you can choose from brands like Starbuzz, Amira, Shishabucks, and more. One of our favorites that combines traditional style with a modernized build and features is the Smokezilla Muto.


Where to Begin on Buying a Hookah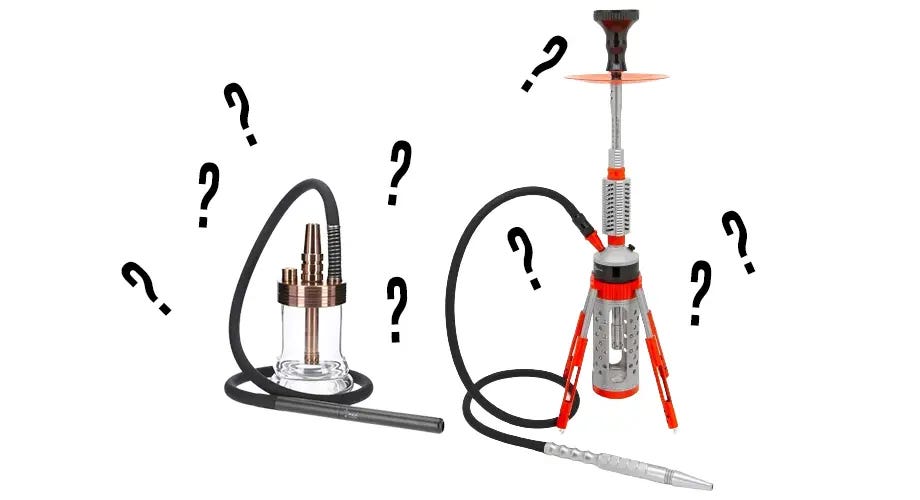 My first bit of advice here is just browse. Take a look at the wide variety of options available, and at Hookah-Shisha you'll have one of the best selections to choose from. Get a feel for what clicks with your style first.

Next, think about your price point. On our site you can Shop By Price which is extremely helpful when you've got a specific budget in mind. Take your hookah wants and needs to begin skimming through the different price ranges, checking to see if any specific model that fits your fancy falls under that price. You're surely going to find something with our selection, but if not then you can jump up or down a price range since some hookahs may be just a couple of dollars less or more.

As always, we're here to help! You can always contact our Customer Service Team whether you have some specifics in mind or just need help finding a starting point.

Use the following simple points when finding a hookah:
Price
Style (Traditional or Modern)
Single Hose, Multi-Hose, or able to convert to Multi-Hose
Size
Costs of Being a Hookah Owner
Your hookah is going to be the most expensive piece right off the bat. Of course the adventure into hookah doesn't stop at the pipe itself! You'll need shisha to smoke, coals to smoke it, and some accessories. Once you have your hookah set up and accessories, the only thing you'll need to maintain is shisha and coals.

Depending on how often you will be smoking, the cost of keeping your shisha and coals stocked in your stash will vary in price. Some hookah smokers stock up monthly while others may stock up on a weekly basis!


Keeping Shisha Stocked
There are three basic categories here: "Regular" Blonde Leaf Shisha tobacco, Dark Leaf Shisha tobacco, and Herbal non-tobacco shisha. We've outlined the differences between Blonde Leaf and Dark Leaf for you here. You can read more about Herbal Shisha here.

When it comes to shisha, you find flavors from 50g to 1000g (kilos) and once you've found that one favorite flavor you can even buy it by the case in bulk! The 50g size is great for sampling new flavors and brands at prices typically between $2.54 to $5.99. This makes it easy to sample a few shisha flavors when you first get your hookah.

After you've discovered some brands and flavors you like the most, you can jump into 100g, 200g, and 250g sizes that range in price from $5.99 to $23.99 typically. Once you're ready to jump to kilos we're talking about prices in the range of $29.99 to $92.00 on average.

Note: Prices listed here will vary but these are averages for the use of this guide.


Keeping Charcoal on Hand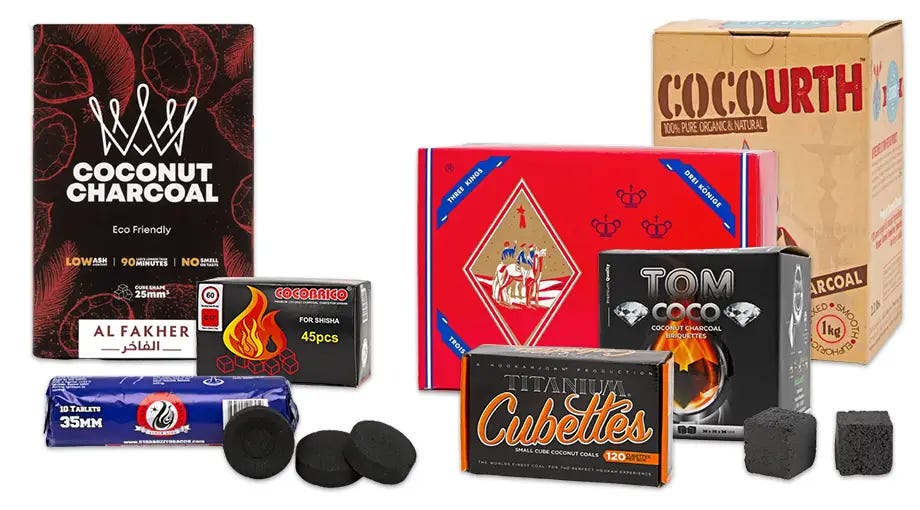 Hookah charcoal is a lot less complicated when compared to shisha. With shisha you have all sorts of flavor choices, sizes, and tobacco types. Charcoal breaks down simply into two categories: Quick-lighting and Natural. You can read more here about the two and how to light them.

Charcoal comes in a wide variety of shapes, sizes, and quantities. Once you find a coal shape and size that you like best, how often you restock will again depend on how often you're smoking your hookah.
Other Things to Consider as a Hookah Owner
Just as with any other hobby, you'll want to get the most of your gear right? Keeping your hookah clean and extra accessories will help prolong the life of your hookah.

Regular Hookah Accessories to Upkeep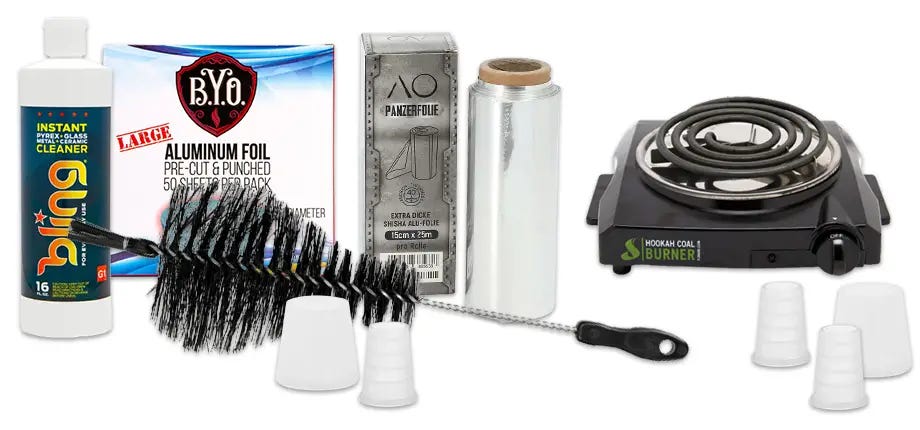 Cleaning and maintenance is simple. Grab a Base Brush to scrub out your hookah base and a Shaft Brush to keep your hookah stem clean. You can go the extra mile with some Bling Cleaning Solution for a deep clean on your base.

Other things you'll need to have on hand are extra bowl and hose grommets. These little guys can grow legs and disappear somehow but also over time they do wear out with normal use. Grabbing a handful at a time for just a few dollars will always ensure you'll have them readily available.

If you're using natural hookah charcoals, you'll need a Hookah Coal Heater. These usually range from $20-40. Once you have one, they can last anywhere from six months to a couple of years; again depending on use.

Lastly, if you're not using a heat management device (which most new hookah owners aren't), then you'll need to keep some Hookah Foil on hand as well.


Optional Hookah Upgrades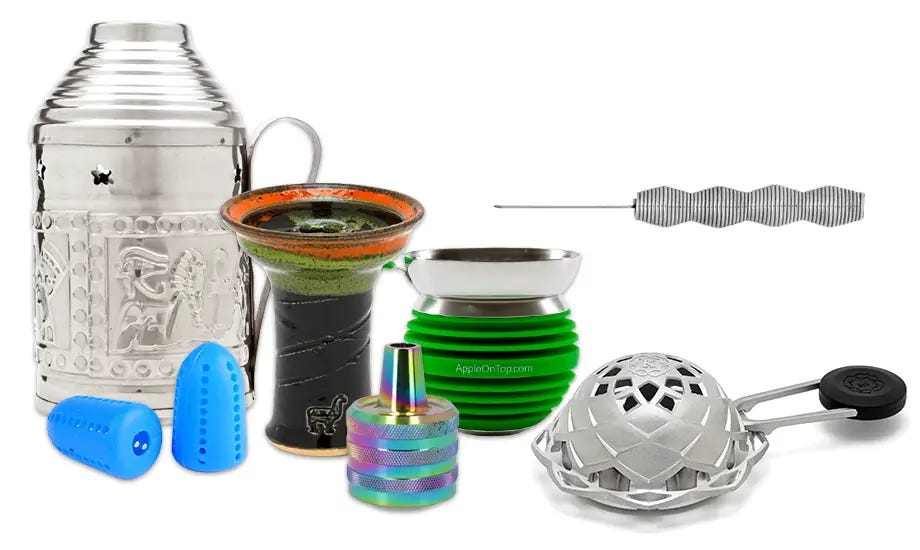 After you've had your hookah for a while you may want to invest into some additional, optional upgrades. If your hookah came with a standard, traditional style bowl you might want to upgrade to a phunnel style bowl. Maybe you don't want to use foil for your bowls and instead want to spend some money on a heat management devices like the Kaloud Lotus. Once you've smoked through a good bit of shisha you might want to pick up an AO Molasses Catcher to keep your smoke flavor and hookah stem clean.

Other tidbits like Wind Covers or Charcoal Holders can be an easy, inexpensive upgrade to your hookah gear. The same goes for Hookah Diffusers and Foil Pokers. Little things that can dramatically improve your hookah smoking experience and bowl prep.
---
At first, getting into hookah may be overbearing or seem expensive, but investing into hookah starts with the pipe. Keep it simple by breaking it down into: Price, Style, and Size.

Choosing your shisha will be an ongoing adventure that never gets old, and with so many options and prices you'll never get bored. Once you're up and running…or smoking rather…with your initial hookah setup, you'll have endless choices on upgrades later on.

Again, we're here to help spread the love and enjoyment of hookah to anyone. Never hesitate to reach out to us and ask for help or advice. All of us here at Hookah-Shisha have decades of experience and knowledge.
Categories
Month List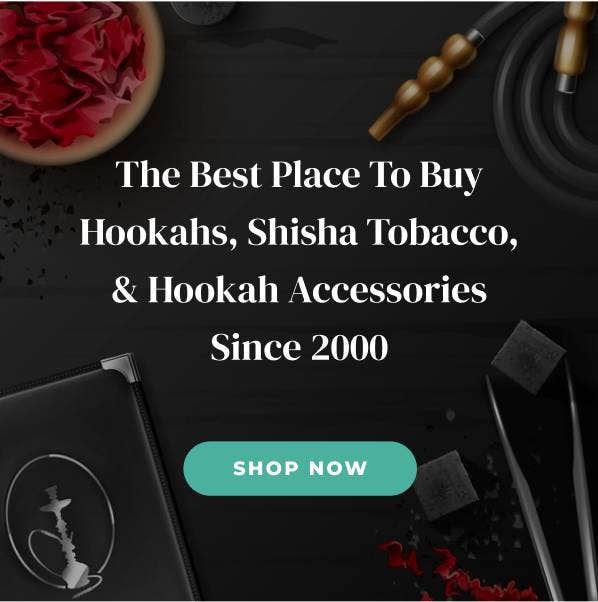 Shop All Hookahs, Shisha Tobacco, Charcoal, Bowls